The Litecoin Walmart Hoax, A Classic Pump & Dump
Yesterday morning there were fireworks when both LiteCoin and Wal-Mart had their worlds collide, in what is one of the most blatant pump and dumps we have seen in modern big cap history.
It appears that a fake news release was distributed via "Walmart Inc." on GlobeNewsWire. The now pulled release, titled "Walmart Announces Major Partnership With Litecoin (LTC)," stated that a partnership had been formed between the two entities, with Walmart to begin accepting the cryptocurrency for payments as of October 1, 2021.
The release was convincing in nature, even featuring an obviously falsified quote from the CEO of Walmart, Doug McMillon, wherein he reportedly said "By integrating Litecoin, we will enable shoppers to experience a very smooth checkout experience with near instant transaction confirmation, and near-zero fees regardless of where in the world they are. We're very excited to be working together with the Litecoin Foundation, and further innovate our business. Starting October 1st, all eCommerce stores will have implemented a 'Pay with Litecoin Option.'"
The news release consistently refers to features of Litecoin such as cheaper and faster transactions. And oddly refers to the company as being decentralized just like Bitcoin! It also refers to Litecoin's founder Charlie Lee for a quote and mentions the Litecoin Foundation.
We assume at this point that none of these quotes were accurate. And if they were, it brings us to one of the arguments against cryptocurrencies, which is the lack of regulation. In the event that such a deal were to happen, Charlie Lee could freely buy and sell coins without having to report anything.
For his part, Charlie Lee has not denied the quote on Twitter. However, the Litecoin Foundation did deny having a partnership with Wal-Mart. 
It should be noted however, that the Litecoin Twitter account, which is a Twitter verified account, did retweet this fake news release. And later re-tweeted a tweet from the Litecoin Foundation that said "the Litecoin foundation has not entered into a partnership with Walmart."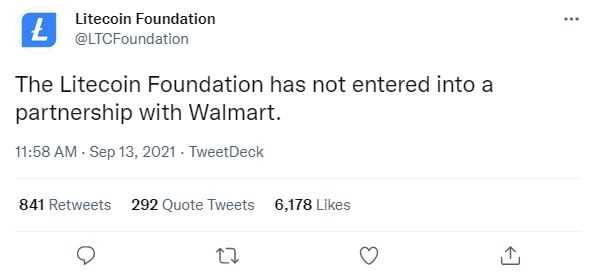 It cannot be understated however, that the release was convincing. In addition to catching the founder of Litecoin, Charlie Lee, in its trap, the release caused problems for a number of news agencies, such as CNBC, BNN Bloomberg, and Reuters. All of whom had to issue an embarrassing retraction post-release, indicating they had indeed fallen for the pump and dump scheme.
Given that it caught these news agencies, the announcement was quickly blasted across several networks, causing the crypto coin to momentarily spike as high as $237 on the day, up from the prior days close of $182. Of course, once it was found to be fake – CNBC is believed to be the first agency to get confirmation that it was in fact a hoax – the coin was pummeled, falling as low as $170.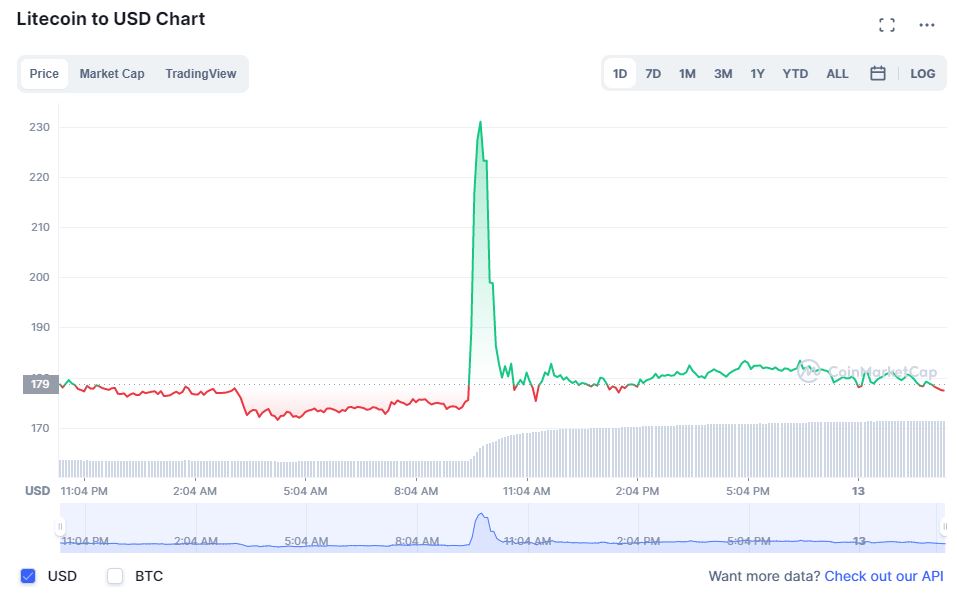 Now remains the question that everyone is asking – just who is responsible for the fake news?
There's a few things to take note of here. First, is how did the release end up on GlobeNewsWire? Prior to yesterday, Wal-Mart had never issued a news release via the wire service – although a "Notice to Disregard" has now been published on the service by the firm, officially. This is the first potential flag on the play.
Did someone hack the service, finding a backdoor to post a release under any name? Did some low level employee manage to find a way to create the fiasco? Or did someone impersonate a rep from the company, looking to issue the release? Anything at this point is pure speculation – and something for which we will likely never know the true answer.
Next on the list – why did they do it?
The obvious answer that we are all thinking – is that it benefited someone. That much is certain. The better question here is just how does it benefit them.
Was it someone looking to liquidate a position in the crypto coin via an opportune moment? This might be easy to discover based on the history of sales in the moments after the announcement, where any large order would be suspect.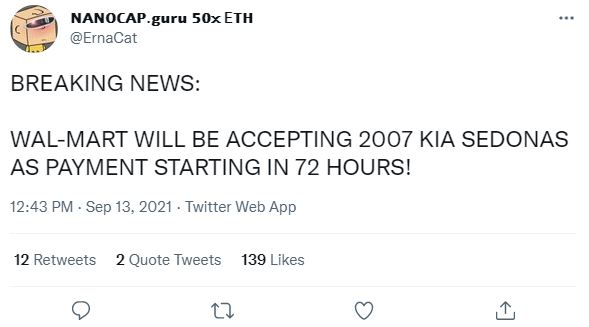 Or was it someone looking to liquidate a position in Walmart, under the hopes that the name would become an instant meme stock, driving it higher from the Robinhood crowd excited to support a major retailer that supports crypto.
Or perhaps, was it a ploy by someone to discredit the crypto sector? There's no doubt that the talking heads will now call for more regulation to the space – and the SEC is surely to begin a broad crackdown if such antics continue. We imagine the regulators are likely up to their ears in phone calls from investors that lost money yesterday morning purchasing Walmart shares on the news, only to discover it was a fake.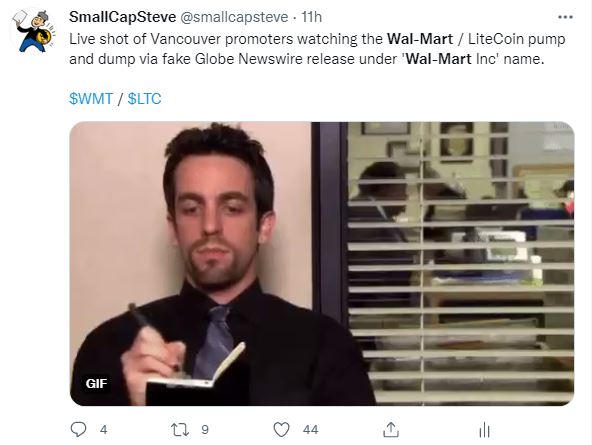 Likely the last major question, is what happens next?
Will the SEC begin investigating GlobeNewsWire for how they handled the situation from start to finish, or will they focus their entire effort on Litecoin and the persons related to it? Alternatively, what measures is Walmart now taking to ensure this doesn't happen again, or to seek retribution for the events?
Whatever the case, one thing is certain. Yesterday's events were a gongshow. Even more, this is more pressure on regulators to come after the crypto space as a whole with the intent of weeding out the "bad actors" while also providing a level of protection for consumers. The impact that will have on the sector is anyone's guess.
---
Information for this briefing was found via Sedar and the companies mentioned. The author has no securities or affiliations related to this organization. Not a recommendation to buy or sell. Always do additional research and consult a professional before purchasing a security. The author holds no licenses.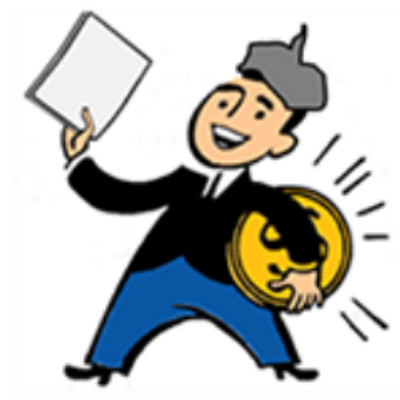 SmallCapSteve started blogging in the Winter of 2009. During that time, he was able to spot many take over candidates and pick a variety of stocks that generated returns in excess of 200%. Today he consults with microcap companies helping them with capital markets strategy and focuses on industries including cannabis, tech, and junior mining.