What's Roman Abramovich Going To Do About It?
There is a bluster in the Western world, and especially in the Western press, as the assets of Russian billionaires held anywhere but Russia are being seized by Western governments as a measure of sanction meant to stop the Russian Federation's in-process shelling and occupation of Ukraine.
US President Joe Biden used his state of the union address to lay down a hard line against Russian "kleptocrats," who he's absolutely done with! Hope they didn't get too attached to those "ill-begotten gains," because he's coming for them!
No more parties in LA
Try to park your yacht in Miami, we'll seize it. Want to fly that Learjet into Aspen for a fun ski weekend? Too bad! Airspace: CLOSED to plutocrats until further notice! Gaudy, wanton consumption like that isn't welcome in free, Western democracies like the US of A. Not while there are a million or so displaced Ukranians, and your buddy over there wants to act like the local emperor. Tell him to knock it the hell off, or else! Don't make us start cracking safe deposit boxes…
CNN, Forbes, Business Insider, and a growing number of twitter accounts are tracking the movements of a whole flotilla of high end super yachts presently pulling anchor and heading to places that have no extradition treaty with the US, with a palpable satisfaction and a sense of overdue justice.
These oligarchs, these… plutocrats! They didn't come by those yachts and luxury aircraft the honest way, by saving their nickels and investing wisely in good, honest enterprises like Amazon and Facebook. It's plunder! The spoils of selling all those filthy natural resources to western markets, out of companies that are only allowed to be partly owned by the institutional capital pools of the West! Well, not on our watch… comrade!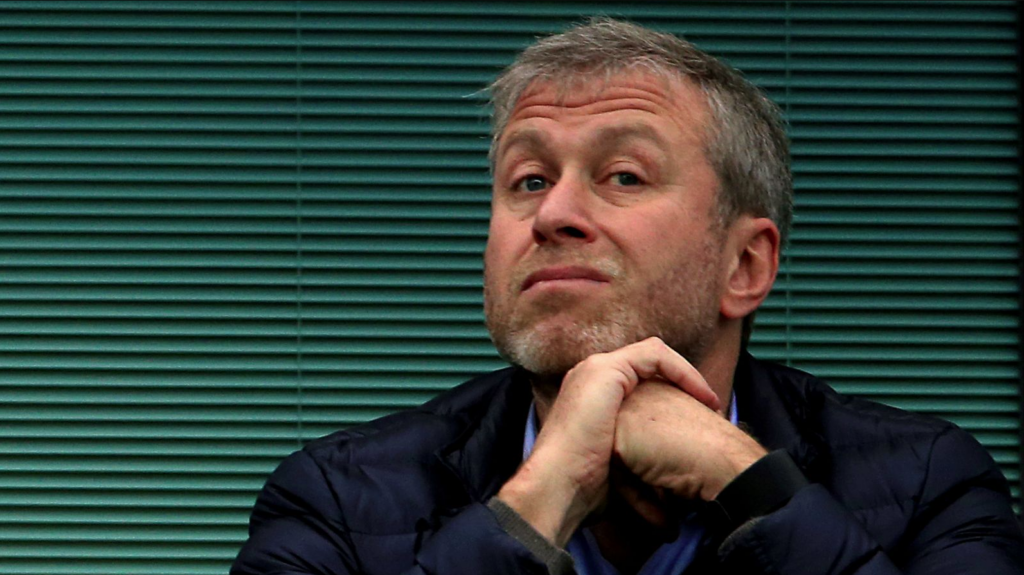 Well… it was nice while it lasted.
The oligarchs themselves don't seem all too put out by this. Roman Abramovich, perhaps the oligarch with the highest profile, has announced that he will be selling London football club Chelsea FC, foregoing £1.5 billion worth of debt that the club owes him, and donating the proceeds of the sale to the victims of this conflict.
The British press, arguably the most entertaining element of English football, immediately sought to clarify: Did he mean all of the victims? Including the Russian soldiers? Who are technically RUSSIAN victims!? Then went on to furrow their brows and have a pretend-serious discussion about "sportswashing," and whether it was fair for Abramovich to spend billions of pounds on a London football team just to get people to like him.
People never really did like him, of course. They liked Chelsea being good, and there's no reason to keep pretending if he's skipping town, but what else is he supposed to do about it? Nobody would even blink if Her Majesty's Bailiffs marched into Stamford Bridge and seized the whole operation tomorrow in some kind of convoluted scheme to leverage him into putting pressure on Putin, as if that were even possible. Putin doesn't like him either.
One ring… (But there's more where it came from.)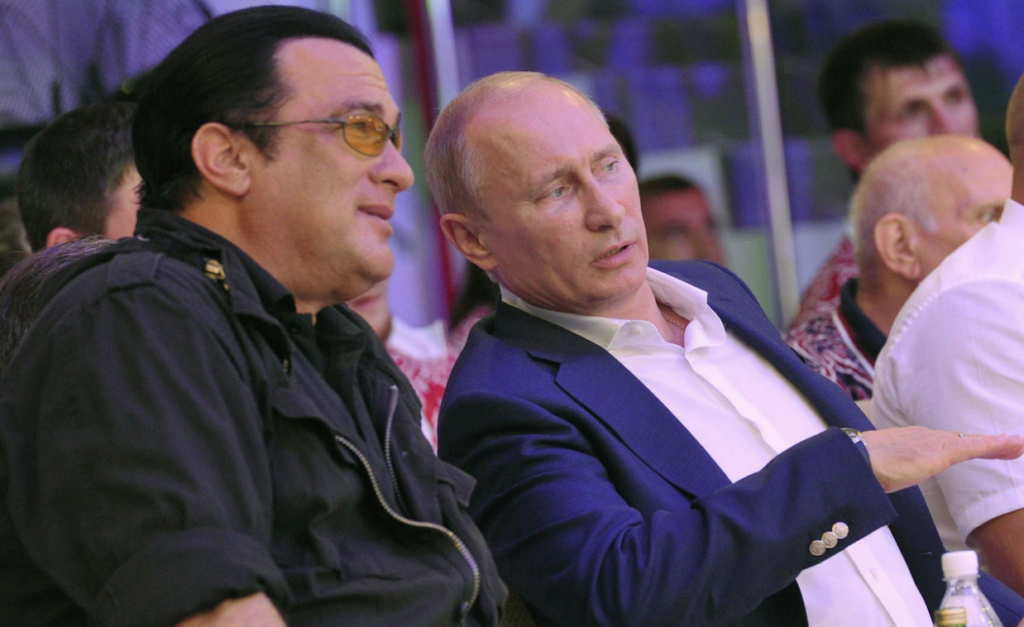 Back in 2005, it was a lot more socially acceptable to do business with Russia. Commerce delegations went over there all the time, and the press treated them like brave crusaders on a mission to liberate precious natural resource revenue from the former Eastern Bloc. One such delegation included Citigroup President Sandy Weill, media mogul Rupert Murdoch, and Owner and Chairman of the New England Patriots Robert Kraft.
Kraft's Patriots had just defeated the Philadelphia Eagles to win their third straight Superbowl. As the story goes, Kraft pulled out his Superbowl ring and showed it to his new buddy Vlad. Putin felt the hefty jewelry and put it on. "I could kill someone with this ring," the former KGB agent said. Kraft then put his hand out to get it back, but Putin decided that he'd rather keep it, and left the room with his entourage. What was he supposed to do about it?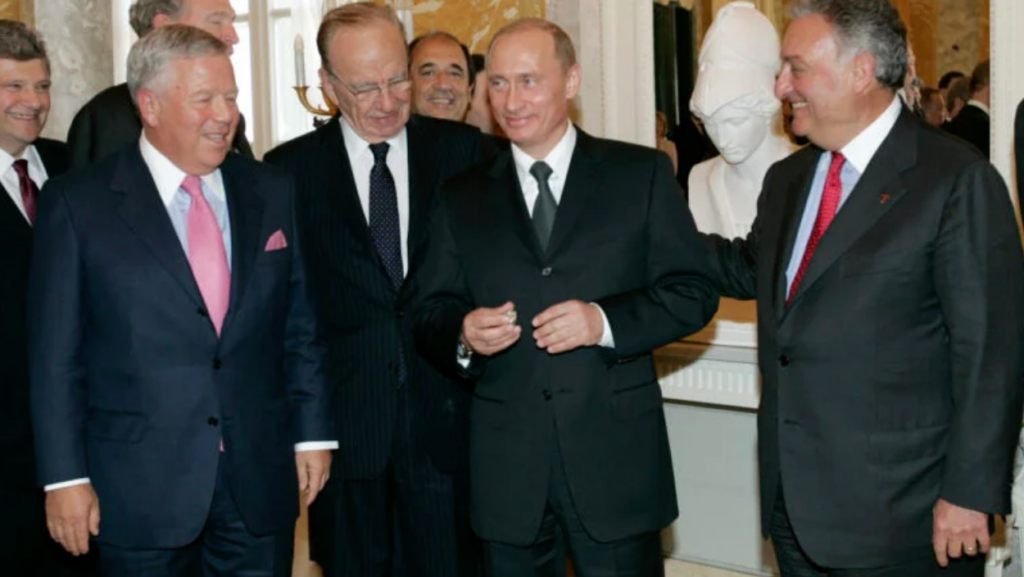 The jewelry appropriation having occurred at a media event, the story spread quickly, with plenty of help from Kraft, which is understandable, because that story was all he had left of his Superbowl ring. When the Bush administration put a call in to Foxborough, Kraft might have thought they were going to offer him some help getting it back through diplomatic channels, but he wouldn't have thought that for long.
It would seem that the daylight robbery of a high profile American executive wasn't good for the USA's international image. It made Uncle Sam look weak, especially since they weren't going to do anything to get it back. The smoothest way to go about this was for Kraft to say that the press has it wrong, and that the ring everyone presently thinks Putin stole from him was actually a gift. So could he please release a statement that says so? Otherwise, it might seem like they were capitulating.
Embarrassing, sure, but what was Kraft supposed to do about it? His Superbowl ring is in a trophy case at the Kremlin today, courtesy of a guy who takes whatever the hell he wants, sometimes just to make sure everyone knows he can.
Does the West really expect Roman Abramovich is going to march a troop of oligarchs in Prada suits into the Kremlin and tell Putin to put a lid on all of this Ukraine stuff so that they don't lose their yachts and villas?
The Russian aristocracy that oversaw the financialization of Russia's economy are beholden to Vladimir Putin, and not the other way around. Western nations who think that pressure on extremely wealthy individuals is the same thing as pressure on government are basically telling on themselves.
After all, if Jamie Dimon wants interest rates to stay where they are, what is Joe Biden supposed to do about it?
---
Information for this story was found via the Globe and Mail, Bloomberg, Sky Sports and the other sources mentioned. The author has no securities or affiliations related to this organization. Views expressed within are solely that of the author. Not a recommendation to buy or sell. Always do additional research and consult a professional before purchasing a security. The author holds no licenses.