Will Tilt Holdings Earnings Meet Expectations?
Times are tough for embattled cannabis boom story stock TILT Holdings (CSE:TILT). A $20 million bridge loan this past April done at credit card interest rates was rolled into an 8% convertible note this past July… at least… that was the plan. There hasn't yet been a follow-up to TILT's July 16th news release outlining the plan to do $50-125 million in convertibles. Presumably, they've been to busy re-filing their financial statements at the request of the BCSC to close the deal.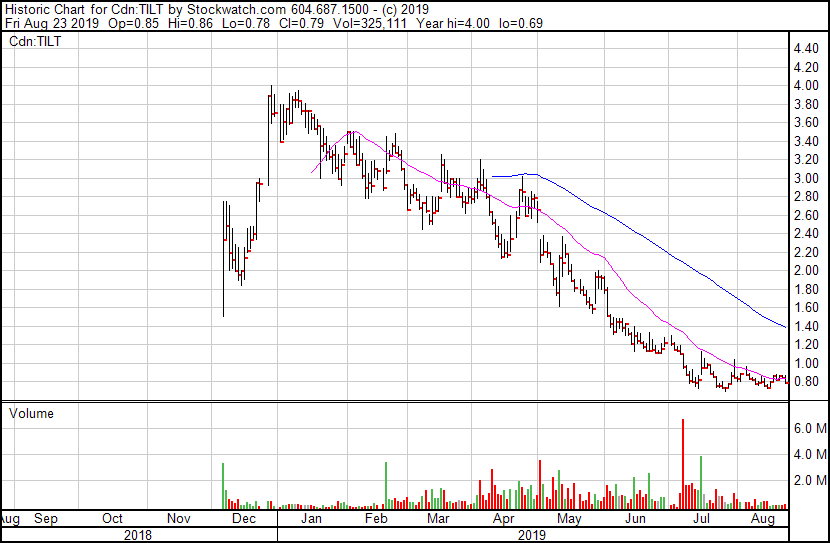 But TILT is under new management. CEO Mark Scatterday has hired a media relations firm to make sure the message is right, and the cutting-edge, forward thinking "vertically integrated technology and cannabis company" is all set to host a two way interactive discussion with the street this coming Wednesday the 28th of August. TILT is going to release its quarterly financial statements and MD&A for the period ending June 30, 2019 in the hours before the call, so The Deep Dive is sharing the things we're going to be looking for in those statements to formulate questions for this call.
How's it going in Powell River?
The shell into which this Frankenstein of a company was rolled was called Sante Veritas Holdings. SVH survives as a subsidiary of TILT, and is described in the company's filings as a "late stage applicant," for a Health Canada cultivation license. Sante Veritas leases a facility in Powell River, BC that is meant to be the site of this license, but there is little evidence that the licensing process has advanced at all since the merger.
The company has been more interested in developing their US assets, and said as much this past fall. Deep Dive sources in Powell River report little activity at the address on SVH's application to Health Canada. As recently as December, TILT had agreed to lease the site from the city for 10 years at $180,000 a year. It is the former (and perhaps current?) headquarters of a paper company.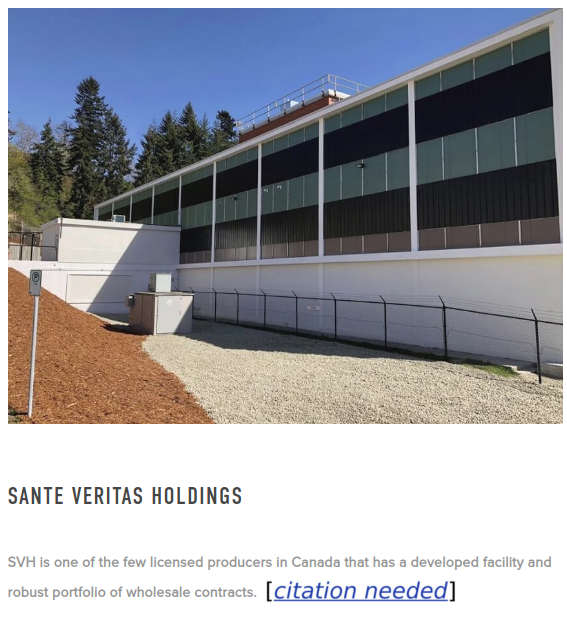 One might expect TILT to de-emphasize SVH as they focus their resources on other divisions, and by some measure they have. Sante Veritas doesn't feature in their press releases, and the section outlining the company's lease commitments in Powell River in the MD&A for the period ending December does not appear in their MD&A for the period ending in March. There has been no discussion of a scale back or change of plan at TILT's Canadian marijuana operations, and TILT's website presently describes Sante Veritas as "one of the few licensed producers in Canada that has a developed facility and robust portfolio of wholesale contracts," despite no license of any kind being acknowledged by Health Canada, no development having been done at the facility, and no evidence of wholesale contracts, robust or otherwise.
Are the synergies showing up any time soon?
TILT's investor literature makes a lot of references to "vertical integration," being set up by virtue of the company's various divisions being able to act in concert but, so far, the only apparent cooperation the business units have been able to manage is a juggling of gross losses.


Shareholders have great expectations for Jupiter Vapes, which TILT bought in January for $210 million, including $70 million cash. They sold $28.6 million worth of vapes last quarter for $5.6 million in top line profit, and if they grew that number, it would be a headline. If there are any vertical integrations possible between Jupiter and any of the other divisions, this period makes for 6 months the company has had to develop them.
The subsidiary known as Briteside has several business units of its own, the most active of which appears to be a manufacturer of pre-made grow rooms. They sold some to a Pennsylvania cultivator in 2018, possibly Standard Farms, acquired in 2019 by TILT.
The URL for Briteside's website was not loading at press time.
How did the cannabis division do?
TILT sells cannabis in Massachusetts and Pennsylvania. Last quarter, those operations sold just shy of $4 million worth of product to create a $2M top line profit and a $8M bottom line loss.
They showed $9.6 million in cannabis product inventory last quarter, and we'll get a chance to see how they did selling it when they report on Wednesday.
The stakes are high
One gets the sense that the controversial company has quite a bit riding on the market response to these earnings. Pre-profit ventures all need money to scale, and without some market lift, that could prove hard or even deadly to come by.
Tilt Holdings is currently trading at $0.82, up 3.80% on the day.
---
Information for this commentary and analysis was found via Sedar and Tilt Holdings. The author has no securities or affiliations related to this organization. Not a recommendation to buy or sell. Always do additional research and consult a professional before purchasing a security. The author holds no licenses.