Cathie Wood's Big Ideas 2023 Sees Disruptive Innovation To Be Bigger Than Global GDP
Cathie Wood and her Ark Investment Management are back with their unsolicited Big Ideas 2023 report. The investment firm started publishing the annual document in 2017 "to highlight the technological breakthroughs evolving today and creating the potential for super-exponential growth tomorrow."
"We believe that innovation is taking off now, corroborating our original research and boosting our confidence that ARK's strategies are on the right side of change," the report said.
The report is toplined by a bold prediction that the market value of disruptive innovation platforms could scale up from $13 trillion today to "$200 trillion by 2030." That's just the contribution of the market to the global equity value, which sat at $84 trillion in 2022 and projected to increase to $97 trillion in 2030.
In comparison, worldwide GDP is currently estimated to be $100 trillion, with the January 2023 World Economic Outlook Update projecting that global growth will decline to 2.9 percent in 2023 but rise to 3.1 percent in 2024.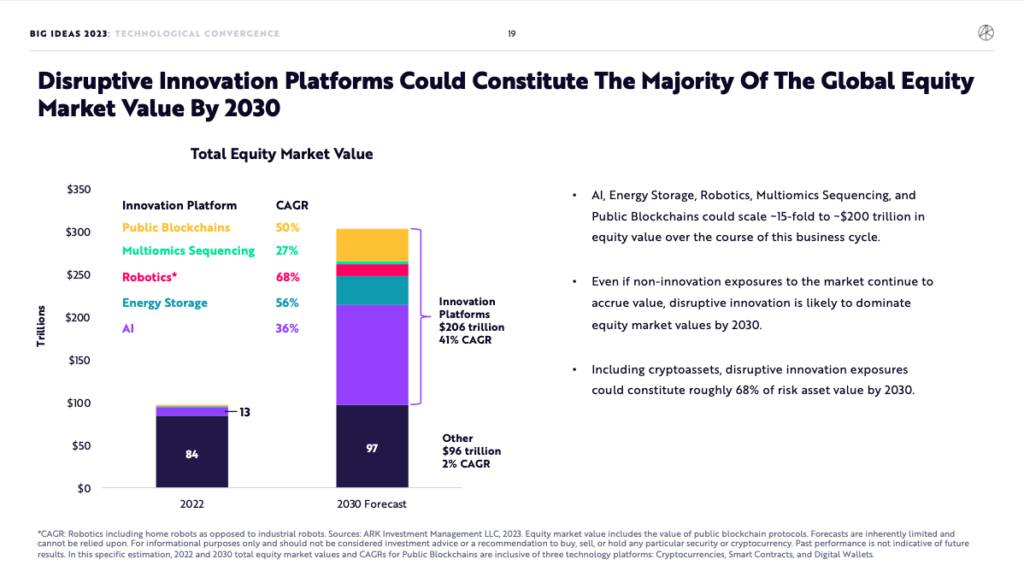 "AI could increase global labor productivity ~$200 trillion"
Five innovation platforms, according to ARK's study, are converging to produce extraordinary growth trajectories, namely: artificial intelligence, public blockchains, multiomic sequencing, energy storage, and robotics.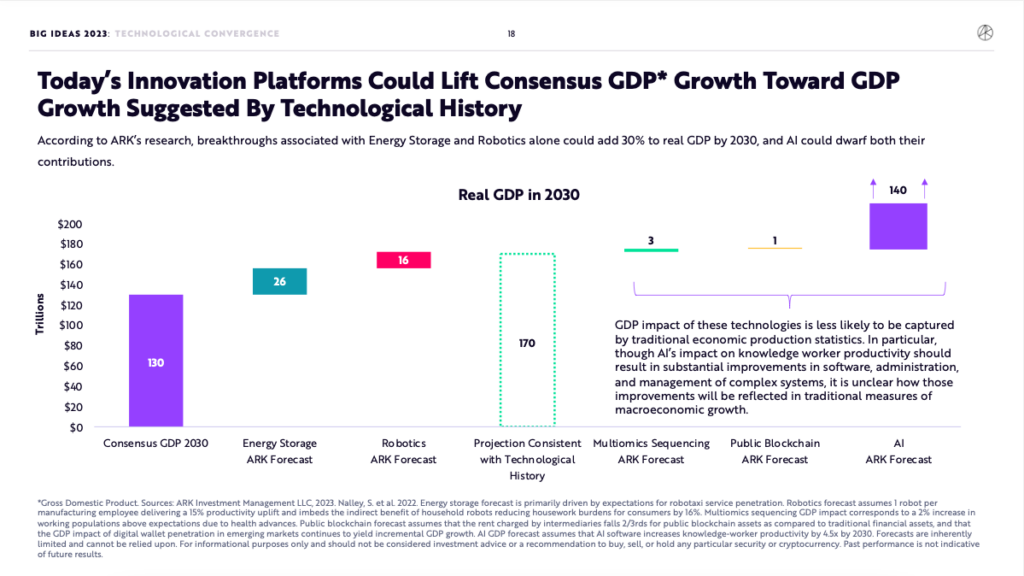 The tech bull already said back in May that the country's gross domestic product could grow up to 50% annually in just 12 years, thanks to artificial general intelligence (AGI). The last year's edition of Big Ideas report said the industry could grow as big as $87 trillion dollars by 2030.
Again, for comparison, the US GDP is $25.46 trillion, with the International Monetary Fund predicting a growth rate of 1.4% for 2023.
READ: Another Wrong Call In The Making? Cathie Wood Predicts 50% Annual GDP Growth In 12 Years From Artificial General Intelligence
In the 2023 version of the report, however, Ark was even more bullish, predicting that AI "should increase the productivity of knowledge workers more than 4-fold by 2030."
"At 100% adoption, AI could increase global labor productivity ~$200 trillion, dwarfing the ~$32 trillion in total knowledge worker salaries," the report said, citing declining AI training and GPT-3 training costs.
The report added that "if vendors were to capture 10% of value created by their products, AI software could generate up to $14 trillion in revenue and $90 trillion in enterprise value in 2030."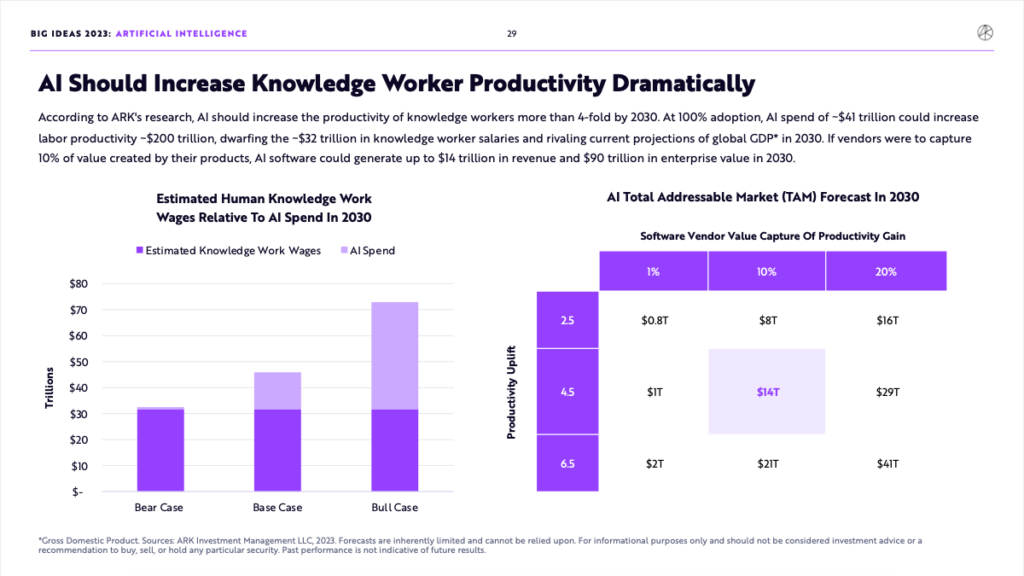 "Digital leisure spending during the next eight years should grow at a compound annual rate to $22.5 trillion"
"In 2022, digital leisure spending totaled $6.6 trillion and, during the next eight years, should grow 17% at a compound annual rate to $22.5 trillion adjusted for inflation," the investment firm predicted, citing predictions for growth in demand for digital goods and services, away from physical counterparts.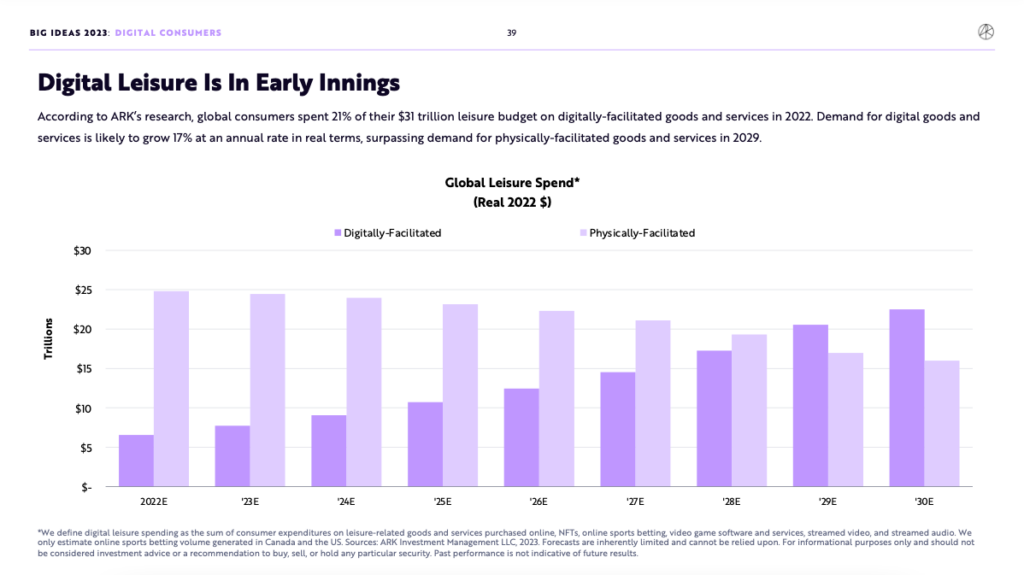 It added that "real digital revenue (defined as the revenue accrued to platforms and creators from digitally-facilitated leisure spending) should grow 14% at an annual rate during the next eight years, from ~$2 trillion in 2022 to $5 trillion in 2030."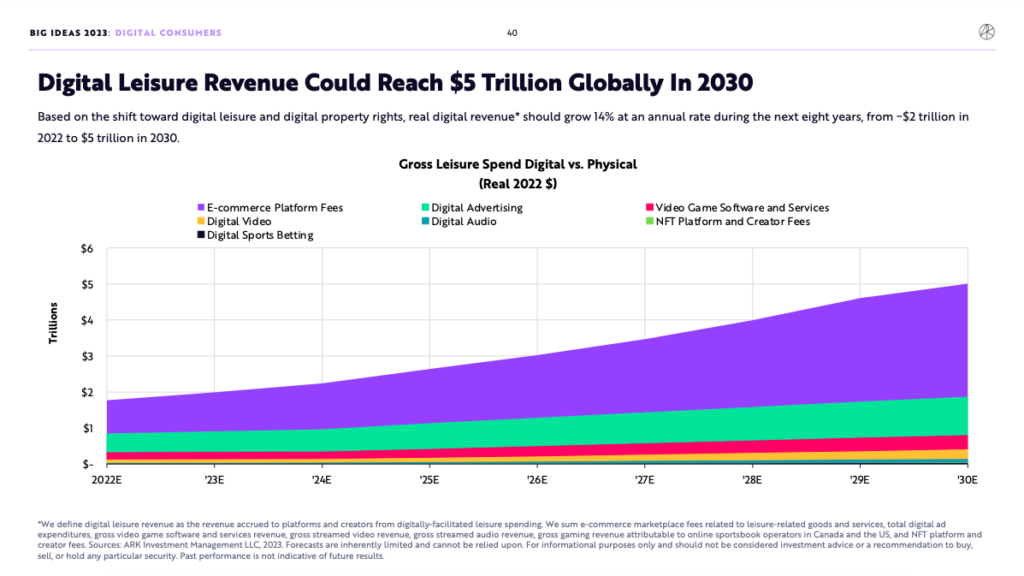 The report further explained that there are four trends that would contribute to this, including connected TV (CTV), new social platforms, sports betting, and gaming.
It argued further that advertisers have yet to "unlock the potential of CTV," citing figures that while there are 18% more household viewers with CTV than linear TV, the platform only accounted for 23% of total ad spend.
However, it is noteworthy that rates for CTV advertising are generally higher than similar placements in linear TV. Keynes Digital puts the median cost-per-thousand (CPM) for broadcast/cable linear television ads at $10 to $15 CPM while for CTV ads at $35 to $65. The difference in cost is due to the ability for CTV to target its users better, which also means that advertisers generally select a smaller but more targeted slice of the total viewership as opposed to linear TV placements where broadcast applies to the whole audience.
In essence, advertisers could be spending less on CTV ads because it is more concentrated on its target audience compared to what it would spend on mass broadcast in linear TV ads.
"As it displaces linear TV's once-dominant role in the US, total CTV ad spend should grow 20% in real terms at a compound annual rate, from $21 billion in 2022 to more than $50 billion in 2027," the report added.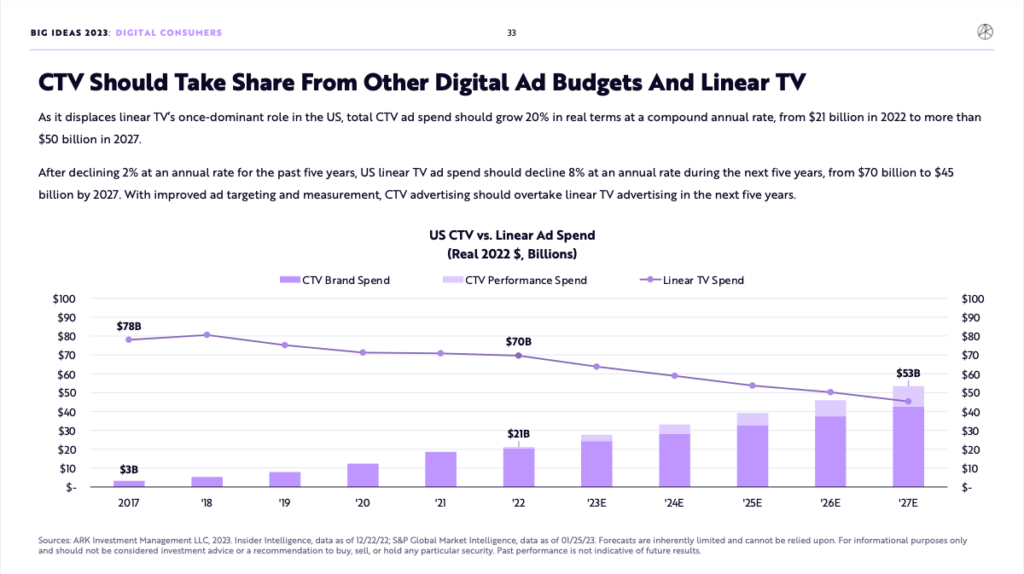 "Tiktok is likely to capture advertising share more"
The report also noted that while TikTok and Facebook were roughly equal in engagement hours in 2022–marking "the peak in traditional follow-and-feed social media" and the emergence of "content-based social media"–Tiktok only accounted for "$10 billion, or 2% market share, of the estimated $470 billion spent on search, video, and social ads in 2022."
"Content-based social media is likely to capture advertising share more in line with its engagement hours," the report noted.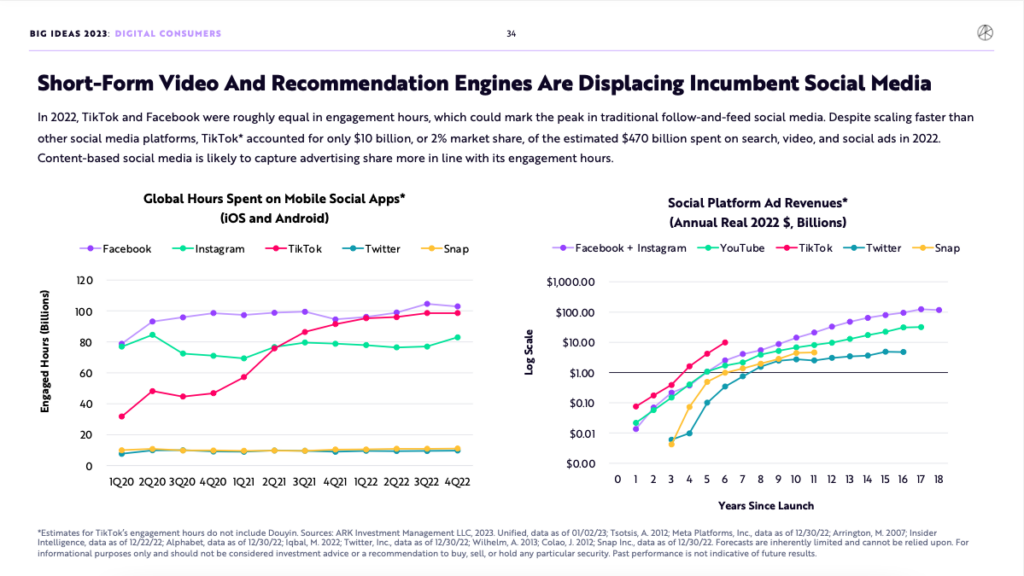 But in reality, Tiktok has been facing federal government resistance as more US states, as well as countries like Taiwan, have banned the Chinese-based app on account of security risks. Republican Sen. Josh Hawley said this month that he will introduce legislation to ban TikTok in the whole country, noting that the app is "China's backdoor into Americans' lives."
READ: No More TikTok For America: US Senator Looks To Legislate Ban On China's ByteDance App
"Global NFT transaction volume will grow to $120 billion by 2027"
The investment firm also noted that non-fungible token (NFT) trading volume climbed 15% year on year in 2022, led by high-profile collector initiatives such as Bored Ape Yacht Club and Crypto Punks. However, the proportion of NFTs issued has shifted toward utility-based projects such as on-chain domain names and digital memberships.
"Focused on underlying value instead of speculation, the shift toward utility is a healthy development," the report said.
Given this, and "thanks to decentralized proof-of-ownership," Ark Invest believes that "global NFT transaction volume will grow more than five-fold from $22 billion today to $120 billion by 2027."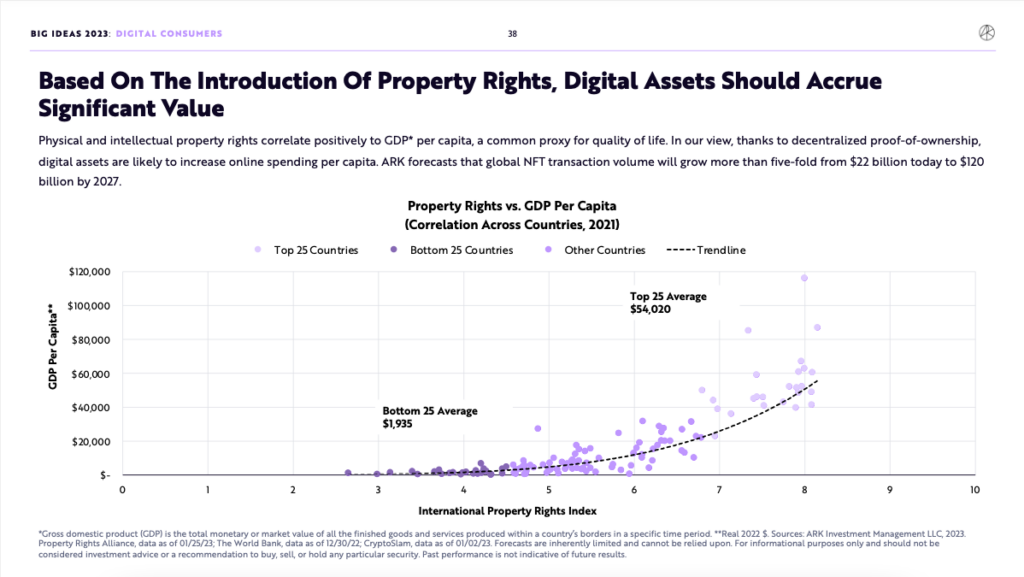 However, the so-called NFT craze seemed to have already seen its peak back in January 2022. Trading volume has fallen 97% since the start of the 2022–from $17 billion down to around $466 million in September 2022.
READ: NFT Market And Its US$16-Billion Collapse In 2022 (So Far)
Observers have also been noting the increasing crackdown on the digital asset market. Aurelien Michel, a French national living in the United Arab Emirates (UAE) and creator of Mutant Ape Planet NFTs, has been charged with defrauding investors of more than $2.9 million in cryptocurrency in a "rug-pull scheme."
"Cryptocurrencies could command $20 trillion in market value"
While Ark Invest acknowledges the contagion from Terra/LUNA, Three Arrows Capital, Celsius, and FTX/Alameda wiping out "~$1.5 trillion in crypto market capitalization," the firm maintains that "public blockchains continue to foster [financial revolution]."
"The long-term opportunity for Bitcoin, DeFi, and Web3 is strengthening," the report said. "Cryptocurrencies and smart contracts could command $20 trillion and $5 trillion in market value, respectively, during the next ten years."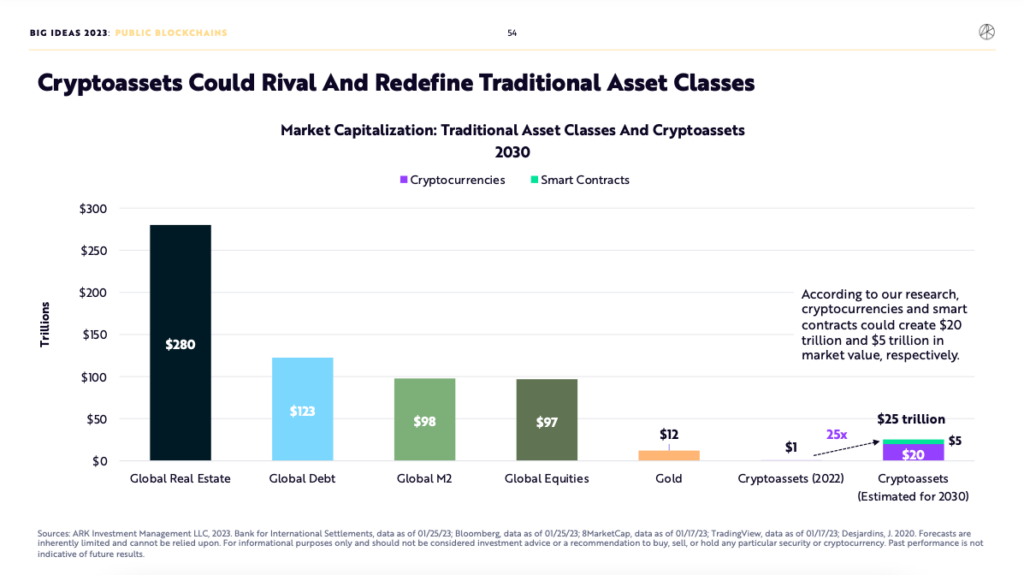 Wood had a bullish target back in April for the price of bitcoin of over $1 million per coin in 2030. The prediction, which also came from the 2022 version of the Big Ideas report, however, calls the fund manager's computation into question.
READ: Cathie Wood Is Targeting Over US$1 Million Per Bitcoin In 2030 But Her Own Math Might Prove Otherwise
In the 2023 report, the firm doubled down on the prediction, saying "the price of one bitcoin could exceed $1 million in the next decade," even scaling as high as $258,500 in a bear market case.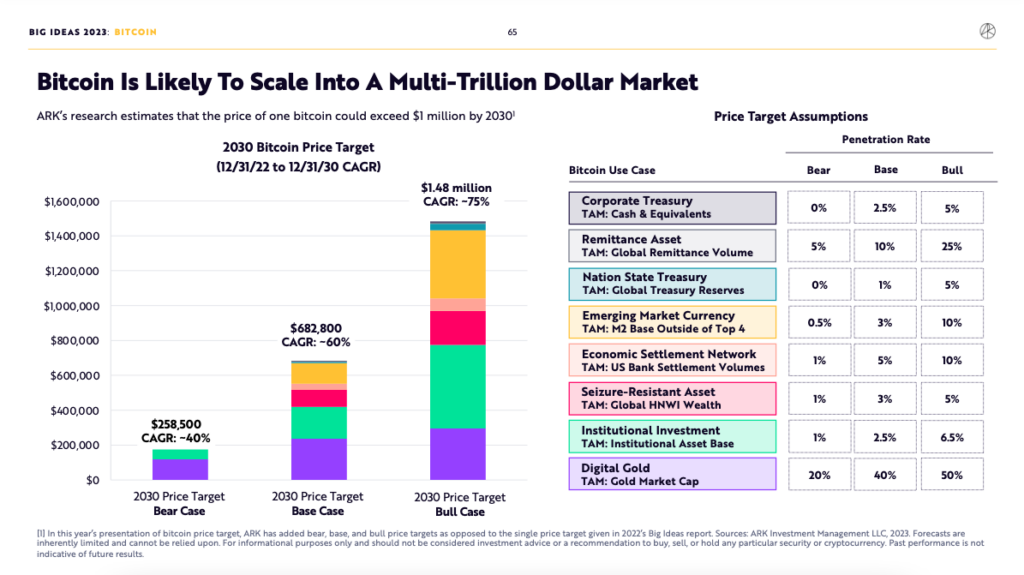 Current bitcoin prices have surged to the $23,000-mark towards the end of January 2023 from its two-year low in the latter part of 2022. Ark Invest notes that bitcoin hit its lowest price in two years after around 77% in drawdowns; despite this, fundamentals "are stronger today" compared to past drawdowns.
Curiously, in one of its charts that talks about the bitcoin fundamentals, Ark Invest seems to have omitted the figures for 2021. In November 2021, bitcoin realized cap averaged at around $460 billion while realized price averaged around $24,400–both numbers higher than the 2022 counterparts a year later.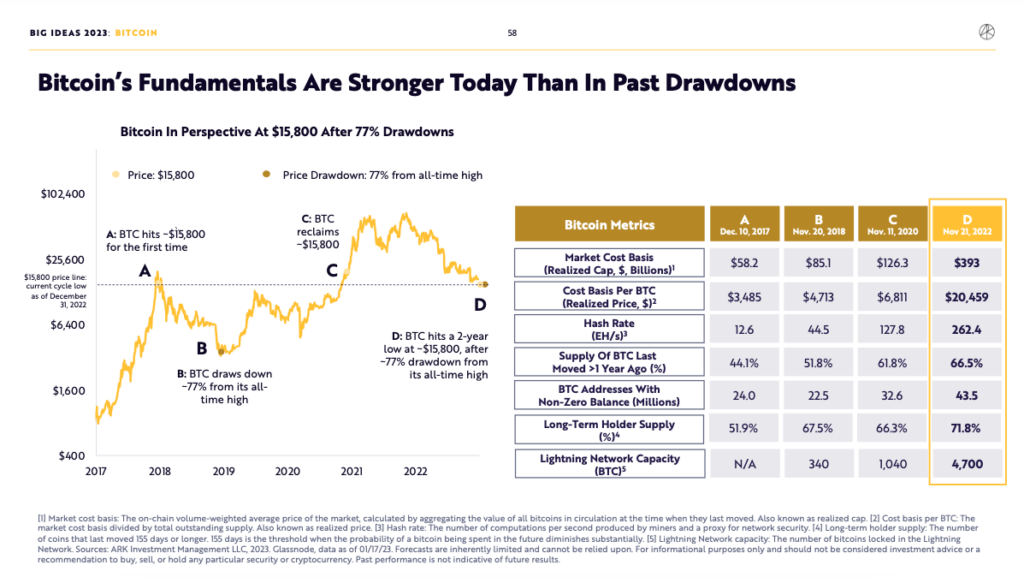 In boosting confidence for the digital asset, the report also noted that there are "a record number of exchanges" that were forced to publish their "proof-of-reserves" (PoR), including Binance and Crypto.com in 2022.
However, the investing firm seems to have missed discussing that while auditing firm Mazars–which Binance tapped to conduct an Agreed-Upon Procedures engagement for the crypto firm–essentially confirmed the exchange's BTC reserves, it later deleted the page from its website that displayed the results and was reported to be temporarily pausing "their work with all of their crypto clients globally, which include Crypto.com."
READ: Mazars Removed Binance "Audit" Results From Website, Paused Work For Crypto Clients
"Electric vehicle unit sales will scale to 60 million in 2017"
The investment firm also predicted that electric vehicle "prices will decline and sales will increase more than 7-fold, or 50% at an annual rate, from roughly 7.8 million in 2022 to 60 million units in 2027."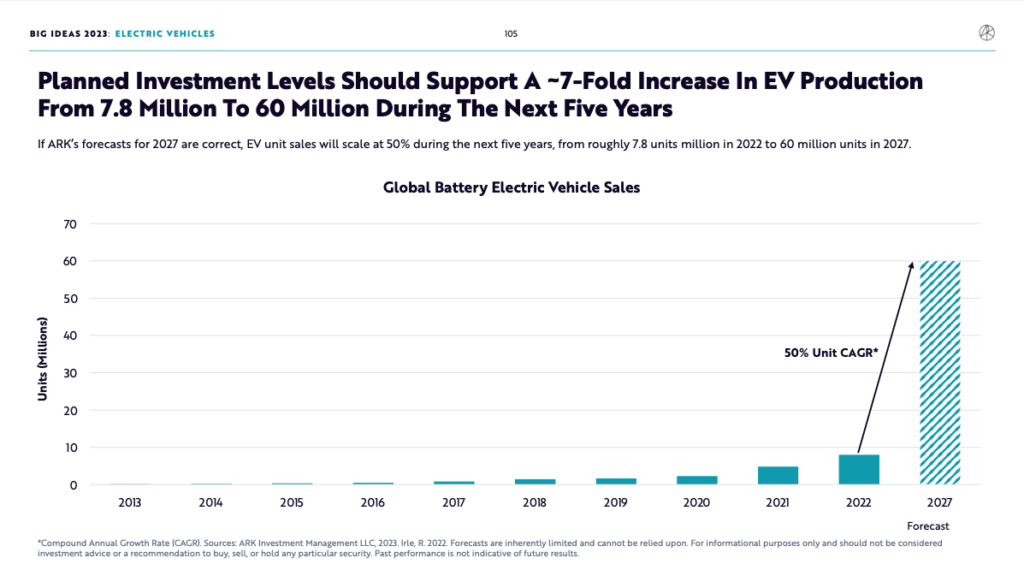 "At a historical auto industry capital efficiency of $14,000 per unit capacity, the annualized ~$600 billion earmarked for EV investment would equate to 43 million units in annual production per year," the report said.
It added that if all automakers were to realize the capital efficiency associated with EVs, $600 billion would accommodate 86 million units. However, that is a big "if" based on Ark Invest's math that the $14,000-cost per unit of production capacity will be halved to $7,000.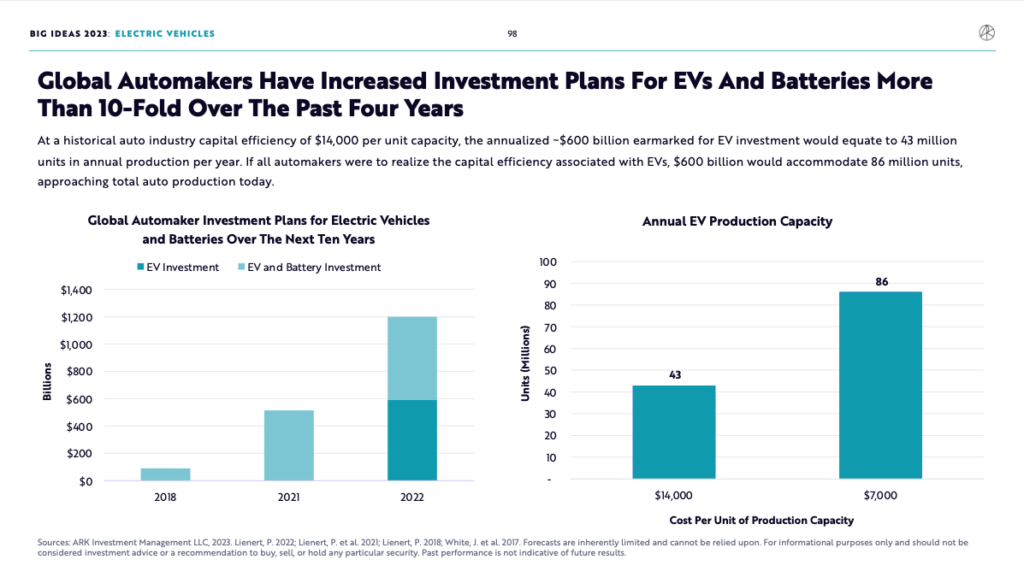 Citing Wright's Law, the investment firm predicted that battery cell costs will fall by 28% and this "should persist over the long term" despite the recent commodity spikes and associated battery price increases.
The report cited Tesla Model 3 hitting price parity with gas-powered vehicles, making a case for the declining EV prices.
Recently, Tesla made global price reductions at the turn of the year, with analysts predicting that the firm's reported profitability would allow it to cut prices and put pressure on competitors. The company's $9,000 net profit per vehicle in the most recent quarter was more than seven times that of Toyota Motor's in the third quarter.
READ: Tesla Math: How The EV Maker Presented Q4 2022 Financials Better Than They Actually Are
But while Tesla models are seeing price cuts, they are reportedly so expensive to repair that insurers are writing them off even with fewer than 10,000 miles on them.
Reuters analyzed data from the United States' two largest salvage auction houses, Copart and IAA, and found 120 Model Ys totaled after collisions listed at auction in December and early January, with a vast majority of the vehicles having fewer than 10,000 miles on the odometer.
READ: Tesla EVs Are So Expensive to Repair, Insurance Companies Are Just Writing Them Off
The ARK is sinking
Despite the funds' portfolio losing about $50 billion from its peak in 2021, Wood increased her holdings in December and purchased nearly 75,000 shares of Tesla and approximately 297,000 shares of Coinbase, continuing a dip-buying streak that began in October.
According to Morningstar data, total assets across Ark's nine ETFs have fallen to $11.4 billion from a high of $60.3 billion in February of last year. This was driven by severe drops in its flagship Ark Disruptive Innovation ETF, known as ARKK, which has lost over two-thirds of its value this year and is on course to have its worst yearly performance.
Wood's ARKK was deemed the "worst-performing fund" in Q1 2022 by Morningstar.
The Big Ideas 2023 report, aimed to rally confidence and shares in speculative tech under Ark's portfolio, has generally received critical feedback, with some noting how Wood's bullish outlook doesn't translate to her funds' performances.
Wood and her actively managed ETFs had a rough 2022, having come under harsh pressure during this year of rate rises. Her holdings, which she refers to as "unprofitable tech," have lost between a third and two-thirds of their value this year.
The investment manager called out the Fed on its basis for deciding to hike interest rates in an attempt to control surging inflation. In an open letter, Wood tried to debunk the the unanimity of the decision to increase the borrowing rates by offering alternative data that argue most commodity prices have already peaked.
READ: Cathie Wood Pulls A "Karen" On US Federal Reserve, Questions Interest Hike Decisions
---
Information for this briefing was found via the sources mentioned. The author has no securities or affiliations related to this organization. Not a recommendation to buy or sell. Always do additional research and consult a professional before purchasing a security. The author holds no licenses.