It's a Champagne Room Economy – Canada's Innovation Minister Is A Rubber Stamp For Industry
Are innovation, science and industry really three things that ought to go together in the same government ministry? Because a quick look at the Canadian economy makes innovation and science look like they're there to make the industry part easier to swallow.
Of the highest earning companies in Canada, the top 10, and 13 of the top 15, are in the extractive or financial sectors.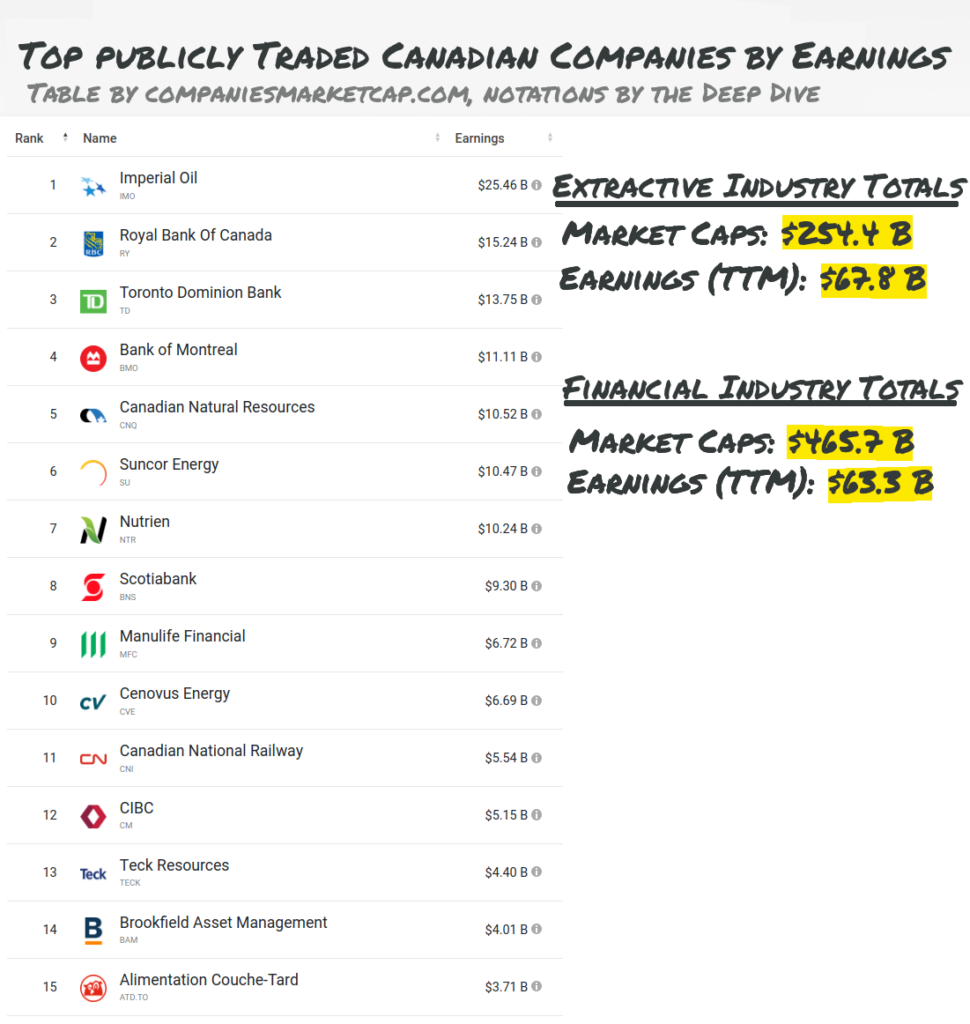 Unsurprising, because that's what we do here. We pull stuff out of the ground, sell it as quickly as possible, so as not to have to waste any money improving it, and dream up new and bigger ways to charge money for money.
We're in collective denial about the sustainability of that sort of economy, so the government puts "science and innovation" in the ministry title to make it seem like they're in the lab, cooking up something that we're going to do once we're out of holes to dig and hole-digging operations to finance.
And, by various measures, they are. The government owns a whole bank called the Business Development Bank of Canada that, at the end of 2022, had $40 billion loaned and invested in small Canadian businesses.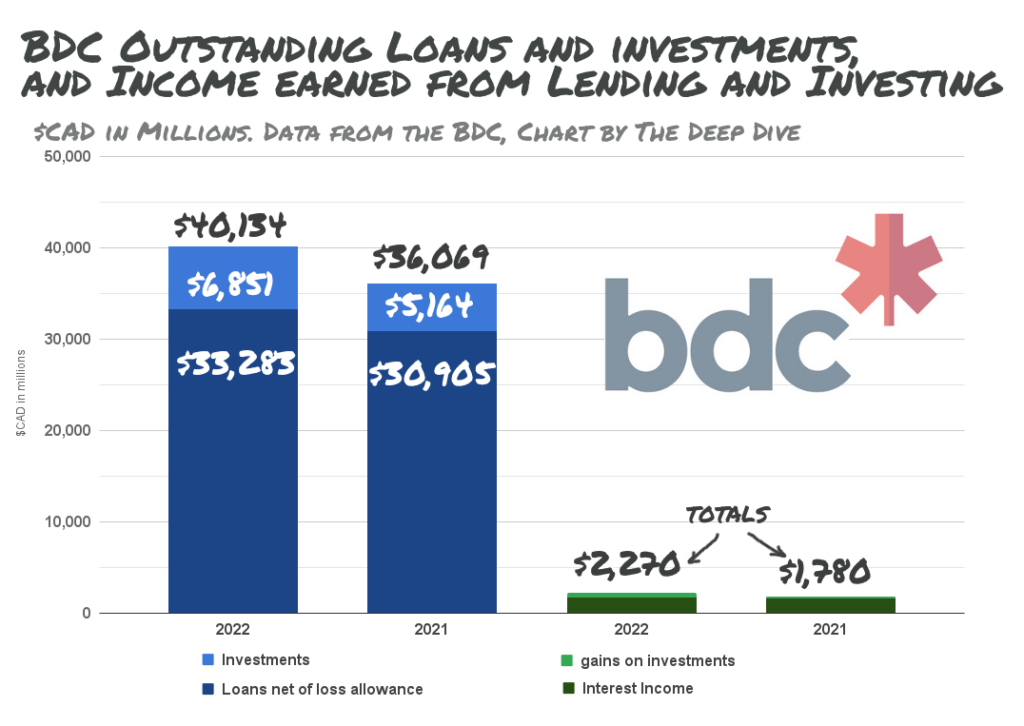 The BDC is a Crown corp, not operated by the ministry, and we're only bringing it up as an example of size of the investments that the government makes in the development of enterprises.
The Innovation, Science and Industry ministry itself maintains a page of business loan and grant programs that are available to various businesses under various conditions, and practically throws themselves a parade every time they launch a new one.
It also oversees a "Strategic Innovation Fund" that has invested $3.6 billion to date in Canadian businesses, and it's got another $8.6 billion lined up for large scale industrial emissions reduction projects, much of which will end up paying for emissions reductions at oil and gas companies, who are the largest polluters, and the only ones in a position to spend above the program's minimums: businesses with projects that need less that $10 million need not apply.
Classically, private money backs development stage businesses when it's growth focused, and looks for exposure to the next Bell Telephone or Danby Appliances. In times of low interest rates (like the past 20 years), investors generally have more appetite for risk, as they chase the yield that they aren't able to get in the fixed income markets.
But government money poured into the venture sector at about the same pace when rates were at rock bottom as it is now that they're (relatively) high because, if it didn't, these ventures wouldn't be able to attract private capital. Even when the rates are low, it's hard to justify taking the risk on growth-stage investments. Not in the context of available investments in mega-corps that get enough government help to buy the BDC ten times over.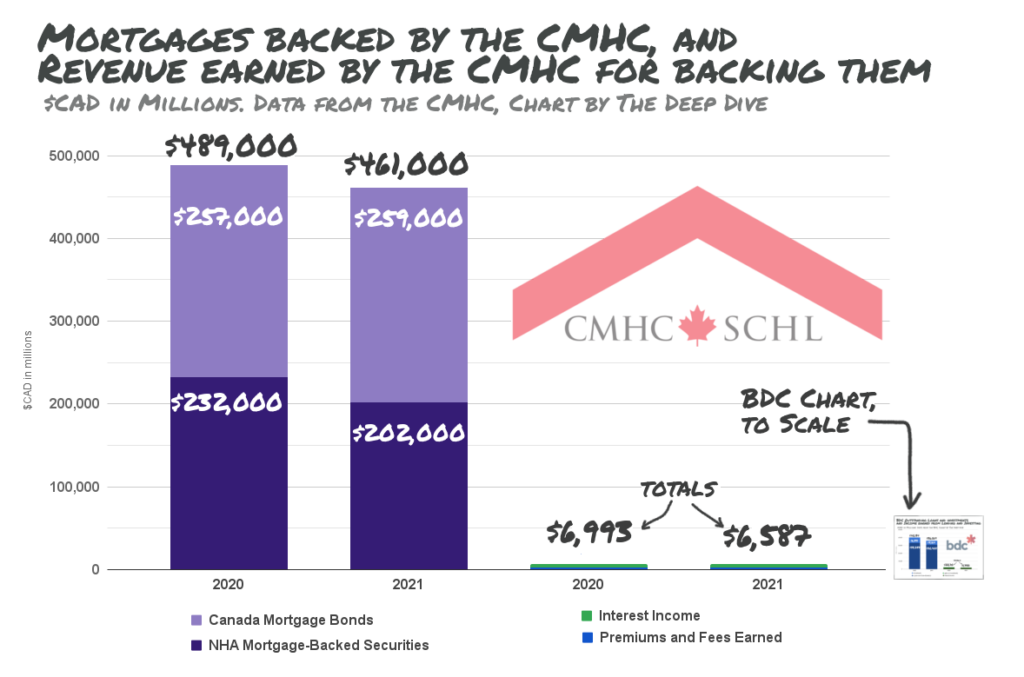 Between the crown-owned CMHC taking the risk out of residential mortgages to facilitate the banks' commodification of a basic human need, and the massive, perpetual tax and direct subsidies to oil and mining companies, there isn't a company in the top 15 that isn't a welfare queen.
But today we're on about the telcos, to which the government's contribution is more functional than financial.
The Notorious F-P C
After staying out of each-others' ways for a few decades while sewing up the country's communications infrastructure in two different parts, Shaw and Rogers spent the last couple of years trying to convince the Canadian Competition Bureau to let them merge the two networks, then sued their way past an outright denial. All that was left was the approval of the Innovation, Science and Industry Ministry, which was delivered in March.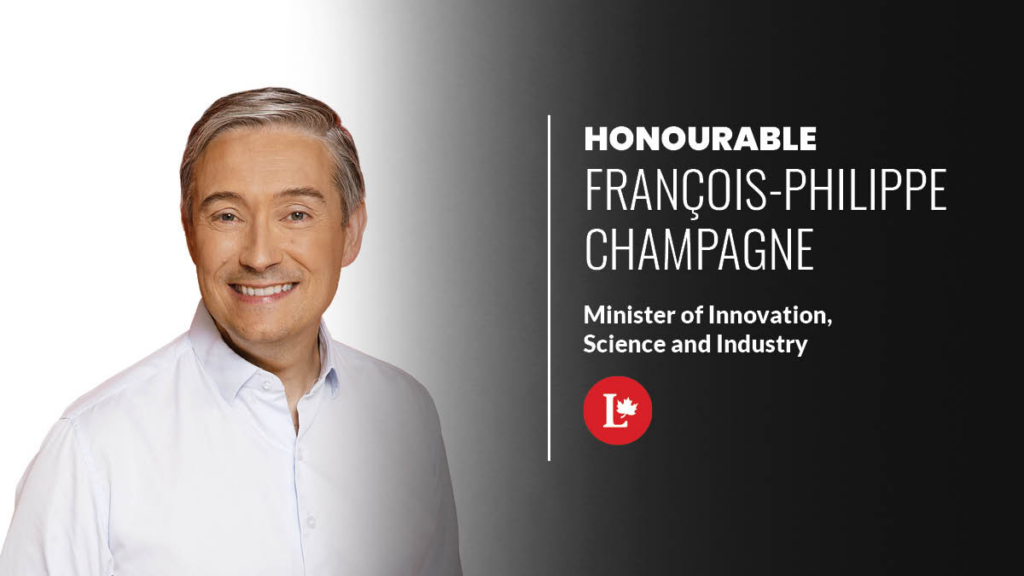 The full text of the agreement that Rogers made to take over Shaw isn't yet available, but it's outlined in bullet points in this statement from Minister Francois-Philippe Champagne.
Conditions include the expanded Rogers being required to employ people which, generally, is something a telephone company does as part of its business. It isn't clear from the statement whether the 9,000 people who work at Shaw presently count towards the 3,000 positions that the Ministry is mandating that Rogers "create" in Western Canada but, if they do, this agreement amounts to a license to get rid of 6,000 people. Presumably, the requirement to create and maintain a headquarters in Western Canada is effectively a promise not to close the Shaw headquarters that it's buying.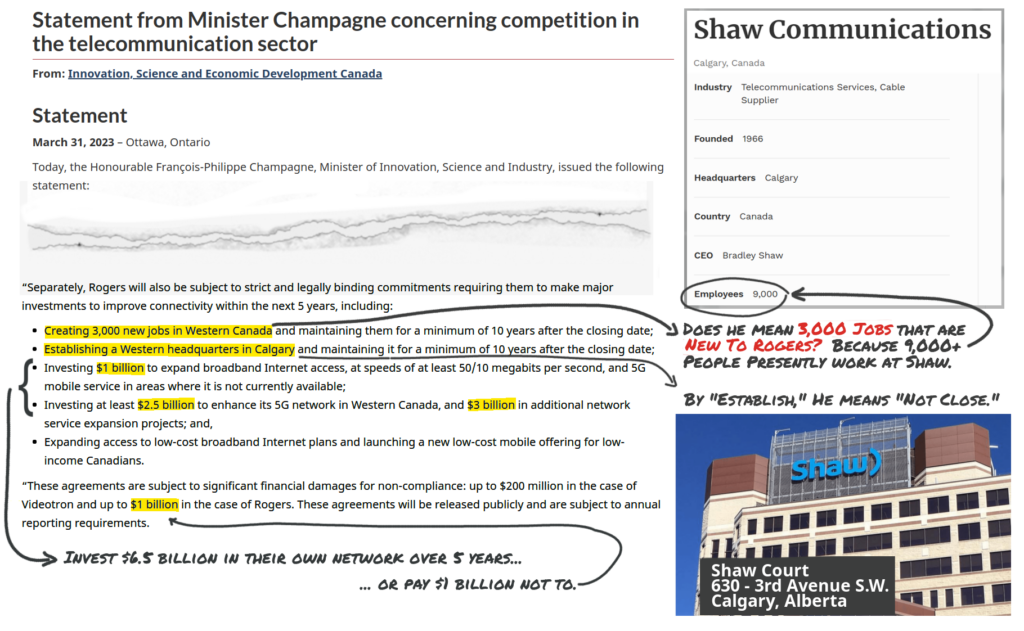 Rogers is also required to build out a 5G network, which also sounds like (and is) something they were going to do anyhow. Following Minister Champagne's performance at the inquiry into this past July's outage of the Rogers network, this is about the level of toughness we expected.
Minister Champagne kicked off a July 24th meeting of the Standing Committee on Industry and Technology, called to address the second crash of the vital infrastructure that Rogers controls in as many years, incensed that Rogers CEO Tony Staffieri didn't call him the second the network went down.
He didn't say anything about what he would have done if he was called, or how he was supposed to be reached with the networks down, but it's the thought that counts here. Minister Champagne considers his ministry a sort of partner with Rogers, and wants to be consulted on the country's networks, and how they're managed.
When the committee started asking about whether networks like Rogers would be better handled and more resilient if they were public utilities, Minister Champagne assured it that this was NOT the time to talk about that which, from the perspective of Rogers and its partners, it sure wasn't.
What was important was how they were going to fix it. And to that end, Rogers made a commitment to spend $250 million building an "always-on network," which sounds a lot better than the sometimes-off network they had at the time.
$250 million dollars is about one seventh of what Rogers spent servicing its debt in 2022, and a quarter of what it paid in dividends. In the context of the fact that its networks have a book value around $15.5 billion, including -$25 billion in accumulated amortization and depreciation (it writes down around $2.5 billion a year), the company's commitment to invest in itself didn't impress us.
But it sure impressed Minister Champagne!

We looked up the Minister's Conflict of Interest filings to see if he's a Rogers shareholder, but they weren't much help. Outside of real estate, the minister's only disclosed holdings are beneficial interests in the François-Philippe Champagne Trust, its sequel, the François-Philippe Champagne Trust 2, and (potentially) the Gilles Champagne Family Trust. The trusts own interests in private corporations, and what those private corporations are (and what they own), isn't available information. We emailed the minister to ask what was in the trusts, but got no reply.
Facilitating the ongoing growth of telco conglomerates at the expense of Canadians, who pay the highest wireless rates in the developed world, is a funny way to go about industrial development. It isn't very innovative, or scientific, but the main problem is that it's starving the economy of capital.
Insomuch as the object of managing money is to make that money make more money, the $133 billion in capital presently parked in the three major telcos is stuck there, collecting rent, and isn't likely to do anything else any time soon. The only thing that will make it budge (apart from another investment that offers higher rent), is a nationalization of the networks. A minister acting in the interest of the subscribers who pay for the network, and the broader economy, would do just that.
This minister may be too busy collecting telco dividends to even consider it, but we can't say for sure. Judging by the way he gushed at the BHP Billiton CEO while handing over $100 million in taxpayer money, he might just be a chronic corporate kiss-ass.
---
Information for this briefing was found via Sedar, the Government of Canada, BDC, and the sources mentioned or linked. The author has no securities or affiliations related to this organization. Not a recommendation to buy or sell. Always do additional research and consult a professional before purchasing a security. The author holds no licenses.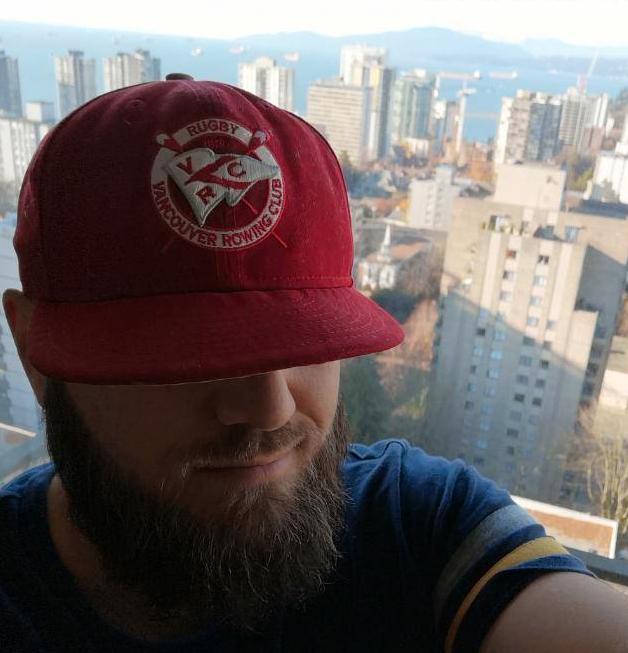 Braden Maccke is a freelance writer from Vancouver, B.C.
You can read all of his Deep Dive articles here.
He can be reached at braden@fundamentalhype.com.