Crypto Contagion Explained: Who FTX is Taking Down With Them
How bad is the crypto world about to get?
Well, if you haven't been paying attention, the second-largest exchange in the world, FTX, has filed for bankruptcy. Ran by America's golden boy of crypto, Sam Bankman-Fried was supposed to be the Jamie Dimon of the crypto world.
Last week we covered the rise and fall in detail, this week we are going to cover the damage it has caused everyone around it. What does this one large event mean for all the partners, lenders, depositors, promoters, regulators, and stakeholders involved with the FTX insolvency?
Solvency vs. Liquidity
Let's start with an example of contagion. I stole this idea from my favourite writer in finance, Matt Levine, and here is how he describes it:
A well capitalized conservatively managed crypto lender takes in deposits of crypto and lends them out to other crypto trading firms, against good collateral.
The firm is borrowing short to lend long: Its deposits can be recalled on demand, but its loans have longer terms and can't be recalled immediately.
Everything is fine and great, the loans are performing, the collateral is good.
A huge huge huge huge crisis of confidence hits the world of centralized crypto firms, for reasons having nothing to do with this good upstanding crypto lender.
Everyone demands their deposits back, from this lender and from everyone else, due to the crisis of confidence.
The lender doesn't have their deposits, because it has loaned them to good creditworthy borrowers with good collateral and can't get them back immediately.
Essentially what we are talking about here is a bank run.
What if some of those users are holding on to other people's or firms' deposits? Now those depositors can't access their assets. If the crypto markets are tanking the impact on leveraged firms could result in margin calls. These leveraged participants may be forced to start pulling out funds or declaring bankruptcy. Thus, not being able to access their crypto could cause a series of domino effects.
Reuters is reporting, that as of November 16th, there has been more than $190 billion wiped from the value of the overall crypto market.
Michael Saylor and CZ from Binance have begun encouraging people to get their money off centralized exchanges. It is odd that CZ is saying that, but let's stay on track.
We do know this, John J. Ray the 3rd, who is now considered the CEO of FTX & co on behalf of all the debtors, has worked on various files in the past. One of them was Enron, which if you aren't as old as I am, is one of the most well-known frauds in American history. And even though Ray has had a first-hand look at the skeletons in some of the deadliest closets, he already had this to say about FTX:

Who Has FTX Hurt the Most So Far?
The biggest loser so far appears to be Genesis, who suspended redemptions and new loan originations with its lending business, saying on Twitter, FTX had created unprecedented market turmoil, resulting in abnormal withdrawal requests exceeding their liquidity.
The previous week, Genesis was given $140M in equity from its parent company Digital Currency Group Holdings to cover the hole left in its balance sheet as a result of this debacle. A week later, we discovered that wasn't enough, as the Wall Street Journal reported, Genesis is now looking to raise up to $1B in an emergency loan.
And now Gemini who is run by the Winklevoss Twins, said redemptions by customers for its Earn program are now delayed after partnering with Genesis, who paused withdrawals on their borrowing platform amid this liquidity crunch.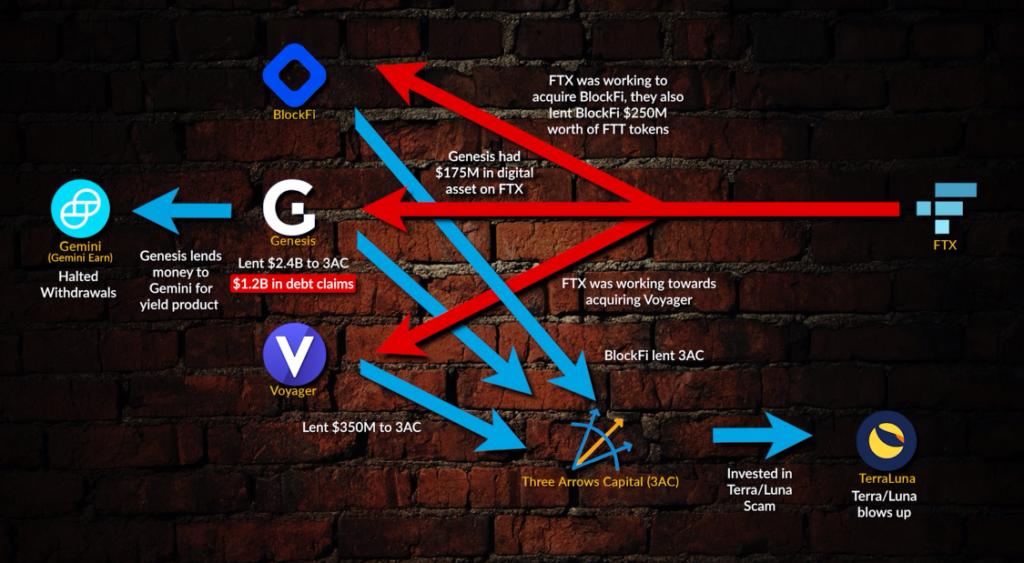 This isn't the first time Genesis has been burned by issuing a loan, they previously lent $2.4B to Three Arrows Capital (3AC), and today have a $1.2B claim against 3AC remaining from the loan. In case you don't remember, 3AC famously blew up after the Terra Luna stablecoin meltdown. At the time 3AC also reportedly had up to $350 million of loans with Voyager Digital, which FTX was attempting to purchase shortly after their demise. We can also add BlockFi to this web which just like Voyager lent money to 3AC and found themselves ultimately insolvent and in an attempted purchase by FTX. BlockFi also received a principal loan of $250M in FTT tokens from FTX.
See how incestuous and complicated the crypto universe has become?
Lots of Groups Are Getting Dinged Up
Here are some quick examples of others who have taken a hit:
The list above keeps growing, thus the scary thing is what we don't know. Voyager originally told us everything was fine because they didn't hold any customer assets on Celsius. We later found out that they had $655M in exposure to 3AC. Celsius wrote a blog post saying "Damn the Torpedos, Full Speed Ahead," blaming the naysayers for spreading misinformation.
And well, we can see how that one worked out.
At this point, I think you get it.
Think of The Poor Celebrities Who Got Named
The contagion goes beyond just lenders, exchanges, and funds. Of course with every crypto blowup, there are a few celebrities who get caught in the crosshairs by promoting crypto.
First, we got Tom Brady. Then we got Steph Curry. Curb your enthusiasm, 'cause we also got Larry David.
And then we got Canada's favorite investment guru, Kevin O'Leary. Who clearly has learned nothing, because just this week Kevin said he would invest in SBF's next venture if asked.
Of course, all these celebrities are getting named in lawsuits.
Let's Not Forget the Users
FTX claims to have had over 1 million users in the US along with millions of others outside the US. 
We are talking about the butcher, the baker the candle stick maker. The person who works an extra shift, putting their hard-earned dollars on a platform and gambling with it. Sure, it's crypto, so it's insanely dumb. None of it is productive, and it's based purely on speculation. But hey, maybe I'll throw $100 on the Argos this weekend during the Grey Cup to make it more interesting.
I expect that if I win, the proceeds will be there.
Get Out Now!
Any sane person who has money on any single one of these centralized exchanges ought to be on the phone or at their bank doing everything they can to get their money or crypto off that exchange. No exchange is safe. FTX was the media's darling. This problem will only create more fires for the crypto universe.
If crypto is still a thing in 10 years, it badly needs regulations, oversight, compliance, and laws. Pretty much everything scammers hate. Maybe even the second-largest exchange in the world should have a board of directors. Of course, there will still be scams, but at least investors and traders will have some level of transparency to understand how well-capitalized platforms and investments are.
Until that day, expect more failures, expect more fireworks, and remember just because a company tells you everything is fine. Don't assume it is.
---
Information for this write-up was found via the links provided within the article. The author has no securities or affiliations related to this organization. Not a recommendation to buy or sell. Always do additional research and consult a professional before purchasing a security. The author holds no licenses.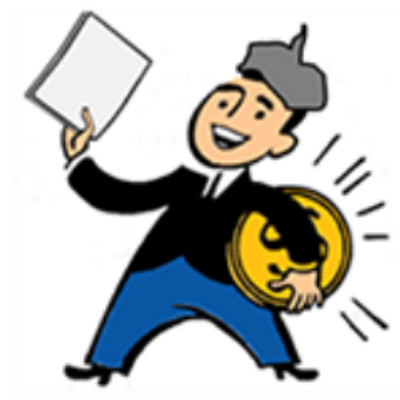 SmallCapSteve started blogging in the Winter of 2009. During that time, he was able to spot many take over candidates and pick a variety of stocks that generated returns in excess of 200%. Today he consults with microcap companies helping them with capital markets strategy and focuses on industries including cannabis, tech, and junior mining.