Fitch: Canada's Increasing Deficit will Pose Fiscal Consolidation Challenges Ahead
Despite the recent announcement of proroguing parliament in wake of a growing charity controversy, the Canadian federal government has nonetheless signaled it plans to spend the country into oblivion all in the name of saving the economy, or whatever that means. However, such generous spending will certainly not go unnoticed; Fitch Ratings has sounded the alarm over Canada's increasing debt burden, warning that a fiscal consolidation will become increasingly difficult to achieve.
Since the onset of the pandemic, the federal government introduced a variety of emergency measures aimed at curbing the ensuing economic fallout, and ultimately easing some of the financial burdens that many Canadians were suddenly facing. However, with the the official tabling of a 2020/2021 fiscal budget hastily swept into a storage closet at the House of Commons all in the name of a pandemic emergency, the Liberal government was able to rack up a hefty spending bill with relatively low oversight.
However, all actions come with consequences, and the bottomless federal spending ending up catching the attention of Fitch Ratings, which ultimately downgraded Canada's credit rating to AA plus. This of course led to scrutiny from both sides, and the federal government was cornered into issuing a fiscal snapshot of the country's widening debt position. It turns out that the new fiscal deficit was amounting to a staggering $343 billion, which translates to approximately 21% of this year's GDP– a significant increase compared to Fitch's prediction of 16.1%. This means that the debt to GDP ratio will surge by more than 120% of GDP!
But rest assured, there is more in the Liberal government's tickle trunk of excessive spending habits. On August 20, the federal government announced that it will once again increase spending by a further $37 billion – which translates to 1.6% of GDP, in order to transition Canadians from the CERB onto employment insurance. Likewise, Fitch Ratings threw yet another wrench into the sentiment of a smooth economic recovery.
According to a recent announcement by Fitch Ratings, the US-based credit rating agency has warned that the continued unprecedented spending by the Canadian federal government will significantly increase fiscal consolidation risks going forward. Although Fitch anticipates that spending will decline in 2021, the ever-widening deficit and pre-existing government debt will continue to drag the country's economy down, bringing potential growth to a mere 1%.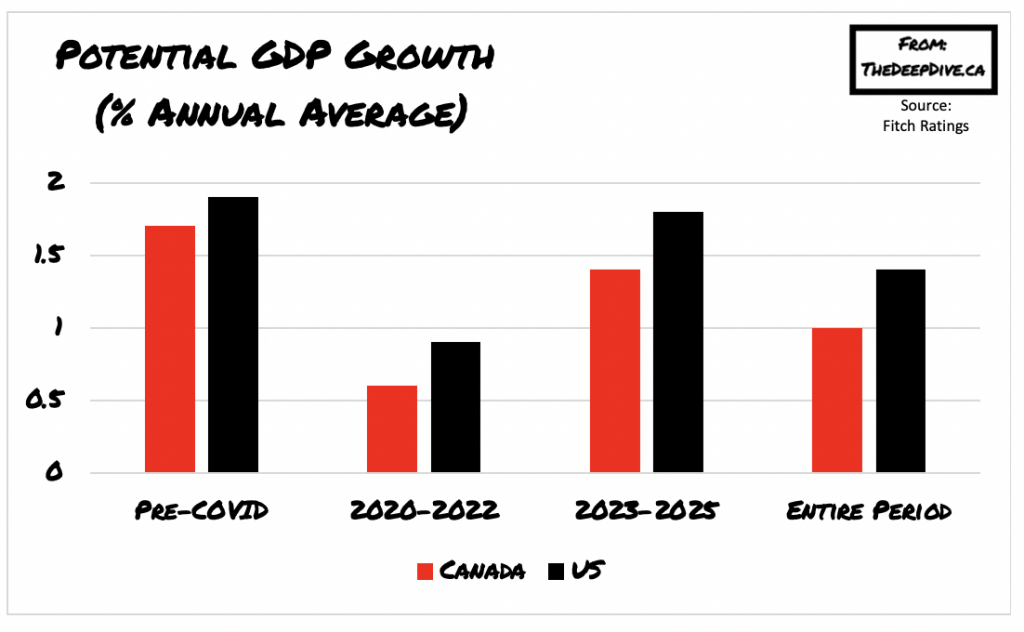 Following a prorogued parliament, the Liberals will have to deliver a throne speech that outlines their recovery plan going forward, which will then be proceeded by a confidence vote. If the Liberal government fails to gain approval, then there could very well be another federal election, thus creating more havoc for Canadians during a pandemic. However, Fitch notes that regardless of which party will be in power come 2021, the Canadian government will certainly have its hands full with the deep economic and fiscal policy challenges up ahead.
Information for this briefing was found via Fitch Ratings. The author has no securities or affiliations related to this organization. Not a recommendation to buy or sell. Always do additional research and consult a professional before purchasing a security. The author holds no licenses.