Freeman Gold Corp Looking For A Winner In Idaho
Lodge Resources (CSE: LDG) recently changed its name to Freeman Gold Corp (CSE: FMAN) on May 19, 2020. We've had our eye on Lodge Resources, now Freeman for a while now, and our educated guess is that the name change is the signal that things are heating up on their Idaho play.
The company itself has two stated goals that go along with this thought process, which is comprised of the following:
"To define a 1.5M – 2M oz oxide, open pit deposit in Idaho."
"Freeman Gold plans growth through aggressive exploration, further acquisitions and potential M&A."
Freeman Gold Corp has taken some time and care putting together this new Idaho play, of which we have been watching it evolve and take shape for some time. The company recently completed the acquisition of this Idaho property, referred to as the Lemhi Gold Project.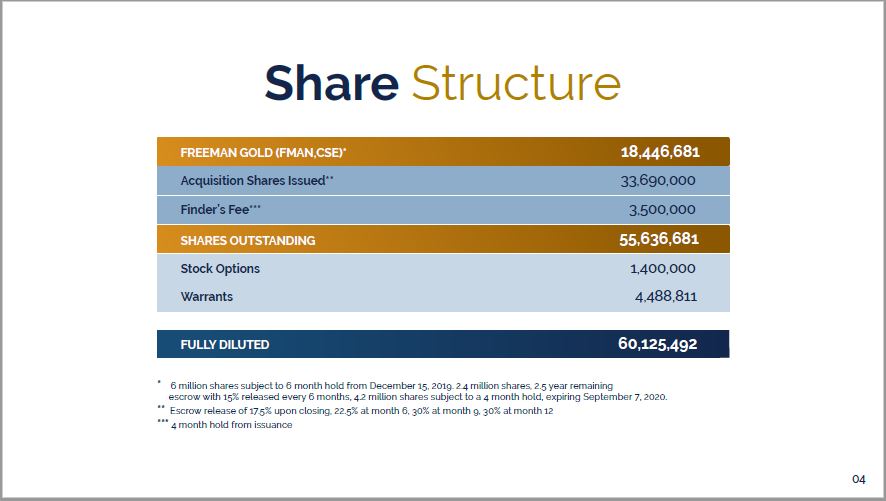 The Lehmi Property Acquisition
With the Lehmi acquisition on April 16th, Lodge issued 33.74 million common shares (on a voluntary release schedule) by acquiring a company by the name of Lower 48 Resources for 53 of 99 unpatented claims and 11 patented claims, while holding an option on the remaining 46 unpatented claims. They also issued a 3.5M share Finder's Fee.
Under the terms of the deal, Lodge has to complete a financing of a minimum of $3,500,000, of which $1.5M has already been raised. The proceeds from these monies are to fund exploration on the Lehmi Project and for working capital.
A further $1M is to be paid over seven years to a company, BHLK, for a further 46 unpatented claims. Once this is paid, Lodge will own 100% of them, but BHLK will be entitled to a 2% net smelter royalty if the project goes to production.
The Lehmi Property
The Lemhi Project, the flagship of Freeman Gold's plays, is located in the prolific Salmon, Idaho region. As shown above, it comprises 99 unpatented claims and 11 patented claims, subject to certain existing encumbrances. And importantly, it has 10,000 metres of historic drilling.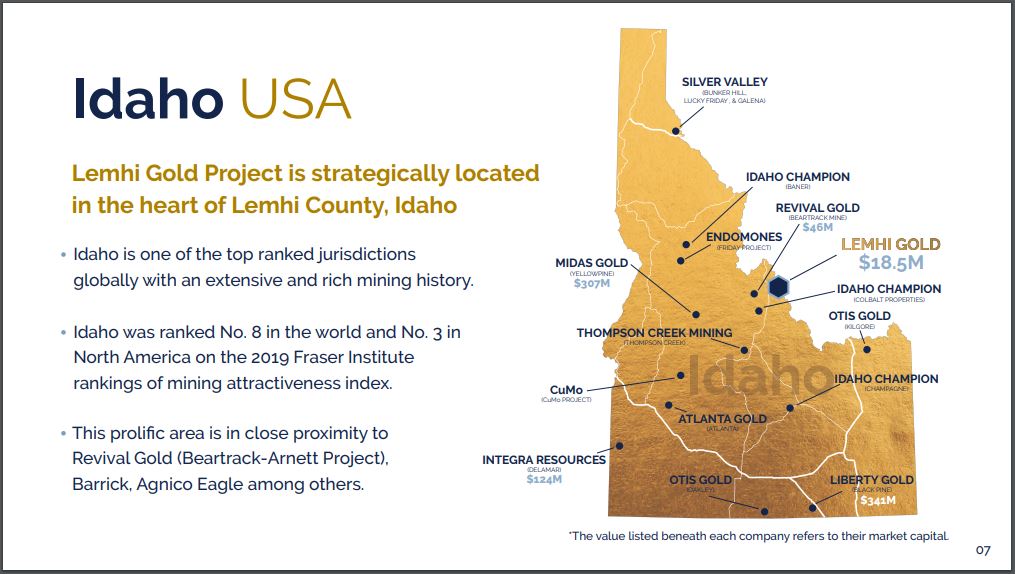 Financed For the Initial Exploration Program
On May 5th, Lodge announced that they were increasing the private placement (PP) announced May 16th from $805,000 to $1.5M. This non-brokered PP was being done at 35 cents a unit, with a full warrant at 50 cents, good for a year. The first tranche of $1.06M closed two days after this announcement, and 9 days after, a second tranche closed. All in, there was a total of $1,494,118.85 in gross proceeds.
Note: An open PP is known for putting a ceiling on a company's share price. The closing of this PP looks like it has opened things up for the share price as a result
The Lemhi Asset:
There are historical gold resources ranging from 500k Oz to 1.2M Oz, with grades between 0.84 g/t and 1.2 g/t of gold.
The historical resource is both open pit and heap leachable.
Over 355 holes have been drilled in the deposit area.
The majority of historical drilling was done via reverse circulation drilling, with many holes ending in mineralization.
The consolidated land package of over 2500 acres has a system known to be large and typically hosting multiple deposits. Despite this, the area has gone largely unexplored.
It's open everywhere. As no group in the past has had both patented and unpatented land at the same time, the only exploration methods have been to define a shallow, oxide open pit. It's open at depth, with most of the holes bottoming in mineralization at 250m, open along strike, and untested outside this small area. The feeder system / source of mineralization is undiscovered.
How to Expand the Asset:
Ounces may be increased by infill drilling and making use of the consolidated land package.
By increasing their understanding of the zone geology, geologists should be able to come up with more accurate modeling.
They need to try to put together a 43-101 compliant resource within the historic resource area. They may be able to get to one greater than 1M ounces, by means of a twinning and infill drilling program.
Freeman needs to put together an "aggressive exploration program."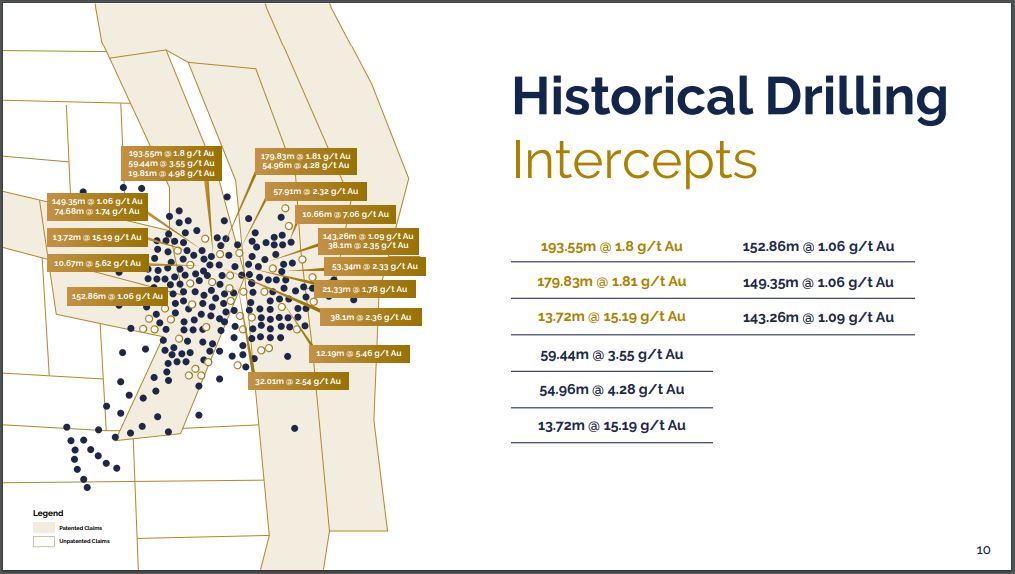 Idaho as it Pertains to Gold Exploration and Mining
The Deep Dive did an article from April 25th, 2020, titled: Idaho Mining: Gold Mining Exploration in Idaho is Heating Up. Reading it, one can see that Idaho is one of the best jurisdictions in the US when it comes to gold exploration and mining. The microcap / junior activity in the State tells the tale.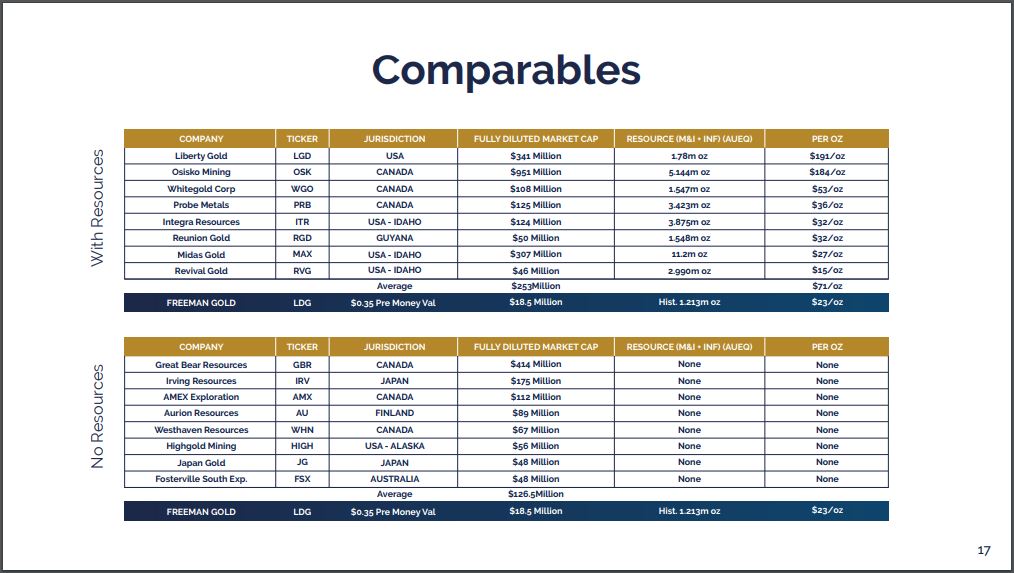 The Comstock Property
The Comstock Property comprises twelve (12) contiguous mining claims that are the subject of the Comstock Property Option Agreement. The claims comprising the Property cover an area of 664 hectares and are located 181 kilometers northeast of Vancouver and seven kilometers south of Merritt, British Columbia, within the Nicola Mining District.
Freeman in the coming months will be completing its work program on its Comstock Property (copper, gold & silver), located outside of Merritt, British Columbia in the Nicola Mining District.
The Stock Price Action
Freeman Gold has enough shares out, with 55.6 million shares outstanding, to be a good trader, but right now that is not the case. The spreads between the bid and offer are quite wide, which makes for very low volumes. Case in point: the company closed Friday at 65 cents, up 14 cents on a mere 17 thousand shares of trading. As more stock comes into play, this situation should improve.
Conclusion:
Freeman Gold will be an interesting play to watch as they move forward with their exploration program. The potential is there. They need to first get that initial 43-101 compliant resource report under their belt by targeting historical drilling. Then they need to see if they can work their way to their stated goal of a 1.5M to 2M ounce open pit gold deposit.
---
FULL DISCLOSURE: Lodge Resources Inc is a client of Canacom Group, the parent company of The Deep Dive. The author has been compensated to cover Lodge Resources Inc on The Deep Dive, with The Deep Dive having full editorial control. Not a recommendation to buy or sell. Always do additional research and consult a professional before purchasing a security.