Is 2020 The Year Cannabis Extractors Come Down With The Cronos Virus?
Our sharp-eyed editor Jay pointed out last week that cannabis cultivator Cronos Group Inc. (TSX: CRON) (NASDAQ: CRON)'s delay in the release of their year end financials to give their audit committee a chance to figure out how to treat "several bulk resin purchases and sales of products through the wholesale channel, and the appropriateness of the recognition of revenue from these transactions," has Medipharm Labs' (TSX: LABS) name written all over it.
That sent us straight to the Medipharm Labs SEDAR page for a look at how they handle those transactions, because this blogger might be the only nerd in Canada more picky about what constitutes a sale than the nerds on the KPMG audit team.
The May 2019 news release about the Medipharm-Cronos deal spells out two separate agreements: a guarantee that Cronos buy $30 million worth of bulk extracts from LABS, and a tolling agreement where Cronos supplies bulk cannabis to LABS to be processed on a fee-for-service basis into "bulk resin or other premium cannabis oil derivative products."
Rules of Engagement
LABS lists Cronos subsidiary Peace Naturals as a client for which it conducts a) wholesale bulk extracts production, b) toll processing and c) white label contract manufacturing. Both the white labelling and the toll processing are described as services that Medipharm performs on client product for a fee. But the wholesale bulk extract production is explicitly spelled out as the sale of extracts, produced from product that LABS holds in its inventory.
"We currently process our inventory of dried cannabis through supercritical CO2 extraction lines and secondary distillation lines and sell the resulting bulk cannabis extracts to our licensed clients." (emphasis added)

Medipharm Labs MD&A for the period ending September 30, 2019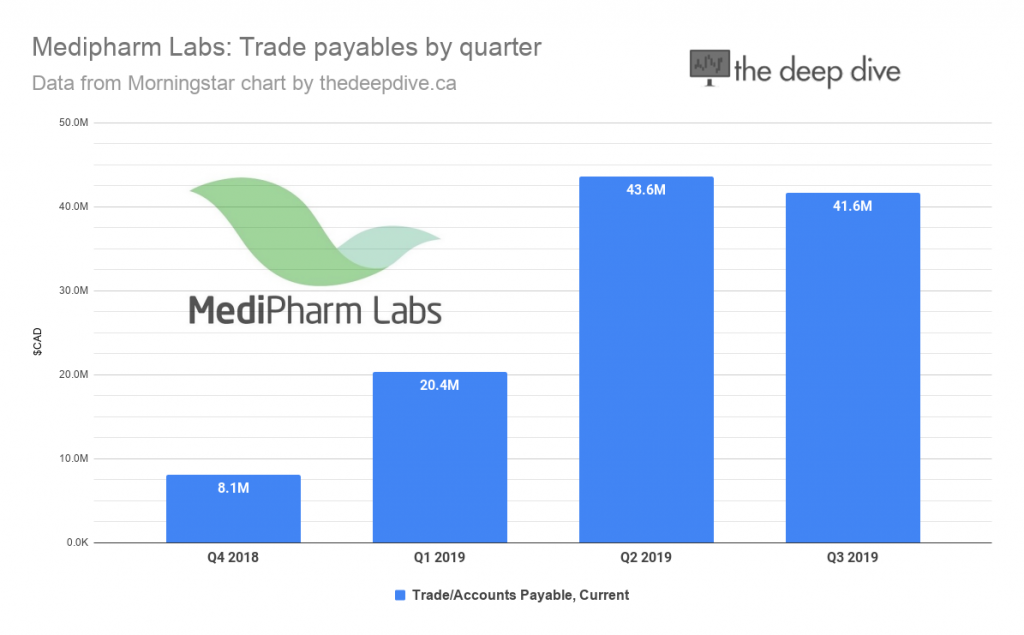 In September, bulk processing was described as the largest part of the company's business. When feed comes into the Medipharm environment, the company takes the product into inventory as raw material, and conceivably books an amount payable to the supplier.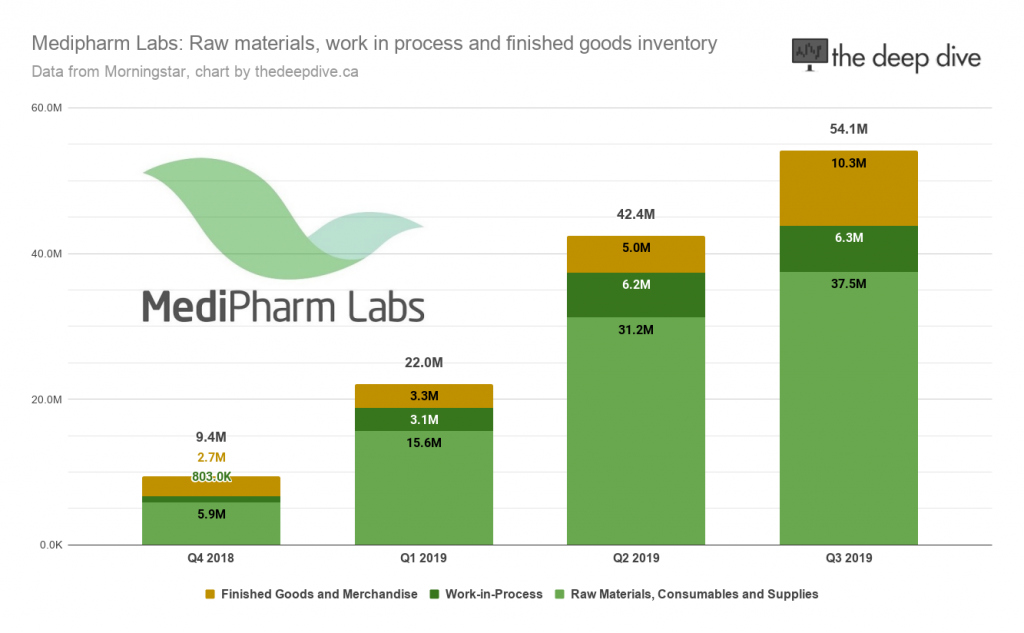 As the product is being processed, it is listed in their inventory as a work in process, and when it's become what it's going to be when delivered to the client, it is a finished good.
When the client takes ownership of the product, LABS books a receivable and counts it as revenue for that quarter. The cost of inventory that was sold is then booked as a cost of sale in the period for which it was sold.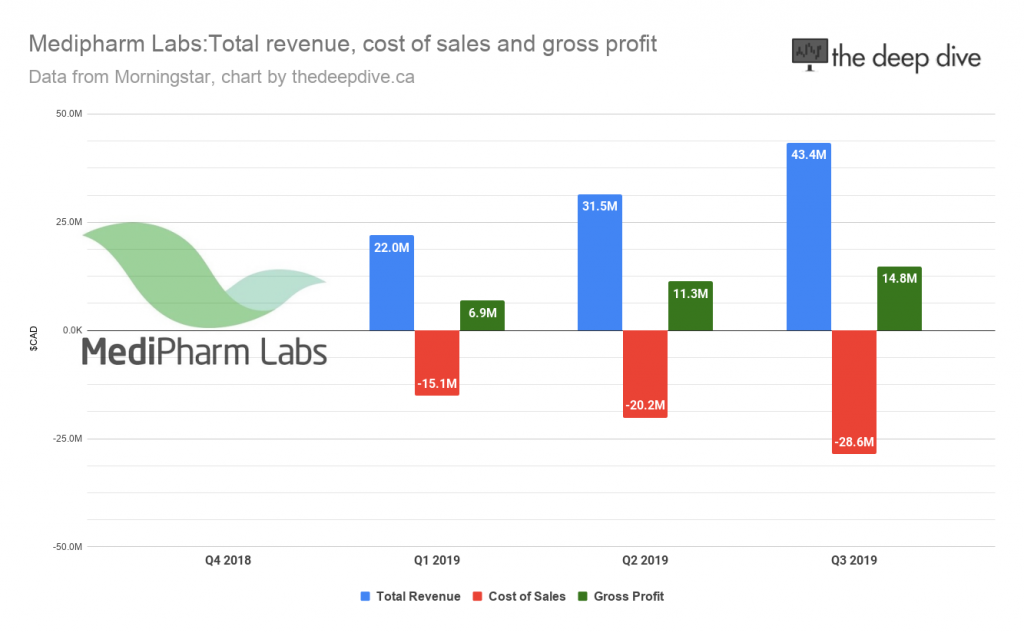 That cost of sales is subtracted from the revenue to get a gross profit or "top-line" profit. Divide that by the revenue to get a healthy 33% top-line margin over the past three quarters for LABS.
Medipharm's accounts payable lines show that, on the final day of each one of those quarters, they owed suppliers an amount on par with their revenue for the quarter, due in 30 days or fewer. The difference between those accounts payable lines and the cost of goods sold in the margin graph should represent, roughly, the goods that were added to inventory, and it all appears to add up. Medipharm Labs looks like a perfectly busy manufacturing company.
Is Cronos jamming the channels?
The question at issue here is: how much if any of the raw material for the processing was sourced from Cronos? Cronos' extension statement explicitly mentioned "purchase and sale" through the wholesale channels to create bulk resin and, in retrospect, the twin agreements in this trade partnership – one for tolling and one for bulk purchase – comes off a bit too cute. Cronos might agree to buy $30 million worth of concentrates off of LABS if it didn't have enough feed of its own, but that doesn't appear to be a problem Cronos has.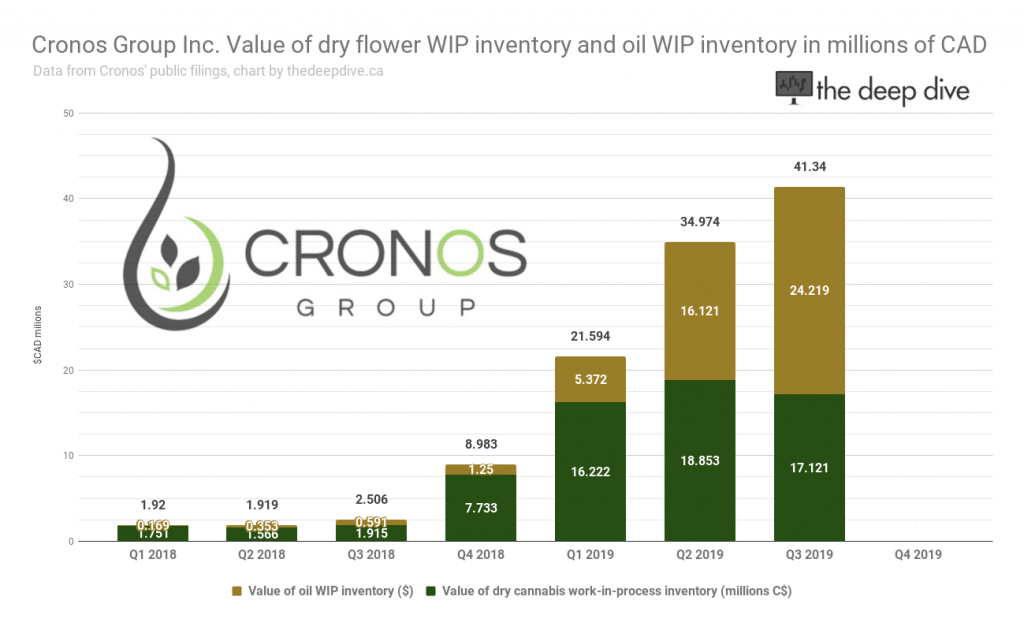 Cronos' work in process inventory has been stacking up all year. Noteably, the work-in-process inventory listed as oil has grown every quarter. It's important to note: Peace Naturals doesn't describe extraction facilities at their licensed properties. This oil is either bulk oil received from an extractor, to be packaged, or cannabis biomass that is to be extracted. It is not known if Peace Naturals has oil packaging facilities.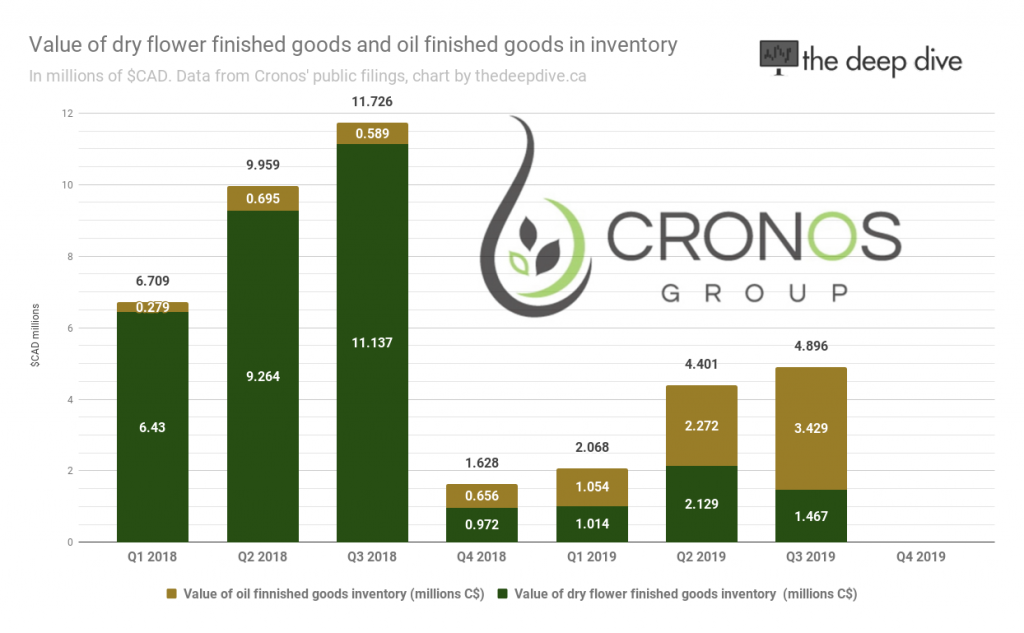 We're seeing a similar trend in Cronos' finished goods inventory, and that isn't much of a surprise because…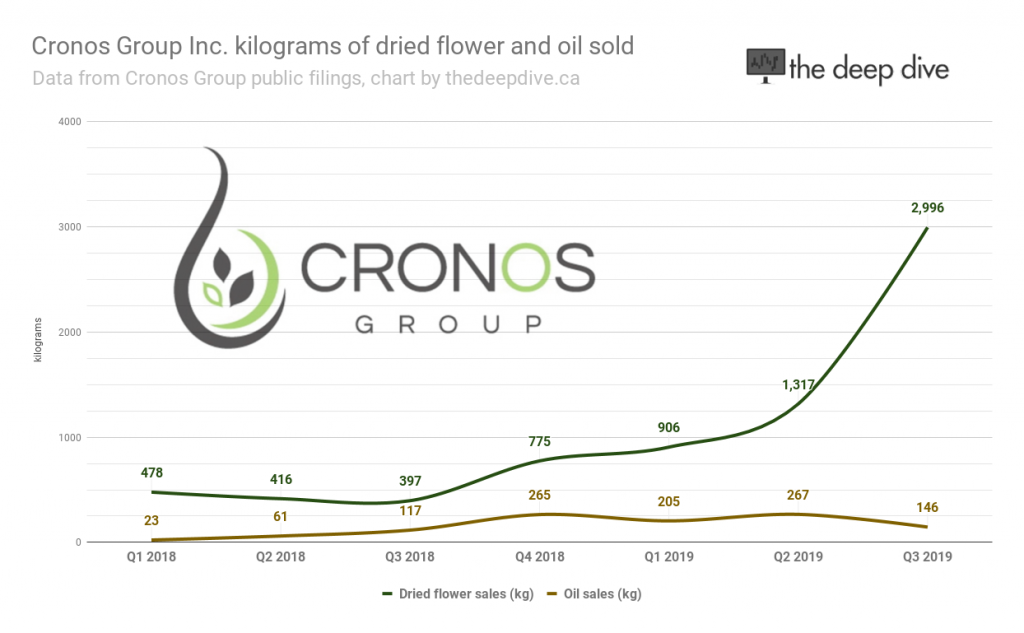 Cronos' oil products aren't selling. The data through Q3 comprises ingestible oil products that aren't selling for anyone. Q4 will be the first quarter in which they're shipping "Cannabis 2.0" products but, at least according to Health Canada, those weren't really selling either through October and November.
Is this why Hexo balked?
In January, Medipharm sued Quebec-based LP Hexo Corp (TSX: HEXO) for failing to pay up for product Medipharm delivered under a take-or-pay contract that they had signed with Newstrike, which had since been acquired by Hexo.
Medipharm's statement of claim frames the dispute as Hexo's refusal to pay for purchases that Newstrike committed to. But Newstrike's original news announcement about their deal with LABS frames it as a commitment to supply the extractor with cannabis, while retaining the first right to buy the extracted product back from LABS.
That likely sounded like a fine idea to Newstrike in September of 2018, when this whole industry was still brand new. Potentially, Hexo, who has since bought Newstrike's mess, could have realized that taking delivery of extracts from Medipharm would invalidate the prior bulk sale of the feedstock come audit time, and stick Hexo with inventory that's not moving; which is not a good place to be at year-end.
Both Medipharm Labs and Cronos have December 31 year ends, and both are audited by KPMG, who isn't likely to allow inventory that has been sitting in its present form for longer than prescribed to keep its full value. If the provincial distributors didn't take as much finished products as the LPs suspected they would by the end of the year, as Tilray Inc (NASDAQ: TLRY) complained about in their year end, LABS and Cronos may end up having a game of rock paper scissors to figure out who takes the write down.
This is the first audit for Medipharm, and the first audit for Cronos since they've been producing in the top weight class of cannabis co's. We expect that fiscal 2020 will see changes to the way cannabis cultivators treat their relationships with extractors.
---
The author has no securities or affiliations related to any organization mentioned. Not a recommendation to buy or sell. Always do additional research and consult a professional before purchasing a security. The author holds no licenses.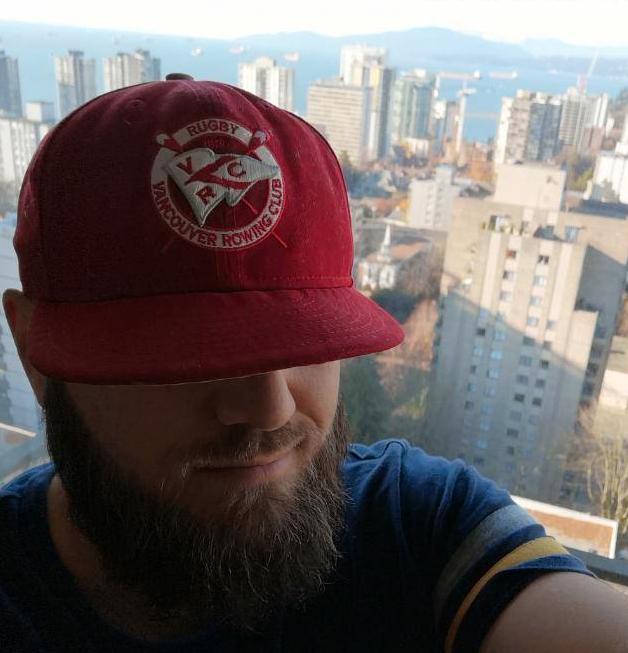 Braden Maccke is a freelance writer from Vancouver, B.C.
You can read all of his Deep Dive articles here.
He can be reached at braden@fundamentalhype.com.