The year 2022 was turbulent for nickel, marked by sharp surges and an exchange meltdown. But with the metal's price poised for a comeback, will 2023 be the year of nickel?
Nickel futures are trading above $30,000 per tonne, as the metal pushes out of a glut its experienced since early May. Year-to-date, the metal's price is up 48%, poised to end the year at a nearly 50% year-on-year jump amid bright demand opportunities as China reopens despite solid production output from Indonesia.
Compare this to gold and silver which virtually are flat on the year while copper slumped around 13%. Lithium soared nearly 100% year-on-year while cobalt and tin declined around 26% and 39%, respectively, from last year's prices.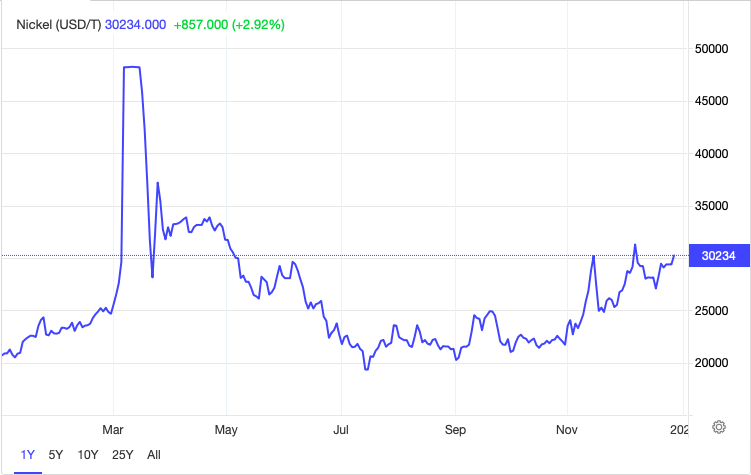 2022: the nickel that was
One of this year's highlights for nickel is the Q1 short squeeze, with the London Metals Exchange (LME) having to close trading in nickel contracts.
Nickel finished 2021 trading over the $20,000 mark, then reached their highest level in a decade in mid-January as supplies depleted and projected demand from the electric vehicle (EV) sector sustained prices. The base metal continued to rise in price in February, surpassing the $25,000 mark, owing in part to market anxiety caused by Russia's invasion of Ukraine.
Russia, the world's third largest nickel producer, has been facing increasing sanctions following the war it waged on its western neighbor.
On March 8, nickel surged to a record high of $100,000 before the LME decided to halt trading. The big short position owned by Chinese tycoon Xiang Guangda, who controls the world's largest nickel producer, Tsingshan Holding Group, was attributed to the dramatic surge witnessed on the LME; he was reportedly facing billions of dollars in mark-to-market losses.
The nickel market sustained a sharp cooldown after the LME short squeeze, ending Q2 at $22,698 as global recession worries heightened and China's demand pulling back amid draconian COVID-19 measures.
The third quarter meanwhile was characterized by volatility, with nickel reaching its highest point of the period on September 21, nearly breaking the $25,000 mark. However, prices were unable to maintain their gains, falling to $21,107 at the end of the quarter.
Now, in Q4, nickel is seeing a resurgence, breaking the $30,000 mark in November. Traders attribute this to the exchange's low liquidity given the unusual price surge earlier this year.
The LME, for its part, stated that it has "enhanced monitoring" of market participants' trading actions in attempt to reduce the volatility experienced in recent weeks.
"The LME notes the current volatility in nickel," the exchange said. "The price limits in place are functioning as expected and the LME is undertaking enhanced monitoring to ensure that participants' trading activities are being conducted appropriately."
2023: the year of nickel?
The nickel market is expected to be tight again in 2023, however some analysts are concerned about potential new supply from Indonesia. At the height of the Russian invasion, Indonesia's nickel production ramp-up plans are tempering the surge in prices brought by mounting sanctions on Kremlin.
Japanese producer Sumitomo Metal Mining predicts a tight nickel supply/demand balance for the battery sector in 2023, with some potential nickel pig iron (NPI) surplus. Nickel pig iron is a low grade ferronickel that is widely used in China as a less expensive alternative to pure nickel in the production of stainless steel.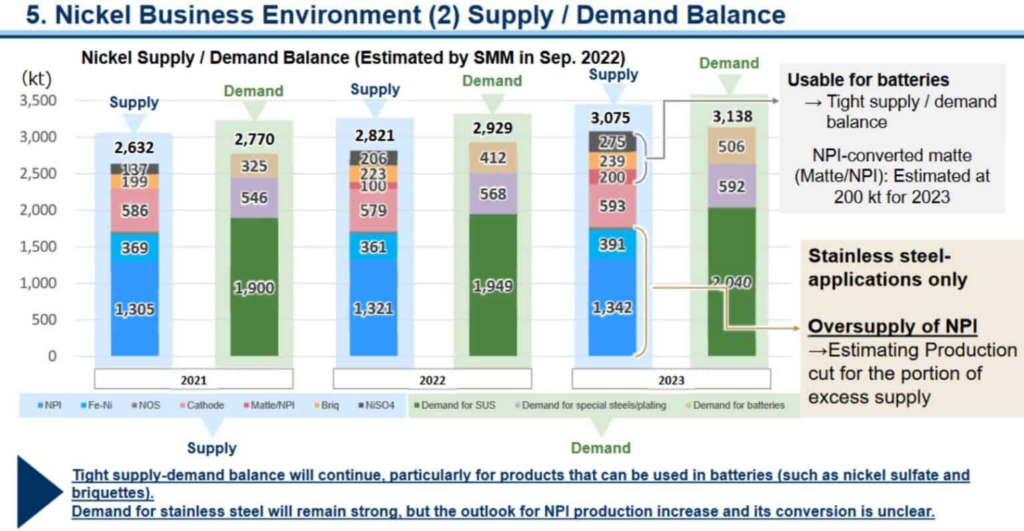 According to the International Energy Agency, nickel demand will increase by 7x to 19x between 2020 and 2040. This is fueled by traditional stainless steel demand as well as soaring battery demand, primarily to support the electric vehicle boom.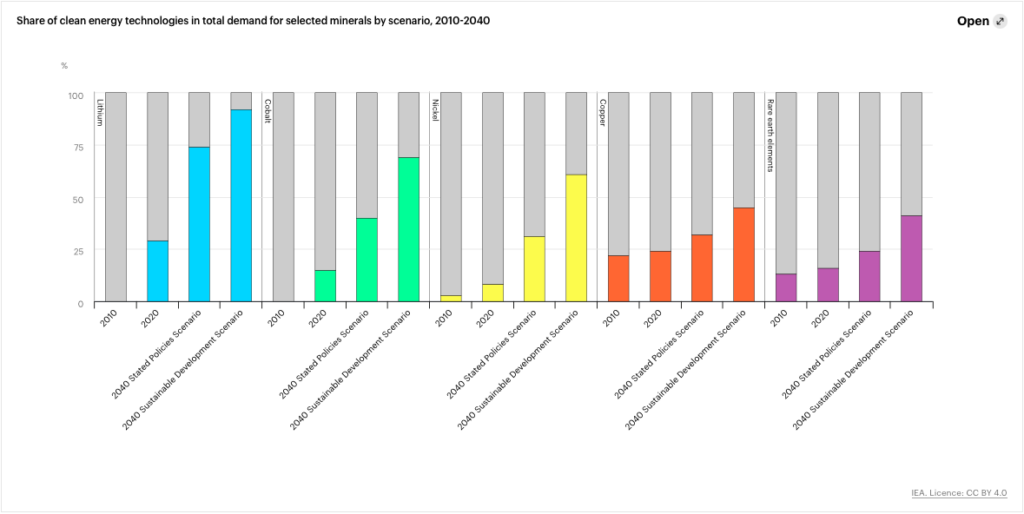 Cathodes in older lithium-ion batteries were around one-third nickel. However, in recent years, automakers have raised the proportion of nickel in cathodes to increase the energy density of batteries and vehicle range. The majority of cathodes currently contain at least 60% nickel.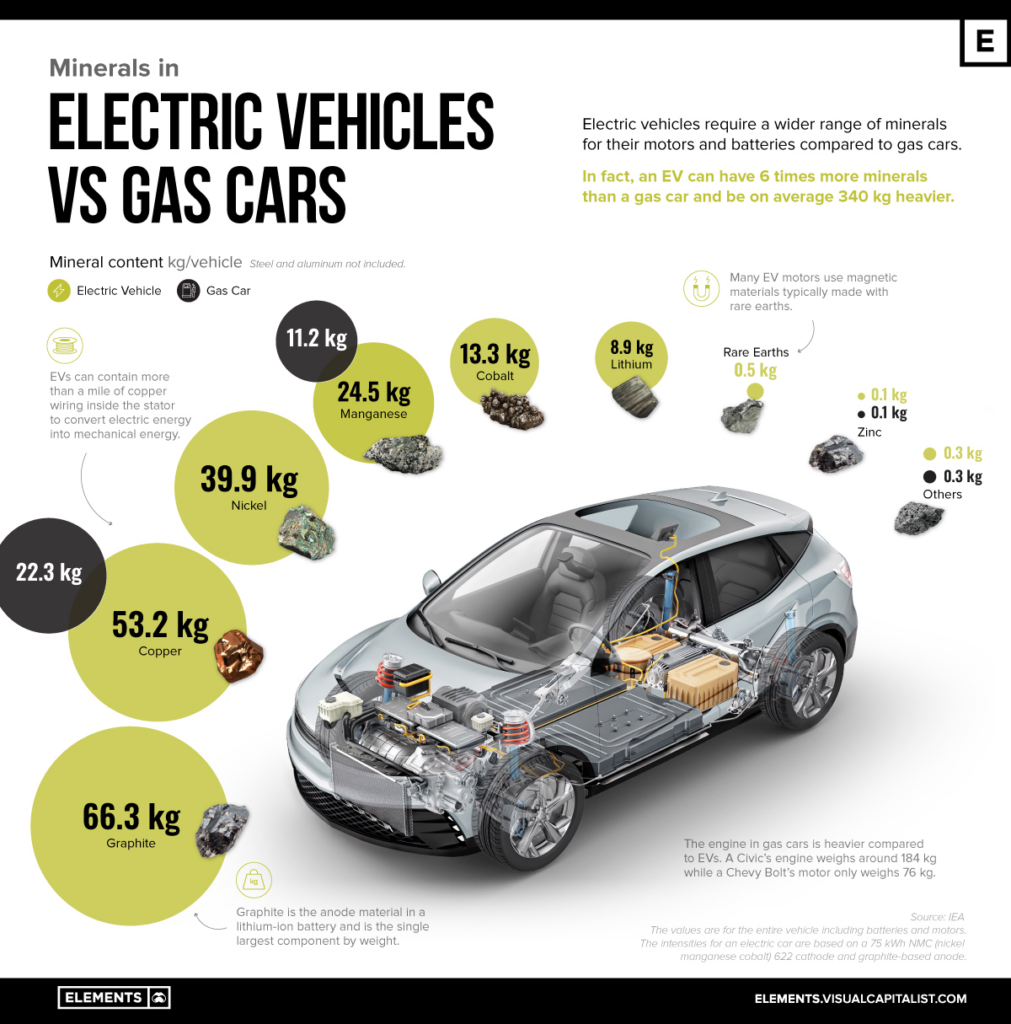 However, even before Russia's invasion of Ukraine, nickel was not cheap, and experts warned of a possible shortage as global manufacturers stepped up EV production. Given the relatively high cost of nickel and supply worries expressed before Russia's invasion of Ukraine, automakers have indicated that lithium-ion batteries with high-nickel cathodes are likely to be limited to luxury applications–energy density is either needed (as with large vehicles) or a crucial selling advantage in certain cases (as with luxury sedans).
At 236,000t, Norilsk Nickel was the world's largest nickel producer in 2020. As a Russian corporation, 2022 has not been kind to Nornickel investors, with the stock price plummeting and trading suspended on all Western stock markets.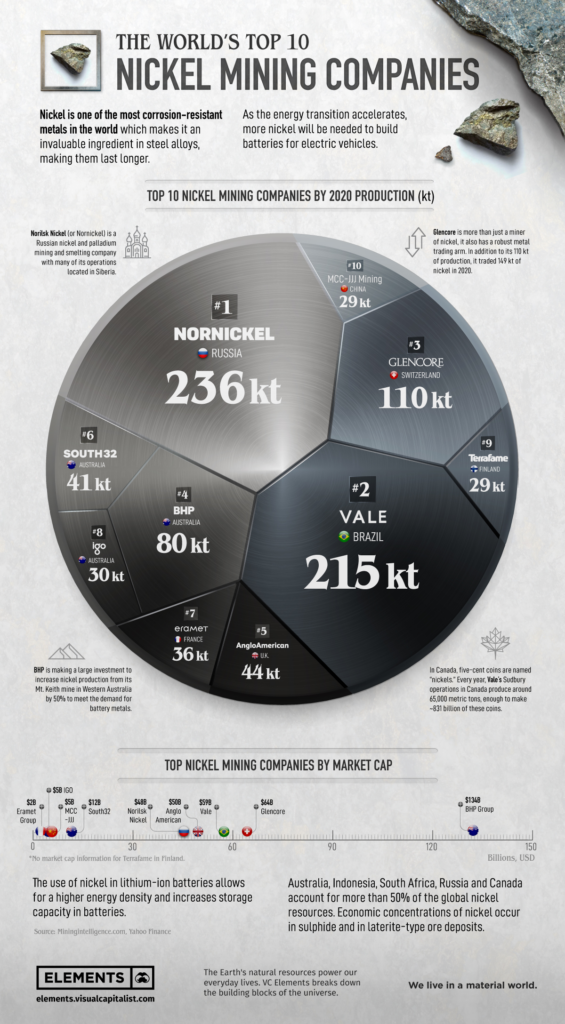 There is an alternate type of battery that is already in use for lower-cost EVs, but it has drawbacks. Lithium iron phosphate (LFP) batteries use iron phosphate in their cathodes instead of nickel or cobalt.
LFP cells are less expensive than lithium-ion cells, but they have a lower energy density, hence LFP battery packs are heavier per mile of range than lithium-ion battery packs. Because of this weight, LFP batteries are less than ideal for high-end automobiles, as additional weight limits performance and can impair vehicle handling. With price-constrained mass-market models, this is less of an issue.
With the shift to cleaner energy infrastructure, it was long believed that global nickel demand is expected to outweigh supply by 2024. But with the rise of alternatives and increase in supply, optimism is tempered just enough to bring the nickel prices beyond the $30,000 mark.
Market Intelligence's Metals and Mining Research team forecasts a 43,000-tonne surplus in 2022, up from a 178,000-tonne deficit in 2021, as "current market tightness eases due to the continuing growth of Indonesian primary output and moderating global demand."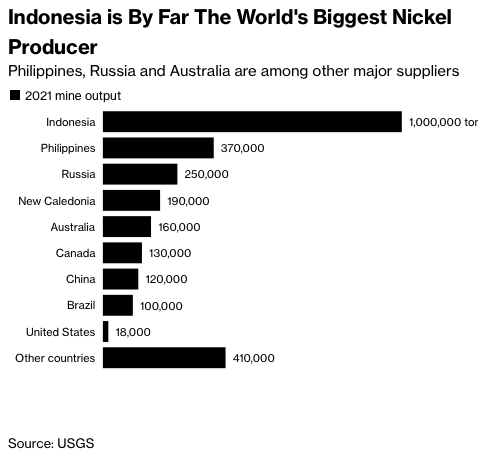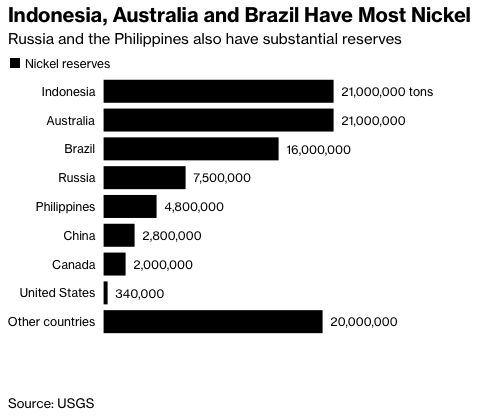 Indonesia, the world's largest nickel producer and owner of the biggest nickel reserves, wants to spearhead the potential of the nickel market. Aside from ramping up production, Jakarta floated the notion of an alliance of nickel exporting countries with Australia and Canada–two of the world's top nickel producers. Both hint at not supporting the formation of the organization.
The IEA predicted in 2022 that 60 additional nickel mines will be required by 2030. However, considering nickel's condition in 2022 and the uncertain 2023 ahead, it is unclear how these new mines would materialize.
---
Information for this briefing was found via Investing News Network, CNBC, Investor Intel, and the sources mentioned. The author has no securities or affiliations related to this organization. Not a recommendation to buy or sell. Always do additional research and consult a professional before purchasing a security. The author holds no licenses.