LGC Capital: A Story of a Company Spread Too Thin
For those viewers whom are active in the Canadian cannabis sector of the markets, you may have heard of LGC Capital (TSXV: LG). If this ticker doesn't ring a bell you may have heard of QBA, which was their ticker up until September 18th, 2017. If your a longer term investor, there's perhaps an assortment of tickers you know this company by: KCI, BZZ, KWC, QBA, LG. This list is accompanied by an equally long list of previous company names and formats.
Perhaps the best method of explaining what this company does, is explained by this history. When it comes down to it, we're not really certain that they even know what they do.  As of their August 29, 2017 filing on Sedar of Interim Financial Statements, they had six divisions: Pharmaceuticals, Petroleum, Tourism, Agriculture, Sports & Media, and Trade. Not to be outdone, on October 10th, 2017 they announced in a news release that they would be adding a seventh division: Merchant Banking. It's not entirely clear which division medical cannabis falls under at this time.
To get a better understanding of how the company got to this point, we need to dive deep.
History
The Origins
The company that we know today as LGC Capital, was originally incorporated in July of 2004, as Knowlton Capital Inc. Not much research was focused on this period in the organizations history. At some point in its first two years, it obtained a subsidiary, known as Buzz Telecom. Buzz Telecom's main product was focused around providing long distance phone service to those in the Ontario and Quebec regions of the country. They had contracts with several large telecom providers from what we can see. By late January 2007, Knowlton had decided to assume the name of this subsidiary, and became known as Buzz Telecommunications Services Inc.
Jump to the end of 2013, and the company has reversed this name change decision.  Although it appears Buzz Telecom still exists in some form, it is unclear what exactly it still does. A quick visit of their website shows a copyright of 2014, with numerous broken links abound. The website is a quite literally a time warp to the late 2000's. MD&A documents indicate that the CEO took Buzz Telecom private, leaving a shell behind.
Its this second iteration of Knowlton Capital when things start to get interesting.
As a result of the hot resource sector, in March 2014 Knowlton is the subject of a reverse takeover by Mogul Ventures Inc. Mogul was a resource exploration company, with a focus of operations in Mongolia. A definitive agreement and a loan agreement later, and neither Mogul, nor its projects, are heard of again in any company news release. In fact, the only news releases investors receive in 2015, is that of management buying shares privately. Presumably, to prop the company up as had been done previously. MD&A disclosures detail two amended arrangements for this RTO, pushing the completion date to May 31st, 2016.
Fast Forward..
On April 28th, 2016, two years after the initial letter of intent was signed, management was unable to close the deal and cancelled the arrangement. Concurrently, they signed a reverse takeover letter of intent with that of Leni Gas Cuba. Leni Gas Cuba, as its name implies, was an investment company focused on Cuba. The takeover was completed on July 12th, and the company became known as LGC Capital.
Through this reverse takeover, the company formed its numerous divisions. Leni Gas Cuba had numerous investments, and was not focused on one particular industry. Numerous transactions involving investments were announced in 2016, involving various sectors such as oil and gas, travel, sports, and on and on. Although several were related to Cuba, they were also diversified throughout the world, spreading themselves much too thin.
A year later, and LGC Capital is heavily focused on the next hot sector, namely that of Canadian cannabis. They quickly ink deals for acquiring small investments in both South Africa (60% of House of Hemp), as well as Australia (4.99% of Little Green Pharma). Later, they sign with a late stage applicant in the province of Quebec to obtain 49% of the company.
On September 26th, 2017, LGC announced it was exiting all investments in Cuba. The reasoning for this was stated to be related to U.S. restrictions on investments connected to Cuba, and a new focus on investments in the cannabis sector.
But the major question remains – how will they fund this?



Financials
To put it simply, LGC Capital generates no revenues. As of late, all funding comes from that of private placements, or through the sale of current investments. However, there is a major issue. In its latest financial report, dated August 29, 2017, it was reported that the value of its current investments decreased by $1,909,639. This is a significant percentage of its total investments, which now are valued at $4,248,556.
Financial Breakdown
The companies funding issues don't stop here. As it stands, the company currently has a cash position of $83,391. This is a substantial shortfall relative to the current liabilities of $998,633 that are due in the next 12 months. However, there was a recent raise completed since the date of the financials being released. Additionally, shares were issued on September 5th, 2017 to cover two debts. Although media releases indicated the raise was to fund acquisitions in the cannabis sector, it will likely be used to cover debts as well.
If the company was truly focused on improving their balance sheet, they would address one of their largest expenses: administrative. For an organization that is bleeding cash quarter after quarter, they should focus on reducing these expenses. This move would significantly benefit their cash flow.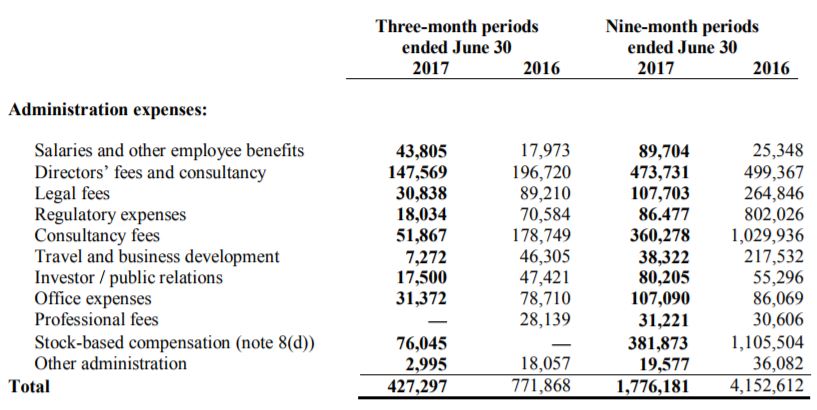 Administrative expenses is the largest item impacting their cash flows. If this were to be reduced, it is possible that LGC Capital could be cash flow positive.
Share Structure
As it stands, LGC Capital has a ballooning float relative to that of its peers. As of the August 29th report, they indicated that there was 234 million shares outstanding. In addition to this, there are 46.6 million outstanding options on the stock. Sixteen million of which have a weighted average exercise price of $0.08. Finally, there is 1.9 million warrants that exist for the stock as well as of the reporting period.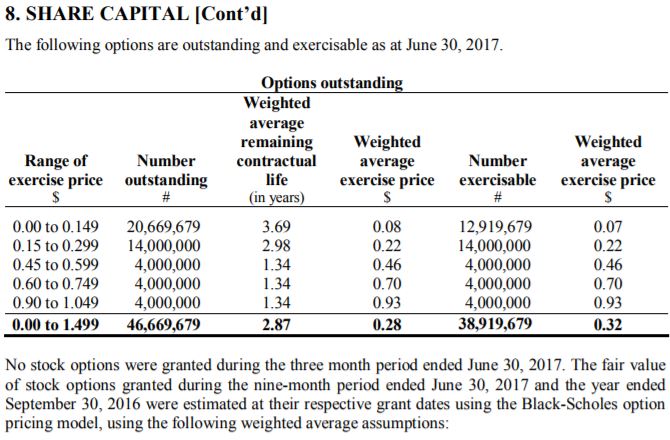 In addition to the data provided in the interim financials, the following shares were issued as part of deals inked after June 30th, 2017:
1,230,468 shares to settle two debts, Sept 5th, 2017
30,000,000 shares in private placement, Sept 12th, 2017
60,000 broker warrants related to private placement, six month expiry, Sept 12th, 2017
5,660,000 shares plus cash consideration for 4.99% of Little Green Pharma, Sept 26th, 2017
$4 million convertible debenture for 49% of AAA Trichomes, Oct 31st, 2017
TBD shares as part of Etea Sicurezza investment, Nov 1st, 2017
As can be seen, the company is quickly running out of options to fund its planned expansions. Issuing shares is quickly becoming an invalid option, and potential revenues are too far out on the horizon. The expansion costs alone related to their cannabis facilities will cost several figures, and at this point in time they have no viable option to obtain sufficient funding for such projects. The company needs to focus on their financial needs before looking at further expansion opportunities.



Management
As it stands, four of the six current directors of the company have been with LGC Capital for under two years. All four of these members became involved during that of 2016. Thus, the faults of past management cannot be placed on their shoulders.
However, one item of note is that the co-founder of Buzz Telecom, Mr. Hazan, has been with the organization since 2006, as a result of the subsidiary bought by Knowlton Capital. He was also one of three individuals who ultimately purchased the Buzz Telecom assets from the company, leaving a shell behind. He has served as CEO in the past.
The other item of note is that a private investor, Mr. Haddad, currently serves as a director. He was previously a CEO of the organization as well. Additionally, he has a poor recent history of being in a management role, as can be seen below.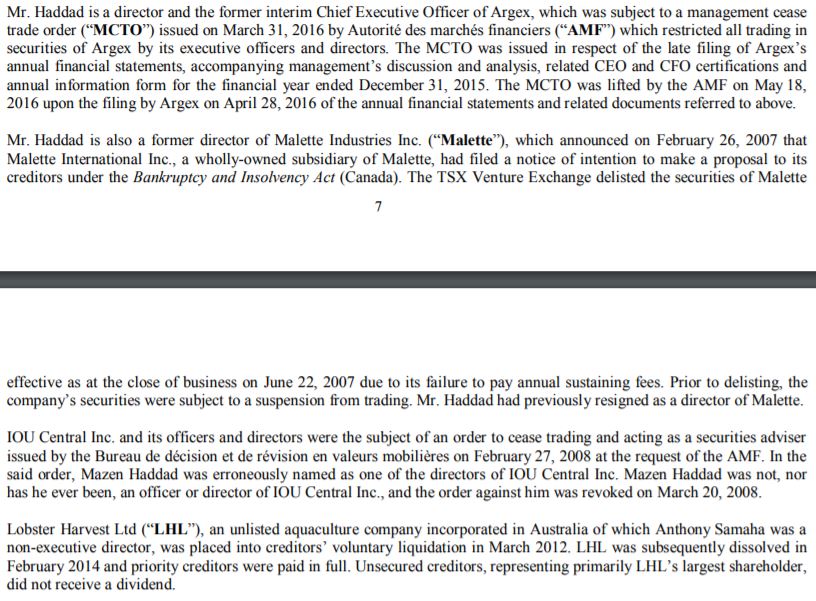 Also of note, is that the management team is spread across the globe, which can impede productivity. Several members are in Canada, while the co-chairman is based in Monaco. Better yet, is that the chief financial officer is located in London, England. Such distance between key members is not exactly conducive to effective management.
Summary
So, whats the gist of it? LGC Capital is an organization that needs to re-evaluate itself. By having a whopping seven divisions, and no revenues, it is spread much too thin. It has significant investments in all corners of the globe, but yet is unable to focus on one sector or one large project and it is costing the company dearly. This is evident by glancing at the value of its investments, which was reduced by approximately one third in a nine month period. Such a reduction should not be acceptable to share holders.
This is a company that might finally have a good formula. Fresh management is in place. They have three deals in a red hot sector that is set to explode in the next couple years. However, they are being held back as a result of too much diversification. The focus needs to be narrowed to one sector, and the share structure needs to be re-examined to ensure it is providing shareholders with proper value. Lastly, they need to get a grip on their cash flow issues, and generate some revenues.
If these actions are performed, a quality stock may appear out of the rubble created by poor management decisions and thoughtless decisions. Until that occurs, it will be clear to smart investors why after all these years, this is still a stock that has yet to get over $0.30 a share.
Look at the history. Read financials. Think Critically. Dive Deep.
---
Information for this article was sourced via reports filed on Sedar by LGC Capital, as well as from the LGC website at http://www.lgc-capital.com/. The author has no securities or affiliations related to this organization. Not a recommendation to buy or sell.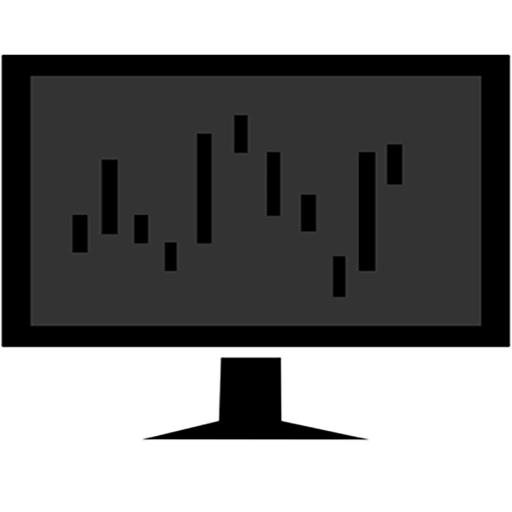 As the founder of The Deep Dive, Jay is focused on all aspects of the firm. This includes operations, as well as acting as the primary writer for The Deep Dive's stock analysis. In addition to The Deep Dive, Jay performs freelance writing for a number of firms and has been published on Stockhouse.com and CannaInvestor Magazine among others.