The Abitibi Greenstone Belt: One of the World's Richest Gold Regions
For investors who like to participate in the mining sector, and junior mining in particular, familiarity with the Abitibi Greenstone Belt in Canada is essential. The Abitibi is the world's largest mineral-rich greenstone geological belt, hosting many major gold and base metal deposits. It is a 450 km long by 150 km wide geological structure that runs through the Canadian Shield, from west of Timmins, Ontario, then eastward to Chibougamau, Quebec.
Gold was found in the area in the late 1800's, but significant gold mining activity accelerated with the discovery of the Dome, Hollinger and McIntyre mines near what is now Timmins, Ontario, around 1909. Since that time, more than 100 mines have produced in excess of 170 million ounces of gold.
While the belt is known primarily for its prolific gold mining history, base metals mines in the region have produced over 400 million ounces of silver, 15 billion tons of copper, and 35 billion tons of zinc. 
Geology
The 2.7 billion year old belt was formed by ancient volcanic activity during the Archean period that produced what is essentially a volcanic and sedimentary basin that was intruded by the granite prevalent in the Canadian shield. Minerals that are common to the belt include gold, silver, nickel, copper, zinc and diamonds.
The most significant deposits have been found along the belt's three major faults: The Porcupine-Destor Fault, Cadillac-Larder Lake Fault, and Pipestone Fault. The faults were created as a result of shifts in the earth's tectonic plates, which freed mineral-rich underground water to move closer to the surface of the earth's crust and formed veins of gold-laden deposits of quartz around these faults.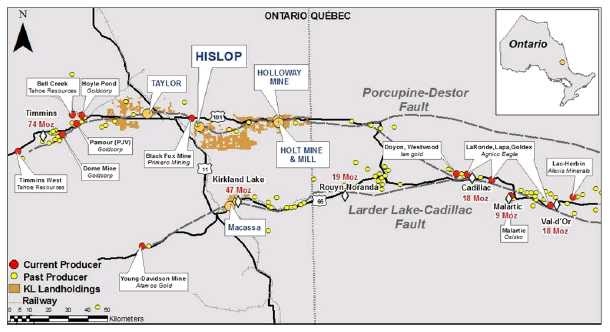 Another key characteristic of the Abitibi Greenstone Belt geology is the occurrence of many volcanogenic massive sulfide (VMS) deposits. These can often be rich sources of gold, copper, silver, lead, zinc, and other minerals.
The Kidd Creek mine, owned by Glencore, near Timmins, the world's deepest base metals mine, is an excellent example of a major mine located within a VMS deposit. In 2019 the mine produced 67,600 million tonnes of zinc, 33,500 tonnes of copper and 1 million ounces of silver. 
Another example is Noranda's Horne mine near Rouyn-Noranda, Quebec. This mine was one of Canada's most prolific mines, producing 2.5 billion pounds of copper and 11.6 million ounces of gold from 1926 until 1976.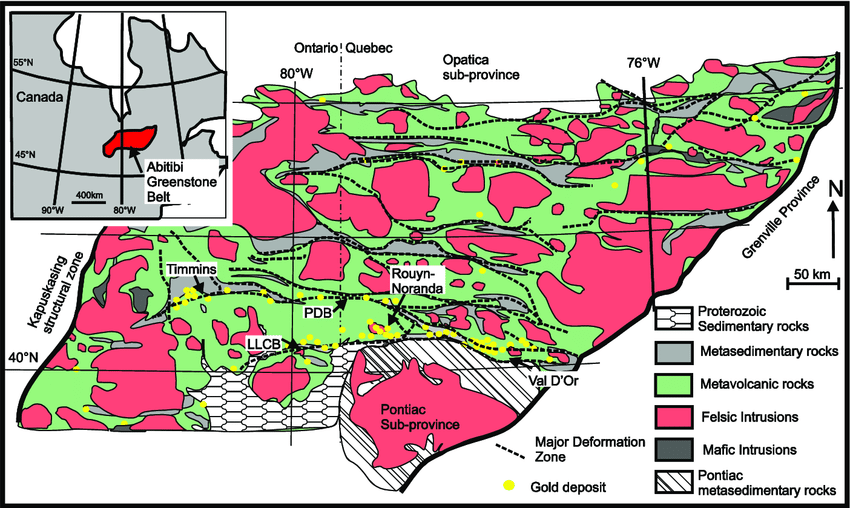 Existing mines are always in the process of depleting their resources. Therefore they must always be seeking to expand the size of their deposits. While they can often do so on their existing properties, that is not always the case. This can often present an opportunity for junior exploration companies to stake claims adjacent to, or near existing mines – the hope being that a discovery could compel the major to acquire their properties.
While in the past many major mining concerns had their own exploration divisions, over the last twenty year or thirty years, the mining industry has typically left the exploration to the juniors. In this manner, the juniors take the exploration risks, which tend to be high. They then develop the property to establish reserve resource estimates and potential economic viability – and if they are lucky, the major will gladly pay up for a promising property.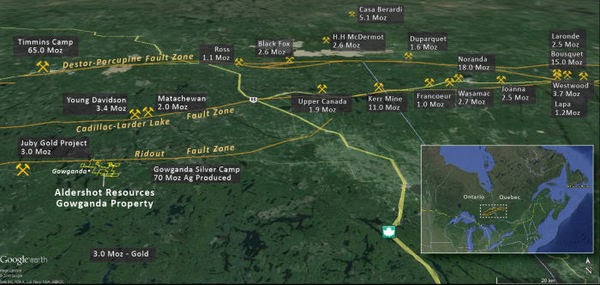 A number of mining camps have been established throughout the Abitibi Greenstone Belt.
Timmins-Porcupine Gold Camp – Dome, Hollinger, and McIntyre gold mines
Matartic Val D'Or Cadillac Gold Camp – located south of the Cadillac-Larder Lake fault zone, hosting Osisko Mining's (TSX: OSK) Malartic Mine, Quebec's largest gold mine with production of 500,000 ounces per year. Extensive junior exploration in the area
Kirkland Lake Gold Camp – commonly referred to as a Mile of Gold, it is one massive ore body – and supports seven high-grade mines
Rouyn-Noranda – Horne Mine – copper and gold
Chibougamau – historically a copper mining area with a focus in recent years on gold. Recent discoveries by Osisko at Windfall Lake have brought a resurgence of junior exploration activity to the region.
Casa Berardi – home of Hecla Mining's (NYSE: HL) Casa Berardi gold mine, which hosts an open pit mine, as well as an underground mining operation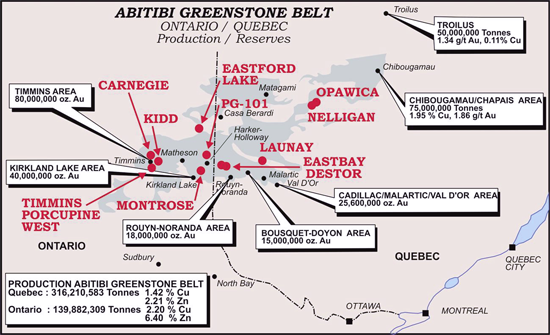 The Abitibi Greenstone Belt has a rich mining history. As such, one can be safely said that the economies of Northern Ontario and Northern Quebec exist because of the mining industry.
Quebec was ranked the fourth favourite mining jurisdiction for investment attractiveness in 2018, according to the Fraser Institute. The Quebec government has a history of encouraging mining investment, making it easy for companies to operate there.
Ontario is still considered a premier destination for mining investment, although in recent years permitting has become more cumbersome compared to Quebec or Saskatchewan. That has not, though, discouraged exploration activity in any noticeable way.
In recent weeks there has been some good activity in the region. On May 14, 2020, Wallbridge Mining (TSX: WM) announced it was resuming exploration activities at its 100% owned Fenelon gold project. All mining sector activity before this had been suspended by the Quebec government due to the Coronavirus outbreak.
On June 2, 2020, Xander Resources Inc. (TSXV: XND) announced the acquisition of the Senneville West Property, which is contiguous with its Senneville Group of Claims South Property 20 km northeast of Val D'Or and adjacent to Probe Metal's (TSXV: PRB) Val D'Or project, as well as Monarch Gold's (TSX: MQR) McKenzie Break property.
On July 8th, 2020, Xander expanded its 100-per-cent-owned Blue Ribbon property in the Fenelon area from 39 claims to 48 claims. The property is located 11 kilometres SW of the Wallbridge Mining Company Ltd. Fenelon mine project. It borders Probe Metals, Midland Exploration (TSXV: MD) and Great Thunder Gold (CSE: GTG).
On May 12, 2020, Radisson Mining Resources Inc. (TSXV: RDS) announced it is resuming exploration activities at their 100% owned O'Brien gold project, located along the Larder-Lake-Cadillac Break, halfway between Rouyn-Noranda and Val-d'Or in Abitibi-Témiscamingue, Quebec. 
Other senior mining and junior exploration companies that are in various stages of exploration and/or project advancement include Genesis Metals Corp. (TSXV: GIS), IAMGOLD (TSX: IMG), Vanstar Mining Resources (TSXV: VSR), Eldorado Gold Corporation (TSX: ELD), Goliath Resources Ltd. (TSXV: GOT), Caldas Gold Corp (TSXV: CGC), Warrior Gold (TSXV: WAR), QMX Gold Corp (TSXV:Q MX), Northstar Gold Corp (CSE: NSG), and Bonterra Resources Inc. (TSXV: BTR).
In early 2020, in the midst of the Coronavirus pandemic outbreak, most mining and exploration activity in Quebec and Ontario was initially deemed essential and allowed to continue. It was then suspended in Quebec, when the pandemic worsened. In May, the Quebec government allowed companies to resume operations, and with the summer exploration season starting to ramp up, it will be interesting to see which companies can come up with good results from their work programs. 
Investors are encouraged to follow activity in the Abitibi Greenstone Belt, as it has been the source of much success over the years. While junior resource investing is always a high-risk, high-reward endeavor, the nature of the Abitibi Greenstone Belt geology tends to tilt the odds in the explorer's favour in terms of producing encouraging results, at least initially. Only time and continued work on any particular project will determine the potential economic viability of the project. In the interim, investors can often enjoy an interesting ride along the way.
---
Information for this briefing was found via Sedar and the companies mentioned. The author has no securities or affiliations related to this organization. Not a recommendation to buy or sell. Always do additional research and consult a professional before purchasing a security. The author holds no licenses.