The Golden Triangle: British Columbia's Exploration Hotbed
In recent years mining investors have been hearing a lot about one of the world's hottest exploration regions: the Golden Triangle of British Columbia. This region is home to some of the world's largest and richest mineral deposits.
The name Golden Triangle comes from a 500 km belt of mineralization stretching south from Atlin in northern British Columbia near the border with the Yukon, to Kitsault, just southeast of Stewart, British Columbia – an area historically associated with molybdenum and silver production. It's the southern portion that gives the Golden Triangle its name, as it has hosted many past producing mines, with several more in various stages of being brought into production. These include:
Eskay Creek – This is considered to be the world's most precious metal-rich Volcanogenic Massive Sulfide (VMS) deposit. 
KSM – It's considered to be the world's largest undeveloped Copper/Gold porphyry deposit. It has an initial 44-year mine life production plan, with reserves of 38.8 million ounces of gold and 10.2 billion pounds of copper.
Brucejack – The mine commenced production in 2017 and is considered to be one of the highest grade gold mines (16.2 g/t) to have opened in recent years, with estimated reserves of 4.2 million ounces of gold.
What makes this region so exciting is that the geology contains a wide variety of mineral deposits. There are precious metals such as gold and silver, but also, and importantly, base metals such as copper and molybdenum.
Geology
The Golden Triangle is situated within the Sulphurets Hydrothermal System, which hosts one of the world's largest concentrations of minerals;
188 million ounces of gold estimated reserves, with 47.5 million proven and probable
1.2 billion ounces silver, with 214 million proven and probable
55 billion pounds copper, with 10 billion proven and probable.
Most of the Golden Triangle mineralization was formed by volcanic activity during the Late Triassic and Early Jurassic age – and the area's terrain is often referred to as Stikinia or Stikine terrain. A simple explanation: As the magma rose towards the earth's surface, the molten rock containing concentrations of many different minerals was carried upwards until it reached water and air. It then cooled, and settled, as likely happened at Eskay Creek when mineral-bearing sulphides and minerals were deposited on what was the surface at the time. Where they settled at deeper levels, there were often iron-formed porphyry deposits laden with copper, gold, and molybdenum.
All of the mineral deposits formed in the Golden Triangle have one common characteristic: they are all found near the surface at depths of 2,000-2,500 metres. As such, the normal continuous erosion of the earth's surface has enabled easy access to many of these deposits.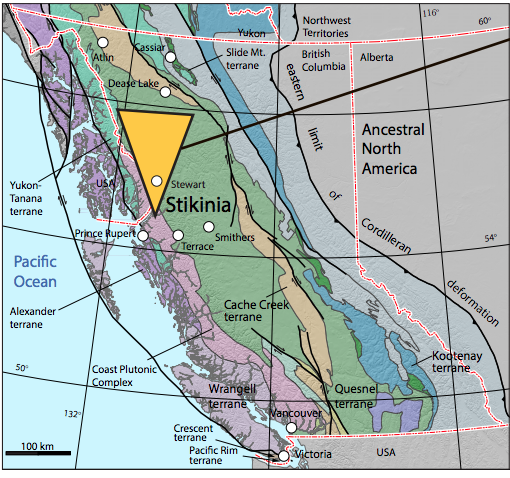 Principal Discoveries
Eskay Creek
The story behind the Eskay Creek discovery is a tale familiar to most geologists for almost any new discovery; a combination of trial and error, grit and determination – and luck. Eskay Creek was first staked in 1932 when a prospector named Thomas MacKay, while flying over the area, spotted an outcrop which was later assayed at 5 ounces of gold per ton. What he found was a boulder that had rolled down a hill. This prompted him to explore the area for many years in search of the gold's source, but sadly, to no avail.
After his death, Mackay's wife took control of his company, Consolidated Stikine Resources, and kept the dream alive. In 1988, two young geologists, Ron Netolitzsky and John Toffman, encouraged by data from the property, brought in flamboyant and legendary Vancouver stock promoter, Murray Pezim. 'The Pez' raised money for exploration and his company, Calpine Resources, formed a 50/50 joint venture with Consolidated Stikine to explore the property.
The first strike occurred in late 1989, and each successive drill hole brought in progressively better results. The drill team therefore braved the harsh northern British Columbia winter weather in order to continue drilling.
By the summer of 1990, 108 holes had been drilled. At that point, they hit a fault and the trend of the ore body stopped dead – and nobody had a clue where to go next. Pezim's chief geologist, Chet Idziszek, pored over all the maps and data and was essentially forced to make a guess. He decided to drill hole 109 a full 350 metres from the last hole. Hole number 109 assayed a spectacular 27.2 g/t gold and 30.2 g/t silver over 208 metres, making it one of the most significant drill holes in mining lore. And this, of course, set off a staking stampede in the area that has since led to more significant discoveries.
The Eskay Creek Mine became the world's highest grade gold producer when it entered into production in 1994. It produced over 3 million ounces of gold at an average grade of 45 g/t, and 160 million ounces of silver at an average grade 2.2 g/t until shutting down in 2008.
On July 5, 2020, Skeena Resources Ltd. (TSXV: SKE) announced it was exercising its option to acquire 100% of the Eskay Creek gold-silver project from Barrick Gold Corp (TSE: ABX), one of the world's biggest gold mining companies. Barrick will own 12.4% of Skeena. In 2019 Skeena completed a Preliminary Economic Assessment of the project in preparation for a Pre-Feasibility Study to determine the economics of reopening the mine, which will be an open pit operation. In the interim, Skeena continues its exploration efforts on the property to expand the deposit and expand its reserves.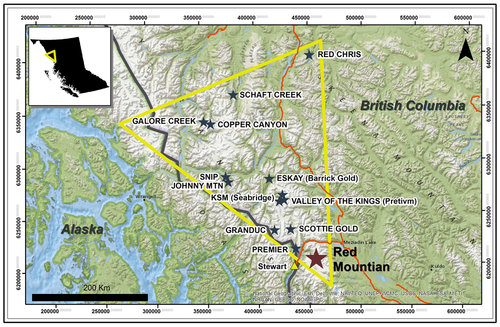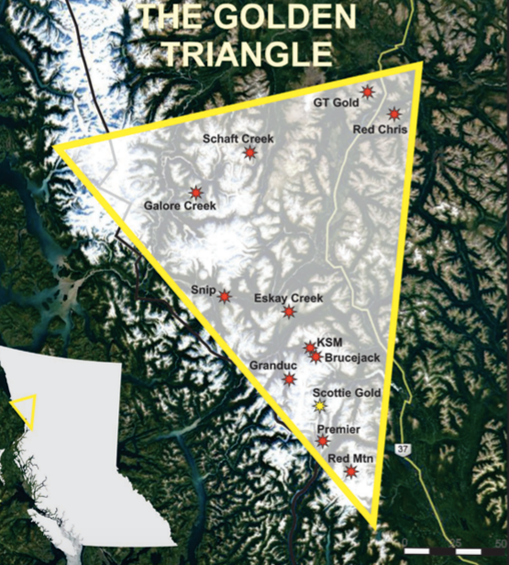 KSM Project
The KSM (Kerr-Sulphurets-Mitchell) Project, which is controlled by Seabridge Gold (TSX: SEA), is located 65 km northwest from Stewart, British Columbia. KSM is considered to be the world's largest undeveloped Copper/Gold porphyry deposit, with reserves of 38.8 million ounces gold and 10.2 billion pounds of copper. Seabridge has been in the process of preparing the project for production since receiving its environmental impact assessment certificate at the end of 2014. 
On May 8, 2020, Seabridge announced that it had filed a NI-43-101 report on the project. This document indicated that 27.6 million ounces of gold and 17 billion pounds of copper could be produced over the projected 44 year life of the mine. The Company calculates a net of copper and silver revenue production cost of $472 an ounce of gold.
Brucejack Mine
The Brucejack Mine is operated by Pretium Resources (TSX: PRG) and is considered to be one of the highest grade gold mines (16.2 g/t) to have opened in recent years, with estimated reserves of 4.2 million ounces of gold and a project mine life of 13 years. The underground mine, located 65 km north of Stewart, British Columbia, went into production in 2017. According to Pretium's Q1 financial disclosures, the mine produced 82,888 ounces of gold at an all-in production cost of $996 per ounce. Pretium continues to explore the surrounding area to identify potential mineralized zones.
Treaty Creek
Another promising Golden Triangle project is the Treaty Creek Project, which is 60% owned and operated by Tudor Gold (TSXV: TUD), 20% by Teuton Resources (TSXV: TOU) and 20% by American Creek Resources (TSXV: AMK). As the operator of the project, Tudor is responsible for all exploration costs until the property has achieved a positive feasibility decision. The 17,913 hectare Treaty Creek Project is adjacent to the KSM property to the southwest, borders the Brucejack Mine to the southeast, and is 12 km east of the Eskay Creek mine. 
Schaft Creek is a joint venture initiated in 2013 between 75% owner and operator Teck Resources Ltd (TSX: TECK.B) and 25% by Copper Fox Metals Inc. (TSXV: CUU). It is a copper, gold, silver and molybdenum deposit hosting estimated proven and probable reserves of 5.6 billion pounds of copper, 6 million ounces of gold, 52 million ounces of silver, and 372 million pounds of molybdenum. This makes it one of the world's largest undeveloped deposits. 
The joint venture has been steadily upgrading the project's mine feasibility plan. This underscores the length of time it can take to bring a mine into production, once an exploration program has determined that a project has the potential economic viability of becoming a producing mine.
The Red Chris Mine, an open pit operation developed by Imperial Metals (TSX: III), began producing copper and gold in 2015. The 23,142 hectare property is 80 KM south of Dease Lake, British Columbia. In 2019, Imperial Metals sold a 70% interest to Australian gold miner Newcrest Mining Ltd (ASX: NCM) in a transaction valued at $804 million. 
According to Imperial Metals disclosures, the mine produced 71.9 million pounds of copper, 36,471 ounces of gold, and 133, 879 ounces of silver in 2019. Current plans call for the mine to operate until at least 2043.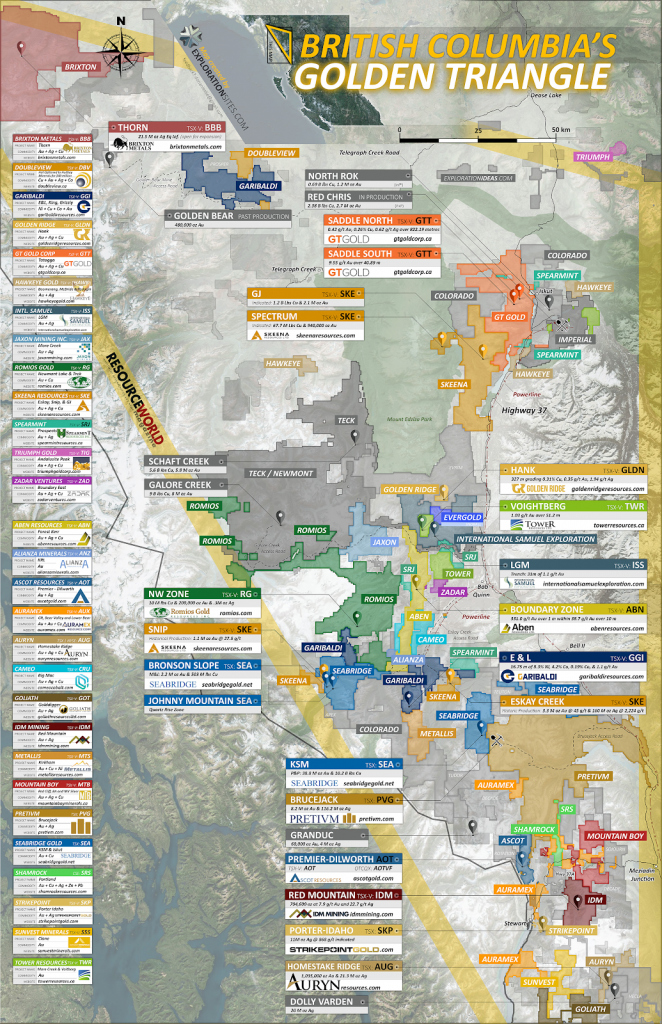 Recent Exploration Activity
The size and quality of the major deposits in the Golden Triangle has attracted a number of junior exploration companies to the area over the past few years – and the 2020 summer drilling season is well underway.
On July 14, 2020, AUX Resources Corporation (TSXV: AUX), with over 25,500 hectares of claims in the region, announced that its field crew was being mobilized to carry out the 2020 field program at its Georgia Project 16 km south of Stewart. This play also hosts the Georgia River Mine, a former producing mine.
On July 15, 2020, Origen Resources Inc. (CSE: ORGN) announced it was beginning field work on its Wishbone Property, adjacent to Teck's Galore Creek property, 150 km northwest of Stewart. A drill program is coming.
On July 14, 2020, Colorado Resources Ltd. (TSXV: CXO) announced that it had commenced exploration of its Castle Project, which is in the vicinity of the Red Chris mine.
Among other companies exploring in the Golden Triangle are: Scottie Resources Corp (TSXV: SCOT), Romios Gold (TSXV: RG), GT Gold (TSXV: GTT), Jaxon Mining (TSXV: JAX), Aben Resources (TSXV: ABN), NovaGold (TSX: NG), Dolly Varden Silver (TSXV: DV), Spearmint Resources (CSE: SPMT), Central Timmins Exploration Corp (TSXV: CTEC), Golden Ridge Resources (TSXV: GLDN), Central Iron Ore (TSXV: CIO), Artemis Gold (TSXV: ARTG), Antioquia Gold (TSXV: AGD), and Unigold (TSXV: UGD).
In the past, the exploration season in northwestern British Columbia was essentially the five months from May until late-September. A number of factors have contributed to the resurgence of interest in the Golden Triangle:
Receding glaciers and less snow, combined with a warming climate, have exposed previously unseen terrain and rock formations. While temperatures can still be oppressively low, the general climate has been getting warmer – and this enables crews to work for longer stretches of the year, even in remote areas.
A new high-voltage transmission line provides reliable energy at a greatly reduced cost. This reduces the reliance on unreliable and costly diesel-powered generators.
The new Stewart-Cassiar Highway runs from Smithers to Stewart and has enabled better road access within the region.
New ocean access shipping facilities have opened and the port in Stewart facilitates greater convenience for the export of mineral concentrate. This vastly reduces transportation costs for producers, and opens better access to important markets.
With new technologies, geologists have been able to gain a greater understanding of the region's complex geology. This allows them to build newer and more reliable geological models that enhance exploration effectiveness, increase mining efficiencies.
There are improved relations, collaboration and cooperation between the mining industry, the British Columbia government, and the region's two main First Nations groups, the Tahltan and the Nisga'a. This has enabled socially responsible mining and exploration practices, benefiting all stakeholders.
The Golden Triangle may offer investors a reasonable risk/reward scenario, due to the great number of world class mineral deposits found there to date. These operating mines tend to have large, high-grade mineral reserves, a long mine life, improving operating costs and efficiencies, and provide significant economic benefit to the communities in the region. 
Much of the exploration activity is conducted in the vicinity of existing mines in an area where the underlying geology appears consistent over large swaths of the region. New geophysical technologies, underground geological modelling, and enhanced drilling technologies are being employed to greater effect. While never a guarantee, this all increases the likelihood of a successful exploration program.
In closing, gaining a familiarity with the Golden Triangle is a must for investors in the mineral exploration sector.
---
Information for this briefing was found via Sedar, The British Columbian Government, and the companies mentioned. The author has no securities or affiliations related to this organization. Not a recommendation to buy or sell. Always do additional research and consult a professional before purchasing a security. The author holds no licenses.