No, Elon Musk, Twitter Use Is Not At All-Time High
Twitter's power users are still visiting the app, but fewer are posting since Elon Musk's acquisition late last year.
According to the Pew Research Center's recent examination of actual site behavior, the most active users before Musk's acquisition – defined as the top 20% by tweet volume – have seen a notable posting reduction in the months afterwards.
"These users' average number of tweets per month declined by around 25% following the acquisition," the research's authors said.
In the Center's survey conducted about five months after Musk acquired the site, it was also found out that the majority of Americans who have used Twitter in the last year report taking a break from the platform during that time, and a quarter say they are not likely to use it a year from now.
The research, conducted among American adults within March 13-19, 2023, six-in-ten Americans who used Twitter in the previous 12 months say they took a vacation from the platform for several weeks or more during that time, while about four-in-ten (39%) said they did not.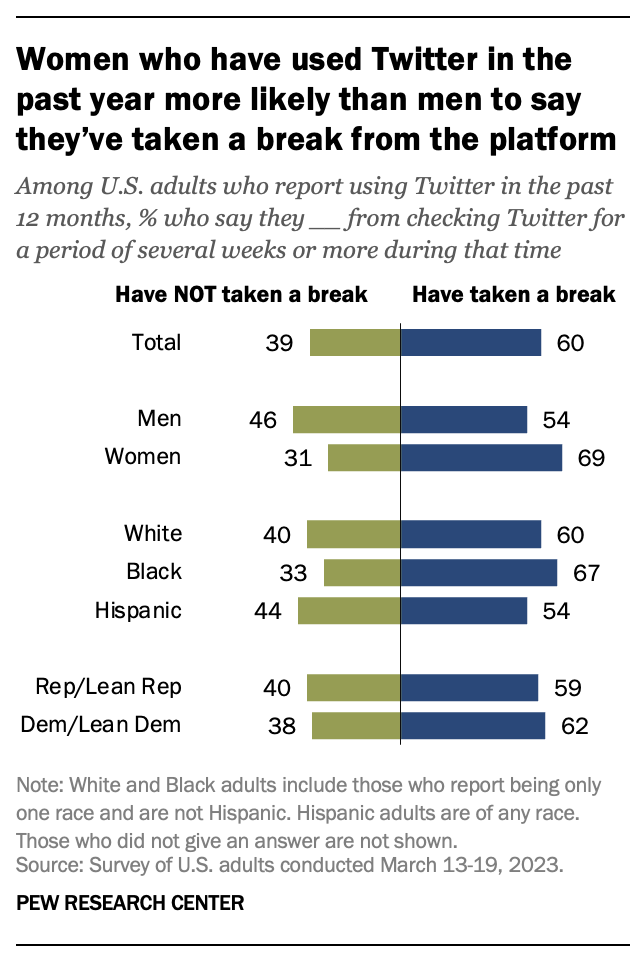 Some groups are more likely than others to report they have taken a break from the platform, with gender, race, and ethnicity showing the most noticeable variances. Women are more likely than males to have taken a break from Twitter in the last year (69% vs. 54%) among current and recent users. And Black users (67%) are more inclined to agree than their White (60%) or Hispanic (54%).
In addition, present and previous Twitter users were questioned how likely they are to utilize the platform a year from now. While 40% say they are very or very likely to use Twitter in a year, a quarter think they are not very or not at all likely to use the site in a year.
Women are more likely than men to say they will not be on Twitter in a year, according to current or recent users.
The new data highlight the issues that will face Twitter's future CEO, Linda Yaccarino, who will succeed Musk. She will take over the struggling social media service, which has lost a number of sponsors in recent months due to worries that racist and other unsuitable content has grown since Musk's takeover.
Yaccarino, who just quit as NBCUniversal's global advertising executive, will need to rebuild ties with Twitter's advertisers and learn the ins and outs of content moderation. Musk admitted in an interview with CNBC on Tuesday that he had reduced the company's personnel by nearly 80% to around 1,500 employees, letting go of some employees he could have kept.
"Desperate times call for desperate measures," Musk said. "So there's no question that some of the people who were let go probably shouldn't have been let go."
Back in November upon his takeover, Musk said Twitter had hit an all-time high usage.
However, the media platform was reportedly mulling over selling usernames in online auctions, according to a report from the New York Times earlier this year. Musk has previously said that he wanted to wipe inactive accounts and free up around 1.5 billion usernames.
Only 20% produce 98% of the tweets
The report also noted that tweeting activity is heavily concentrated within a relatively tiny fraction of the site's users, as it was prior to Musk's takeover. The majority of adult Twitter users in the United States continue to create the majority of the content. Since Musk's takeover, 20% of US adults on the site have generated 98% of all tweets.
Democrats and Democratic leaners continue to account for the majority of these extremely active tweeters (61%), as they have in the past.
The survey also showed that Musk has become a considerably more popular topic of conversation on Twitter since acquiring the platform. Twitter users in the United States mentioned Musk only once in a tweet on average before he declared his plan to buy the platform. However, Musk mentions have become far more prominent on the site since then. These people tweeted about him an average of three times while Musk was acquiring the platform, and an average of six times after the sale was completed.
When looking at specific adult Twitter users, about four-in-ten have cited Musk in a tweet since early 2022. These mentions are notably popular among the platform's Republican and Republican-leaning independent users.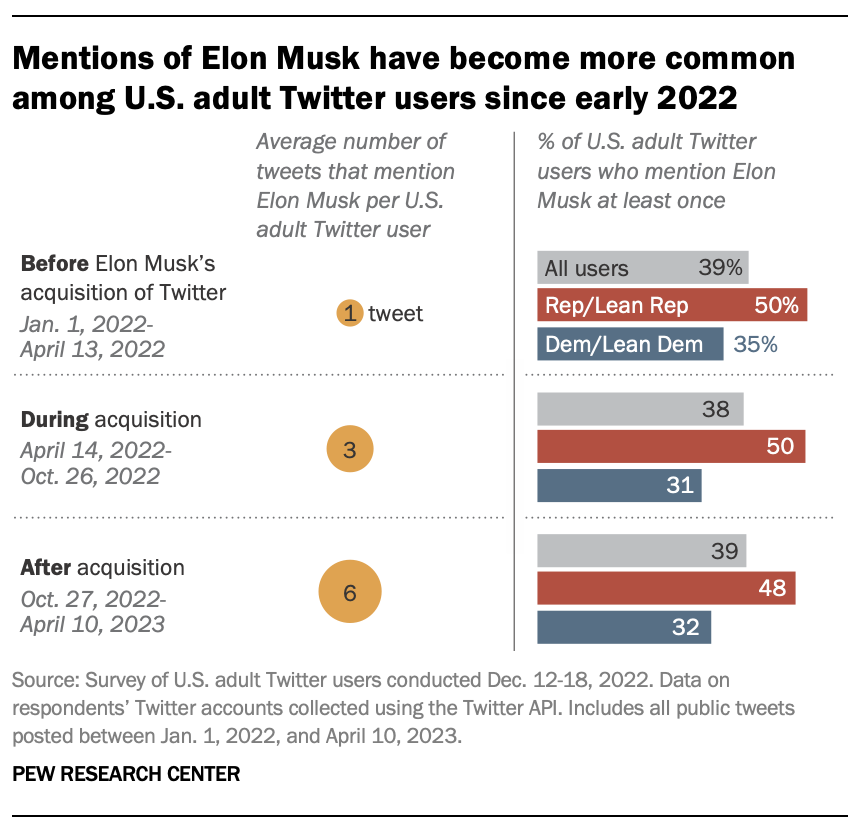 Earlier in February, Musk ordered a special system that would give him previously unheard-of promotion, broadcasting his tweets to the entire user base, shocking many Twitter users discovering that all of Musk's tweets were showing up at the top of their feed, overwhelming their ranked timeline.
This move followed his Super Bowl tweet about the Philadelphia Eagles, which generated a little more than 9.1 million impressions, whereas President Joe Biden's tweet about the game generated nearly 29 million impressions.
Engineers discovered that Musk's reach might have been reduced because he'd been blocked and muted by many people, and there were also legitimate technical reasons his tweets weren't performing. Musk threatened to fire his remaining engineers if the issue wasn't "fixed."
The survey results come as Musk and Twitter find themselves in another legal battle, this time put forth by a lawsuit from ex-Twitter employees suing the billionaire for not paying severance packages he promised to workers who might be laid off once he took over.
"Led by Musk and the cadres of sycophants who were internally referred to as the transition team, Twitter's new leadership deliberately, specifically, and repeatedly announced their intentions to breach contracts, violate laws, and otherwise ignore their legal obligations," the plaintiffs said.
The suit charges Musk and Twitter with 12 counts of violation, including breach of merger agreement, breach of contract, violation of the WARN Act, wage theft, and employment discrimination.
---
Information for this briefing was found via CNBC, Pew Research, and the sources mentioned. The author has no securities or affiliations related to this organization. Not a recommendation to buy or sell. Always do additional research and consult a professional before purchasing a security. The author holds no licenses.