Oil Rallies After OPEC+ Surprise Production Cut, But Is Biden To Blame?
Oil futures rallied on Monday after Saudi Arabia and other OPEC+ members announced unexpected oil production cuts of more than 1 million barrels per day.
Saudi Arabia said on Sunday that it will execute a "voluntary cut" of 500,000 b/d, or slightly less than 5% of its output, in "coordination with some other OPEC and non-OPEC countries."
Brent crude futures hit an intraday high of $86.4 per barrel on Monday, the most since early February, before reversing some gains and lingering around $84. WTI crude futures hit an intraday high of $81.7 per barrel on Monday, the most since late January, before erasing some gains and lingering around $79.8.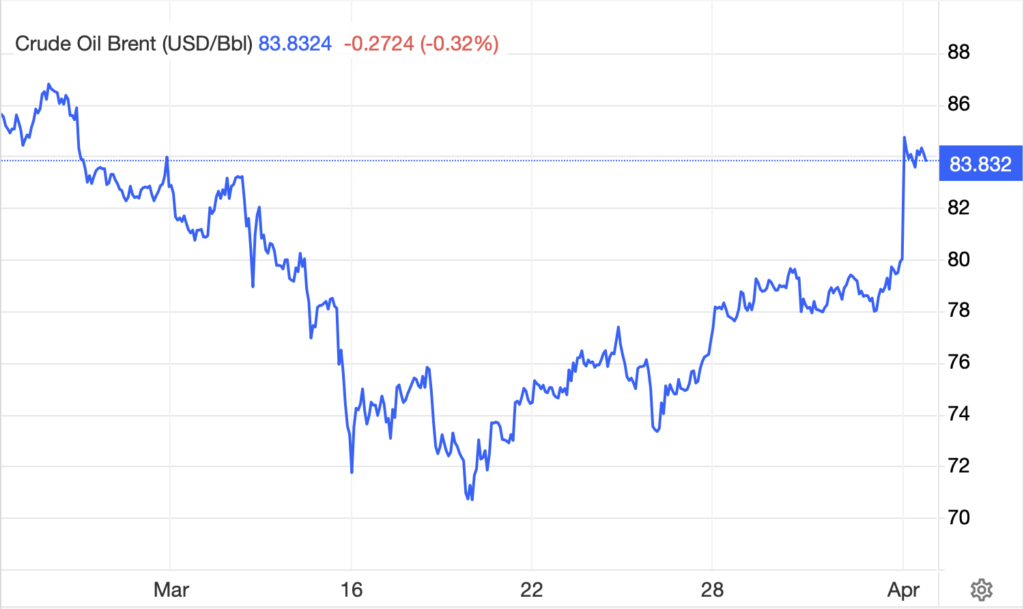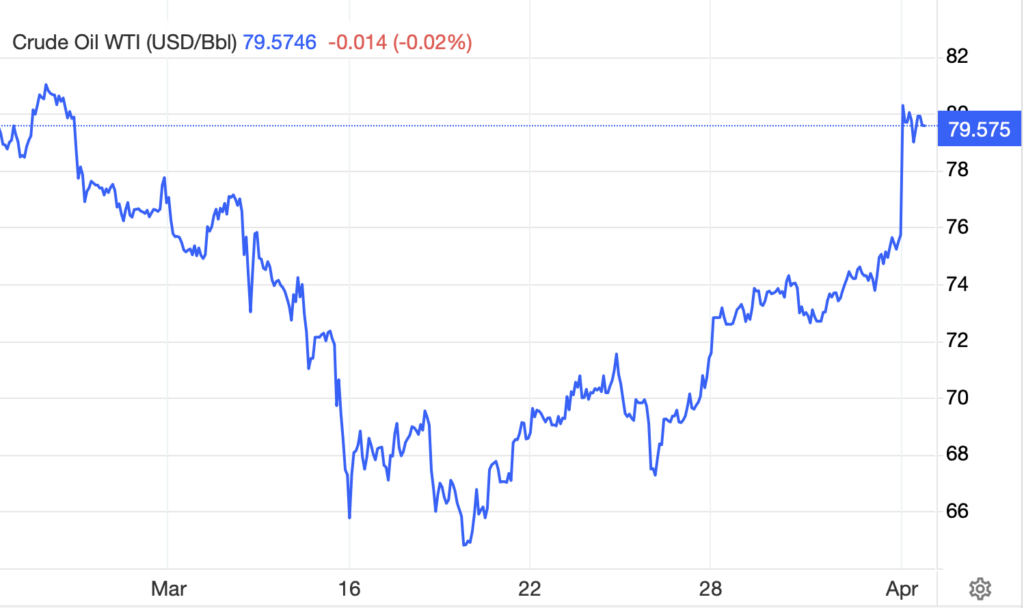 The Saudi-led move is unique in that it was announced outside of a formal OPEC+ meeting, implying a sense of urgency among the members participating in the reduction.
The unexpected cut risks reigniting tensions between Riyadh and the US, which pressed for the monarchy to pump more oil last year in order to combat runaway inflation and a surge in energy costs.
When Opec+ announced a formal production cut of 2 million barrels per day in October, the White House accused Saudi Arabia of virtually siding with Russia, despite Moscow's full-scale invasion of Ukraine and its attempt to create an energy crisis by lowering gas supplies to Europe.
According to people familiar with Saudi Arabia's thinking, Riyadh was upset last week when the Biden administration openly ruled out further petroleum purchases to refill a strategic reserve depleted last year as the White House battled inflation.
Oil prices fell slightly when Energy Secretary Jennifer Granholm stated that replenishing the stockpile might take "years." The White House had already assured Saudi Arabia that if prices plummeted, it would step in to make purchases for its strategic reserve.
The US Strategic Petroleum Reserve, currently at its lowest level since December 1983, hasn't been refilled this year. In fact, Biden's administration intends to sell more crude oil, with 26 million barrels set to be delivered to the market from April 1 to June 30 from the reserve, completing budget orders enacted years ago that it had hoped to halt as oil prices have steadied.
According to the Saudi announcement, the voluntary reduction by OPEC+ members will begin in May and run until the end of 2023. According to government declarations, Iraq will lower oil output by 211,000 b/d, the UAE by 144,000 b/d, Kuwait by 128,000 b/d, Kazakhstan by 78,000 b/d, Algeria by 48,000 b/d, and Oman by 40,000 b/d.
Japan buying Russian oil above price cap
Related to the production cuts, Russia, an OPEC+ member, announced that it would prolong its current 500,000 b/d production cut until the end of the year. Russia announced the reduction in March in response to western countries' moves to impose a $60-per-barrel price cap on its seaborne oil exports.
The United States has rallied its European allies behind a $60-per-barrel ban on purchases of Russian crude oil, but one of Washington's closest Asian friends is suddenly buying oil at prices higher than the cap.
Japan persuaded the US to make the exemption, claiming that it was necessary to ensure access to Russian energy. The concession demonstrates Japan's reliance on Russia for fossil fuels, which observers say has contributed to Tokyo's reluctance to fully support Ukraine in its conflict with Russia.
Despite the fact that several European countries have reduced their reliance on Russian energy supply, Japan has increased its purchases of Russian natural gas in the last year. Japan is the only Group of Seven country that has not supplied Ukraine with lethal weaponry, and Prime Minister Fumio Kishida was the last G-7 leader to visit Ukraine following Russia's invasion.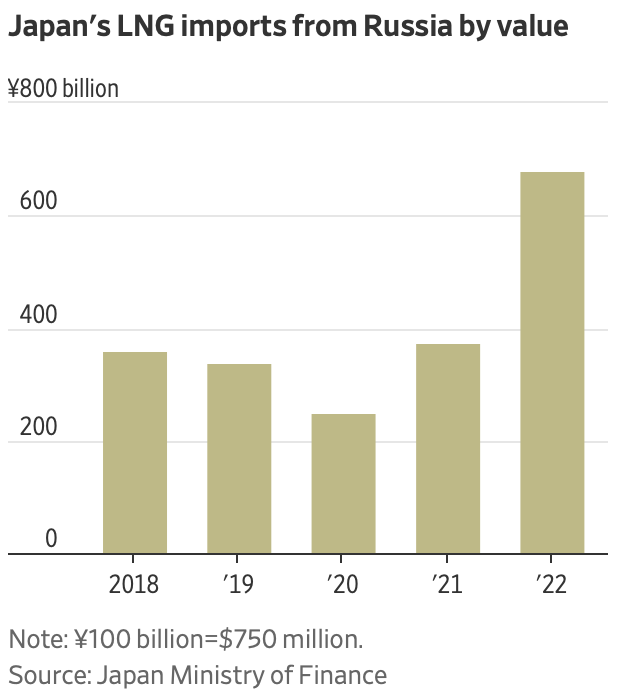 Kishida has stated that the G-7 conference he will hold in his hometown of Hiroshima in May will show sympathy with Ukraine. Tokyo has stated that it is committed to assisting Kiev but is unable to deliver weaponry due to lengthy export limitations imposed by the cabinet.
"We absolutely will not allow Russia's outrageous act, and we are imposing strict sanctions on Russia in order to stop Russia's invasion as soon as possible," said chief government spokesman Hirokazu Matsuno.
While the oil purchases are small and permitted by the US, they mark a crack in the unity of US-led efforts to impose a global $60-per-barrel restriction on Russian crude oil purchases.
According to official trade records, Japan purchased approximately 748,000 barrels of Russian oil for a total of $6.9 billion in the first two months of this year. At the current currency rate, that equates to $52 million, or slightly less than $70 per barrel. Russia exports millions of barrels of oil every day, therefore Japan's purchases represent a negligible portion of total Russian output.
---
Information for this briefing was found via Financial Times, The Wall Street Journal, and the sources mentioned. The author has no securities or affiliations related to this organization. Not a recommendation to buy or sell. Always do additional research and consult a professional before purchasing a security. The author holds no licenses.