Quarterly Affirmation with Canopy Growth Corp
Every three months, Canopy Growth Corp (TSX: WEED) (NYSE: CGC) posts another net loss, fails to meaningfully grow its output, and gets dragged up and down Independent Equities Research Ave. for various half-hearted lampshade lies used to cover various shortcomings and poor decisions.
Regular readers are well-familiar with our ongoing complaint about how the company obscures its gross margin on cannabis, how the perceived revenue jump in the December quarter came from sandbagging the September revenue with return allowances, and questions persist about whether or not retail sales through the stores are ending up in the dried gram count twice.
Being full of it never seemed to bother Canopy, and neither did being called out for it. In this latest quarterly, delivered in the form an extended news release instead of an Annual Report (to be released in July following a COVID extension), Canopy tacitly admits to many of the shortcomings they had been obfuscating, while withholding data that could show us how bad it has actually become. The release contains very little data on unit sales, and nothing on dried flower equivalent grams sold, presumably because they don't want to talk about the past.
As far as the margin goes, well… Canopy isn't even denying that top-line loss on the cannabis units anymore. It's put all the dead-weight into a gaping -82% gross loss on the year, used an "adjusted gross margin" figure to remind us that most of that is in the past, and is now ready to be washed away in a cleansing flow of balance sheet write offs and move FORWARD! Canopy is seeking all the redemption of coming clean without any of the pain that comes with contrition.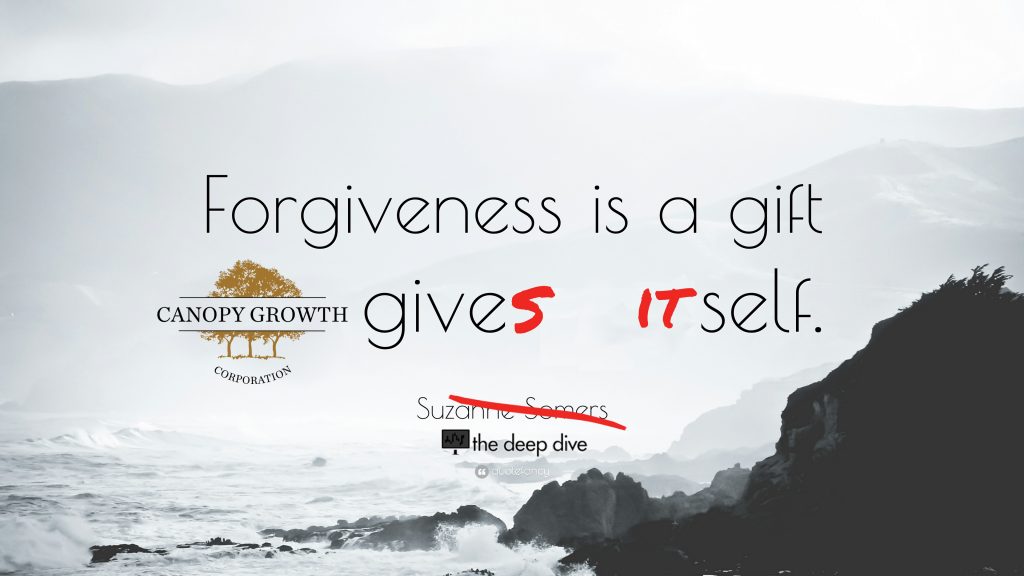 Transition
On its corporate New Year's Eve, Canopy is acting like an acquaintance that just got back from a self-actualization seminar. They're telling us about how they've taken up yoga and how liberating it is to have finally realized what was holding them back! The negative thinking and destructive behaviors that had been keeping their progress in a prison are history! Canopy is tossing them down the memory hole like a $743 million ledger entry, so say hello to the NEW Canopy Growth!
That won't happen overnight, of course. It hasn't even been a year since they got out of that toxic relationship, and there's still a lot of left over damage, so it'll be another year at least.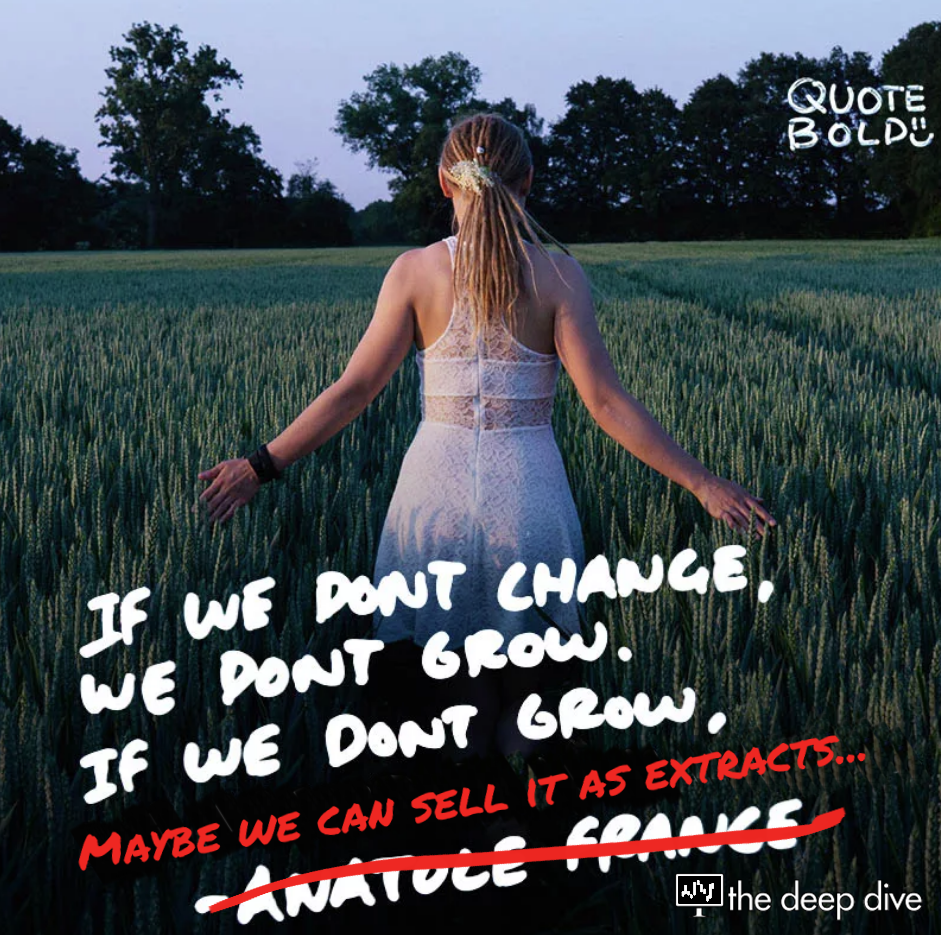 The "strategy and re-organization" part of this news release takes up the better part of a page. It's over-written, says nothing, and uses try-hard MBA jargon the way a self-help pamphlet uses new-age platitudes. Once distilled, we're left with themes of a focus on quality over quantity, and a narrative about Our Hero continuing on as a brave industry leader, but it might as well outline Canopy's ambitions to enter the space program for all it matters as an outlook. The material information in here is that fiscal 2021 is a rebuilding year.
Previous milestone goals of positive EBITDA and net income have been formally withdrawn. The company is going to live its best life a while, see where it ends up. If they find some direction, they'll drop a note. The metrics are full of adjustments meant to give us a look at this undefined future and we won't print them because, until that future is crystalized, it amounts to wishful thinking.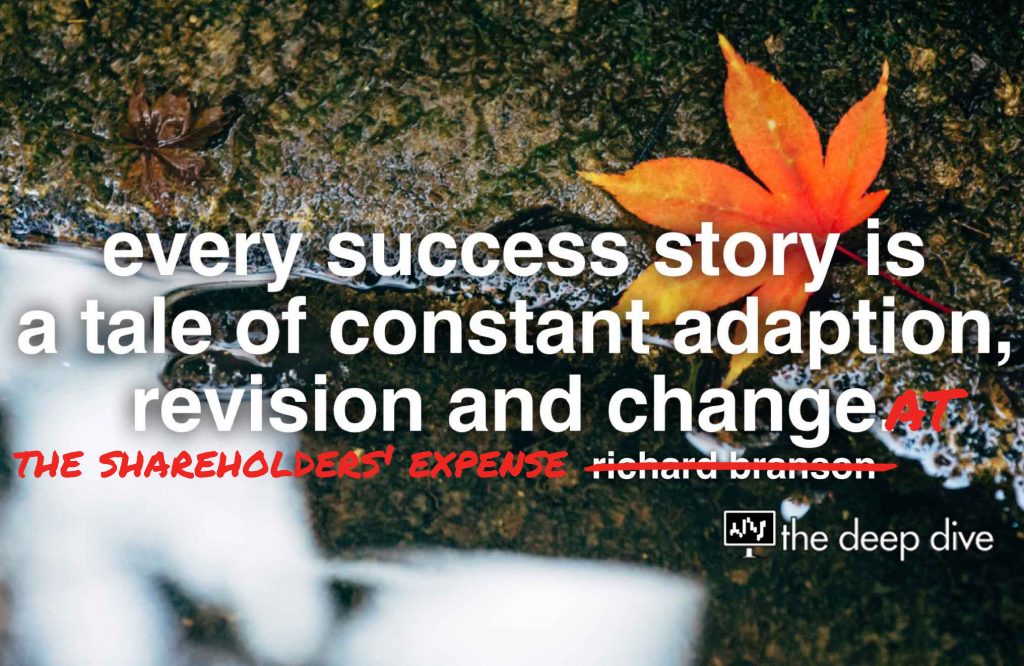 Just ignore the negative, and it'll be like it doesn't even exist.
There's a clear focus on vape and drink products, which are probably the positive features the Life Coach told Canopy to bring to the forefront. The segments have been growing, slowly, at a rate of growth that has been "more than offset by an overall decline in flower and pre-roll," which, no matter the outlook on the potential of vapes and edibles, isn't good news.
The last time we heard from Health Canada about cannabis sales was November of 2019. At the time, dried flower was out-selling extract products 17:1 on a "packaged units" basis.
With no statistics from Canada's cannabis regulator or its largest licensed producer, we're ill-equipped to analyze the Canadian appetite for 2.0 products as a replacement for standard smokeables but, frankly, who cares? People who smoke cannabis smoke cannabis. If drinks and vapes were going to take the product crown from flower, we'd be seeing it in popular culture.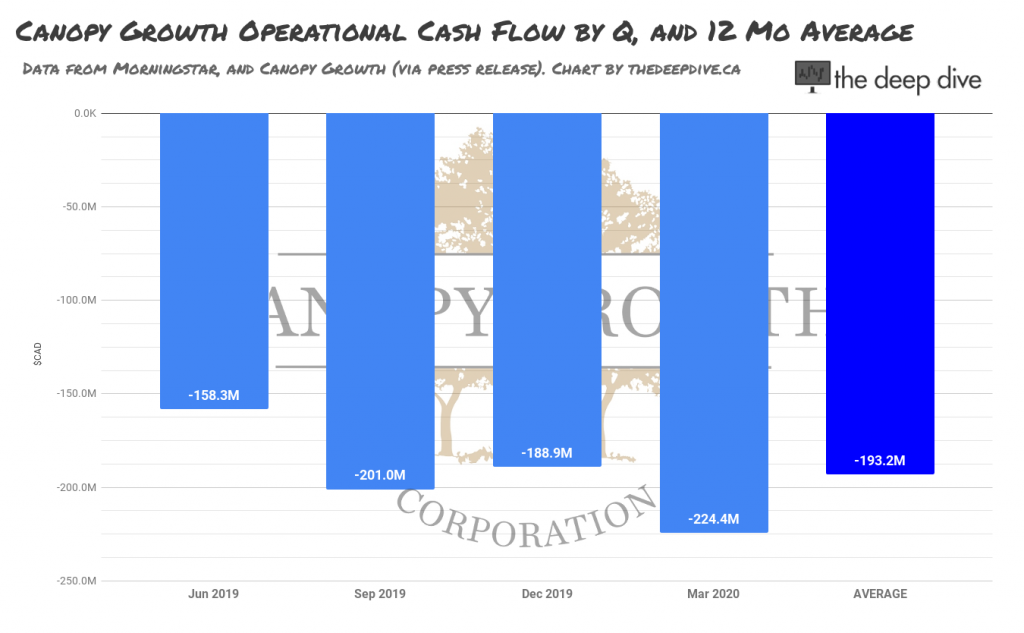 Much like the average client of over-priced and under-ridiculed self-help weekend seminars, Canopy marches on, oblivious to the state of its P&L. $1.5 billion in cash reserves and an average operational cash burn of $193M / quarter means Canopy can afford to take a gap year searching for meaning. Eventually, it'll have to explain itself to Uncle Connie, but there's no sense worrying about that now.
Curiously, core backer Consellation Brands (NYSE: STZ) is putting up with this. The liquor giant exercised its warrants in March, signifying an implicit backing of CEO David Klein's turnaround plan. Surely, Constellation sees the downside here, why throw good money after bad?
The Deep Dive has a theory, complete with charts, so stay tuned.
Update
Canopy has now posted the full annual statements. Predictably, unit sales regressed over the previous quarter, improved marginally over Q1 2019. This is a sales profile that has plateaued.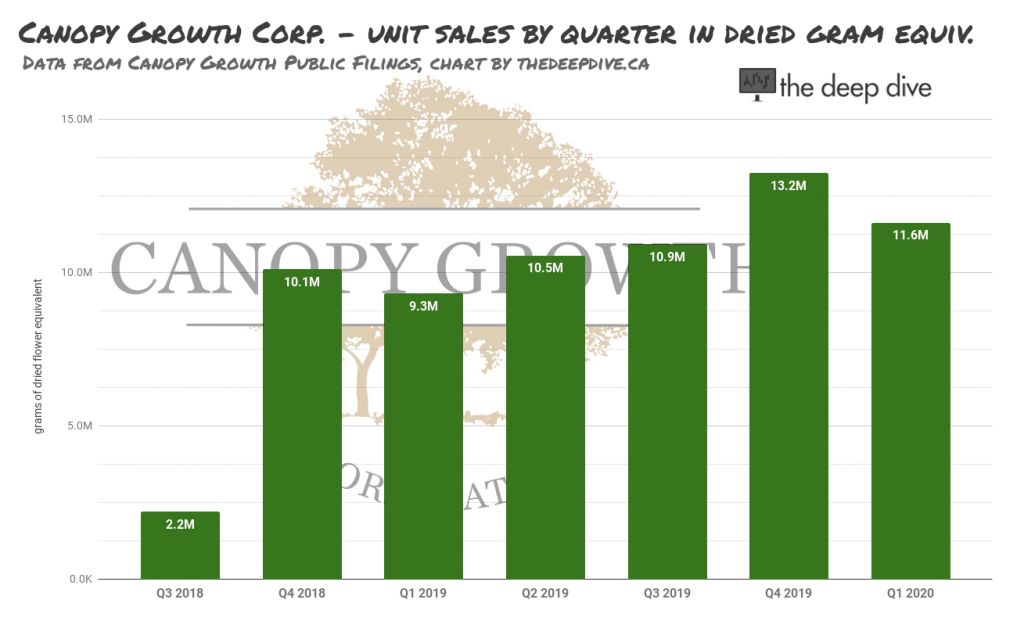 ---
Information for this briefing was found via Sedar and Canopy Growth Corp. The author has no securities or affiliations related to this organization. Not a recommendation to buy or sell. Always do additional research and consult a professional before purchasing a security. The author holds no licenses.