Robinhood's Preliminary Q2 Orderflow Revenues Suggests Retail Trading Mania May Be Wearing Off
After trading below its offering range since the debut day of its IPO, Robinhood (NASDAQ: HOOD) shares were sent surging on Tuesday, trading at above $46 at the time of writing. However, the rebound may not be a proxy of what's in store for the discount brokerage, as the trading app's preliminary revenue figures suggest that the hype surrounding retail trading may eventually fizzle out.
Following a fiery first quarter that saw retail trading boom and subsequently bring in a record $331 million in payment for orderflow (PFOF) for Robinhood of which $198 million of that came directly from Citadel, things no longer appear to be as scorching in the second quarter. In April, Robinhood's PFOF amounted to only $65.9 million, and slipped even further to a mere $57.4 million in May— the lowest since October 2020. On the other hand, though, the month of June saw a slight recovery, rising to $93.6 million as retail traders momentarily locked their sights on major tech companies, including Apple and Amazon.
When compared on a quarterly basis, the subsiding of the retail trading craze becomes even more evident, as Robinhood's revenue from PFOF declined 34.4% in the second quarter. Although Robinhood's main customer is still Citadel, the hedge fund's total payments made up only 27.6% of the trading app's entire PFOF, or $81.6 million. Interestingly, it wasn't just Robinhood that suffered a drop in its PFOF revenue: according to Bloomberg calculations, nearly all brokers suffered some form of PFOF revenue decrease in the second quarter, but Robinhood, of course, took the lead.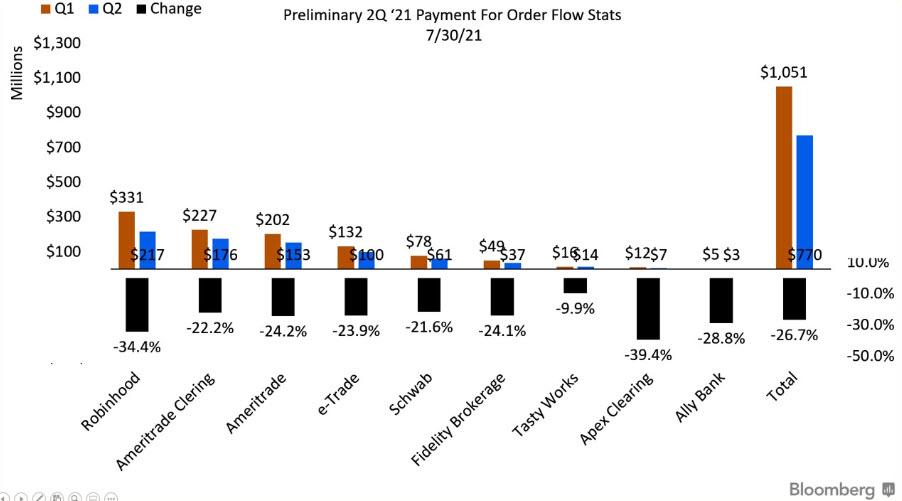 Does this mean that Robinhood's main PFOF contributor, Citadel— which played a significant role in the the trading app's skyrocketing valuation— is slowing waning from its largest patron of retail trading data? And, if that is the case, can Robinhood derive the foregone revenue elsewhere? Moreover, it is also important to note that the the bulk of retail investors' funds were the product of generous stimulus payments, so what will happen to the pandemic-fuelled retail trading mania once free money from the government no longer becomes an option?
And, lastly, will Robinhood hand over data to Citadel from retail investors that are buying its own stock in the event of a gamma squeeze? Does this mean that Robinhood has now built an infinite circle of creating revenue each time the company becomes the target of so-called "front-running?"
---
Information for this briefing was found via Robinhood and Bloomberg. The author has no securities or affiliations related to this organization. Not a recommendation to buy or sell. Always do additional research and consult a professional before purchasing a security. The author holds no licenses.