Sabotage!? The Nord Stream Russian Bubble Theory
Four sudden leaks in a double-barrelled undersea gas pipeline running from Russia to Germany, and associated seismic readings from nearby Sweden, Norway, and Finland indicative of undersea explosions September 26th had authorities and headline writers speculating almost immediately that the resulting leaks and apparent disabling of the Nord Stream 1 and Nord Stream 2 pipelines were an act of deliberate sabotage.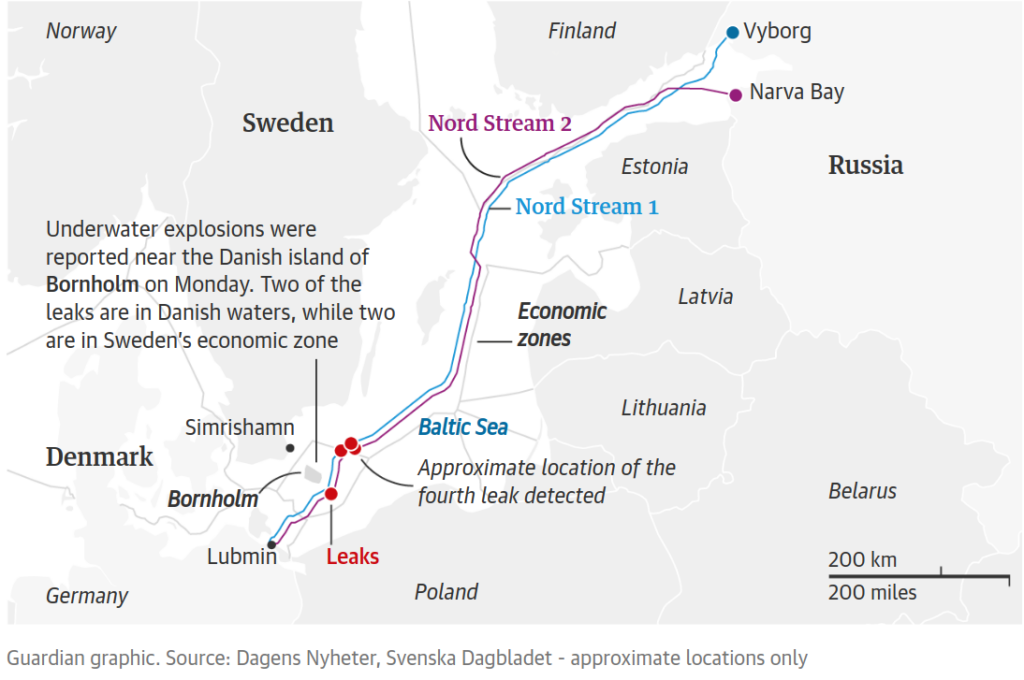 Nearly 48 hours later, there are a total of four confirmed leaks in the two pipes, blowing high-pressure plumes of methane to the surface, and the notion that the event was an act of sabotage has become part of the story's fabric. Four holes in two lines of a crucial piece of energy infrastructure that has been a geopolitical football for its entire existence makes scenarios out of a spy novel seem downright likely.
Fingers are pointing in all directions, because there is no obvious benefactor here. The Russians want to fill the pipe with gas and sell it, the Germans want to buy the gas. Americans have been loudly fighting it the whole way, because they can't stand to see Russia have nice things… but wouldn't be making any friends in Europe by cutting Germany's gas off.
The Sabotage Narrative starts to gain a little more traction when one considers the fact that the holes were blown in the Nord Stream pipes the day after The Baltic Pipe opened, creating 10 billion cubic meters per year of natural gas import capacity in Poland for gas produced in The North Sea. New supply might give anti-Russian saboteurs less reason to consider Germany and the rest of Europe's need for a gas feed as part of any scheming or skullduggery. But would Germany really be suddenly un-bothered by losing Nord Stream because there's another pipe in Poland with one tenth the capacity?
Just the facts: a brief history of the Nord Stream pipeline
After more than twenty years of permitting, planning, and construction, the original Nord Stream pipeline began shipping gas from Russia to Germany in September of 2011. The nameplate capacity of that original pipeline is 55 billion cubic meters of gas per year, and it was doing fairly steady work until Western sanctions against Russia shut the volume way down this year.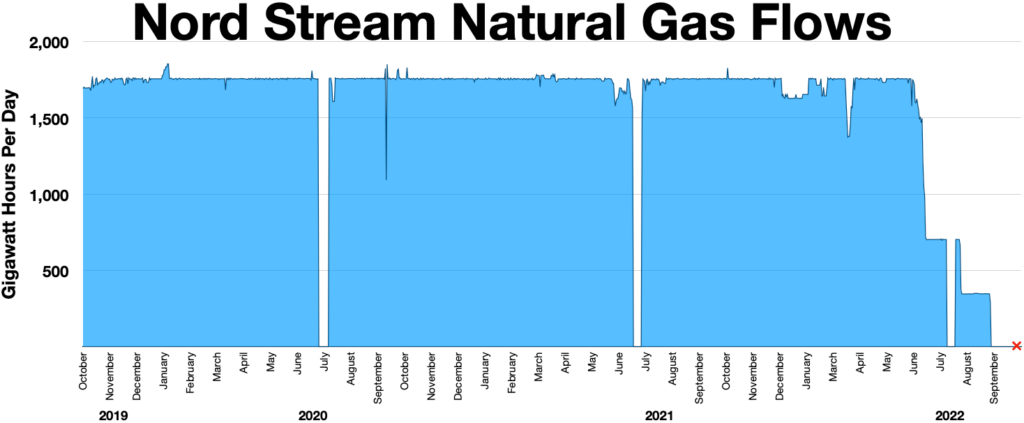 So reliable was the German demand for Russian gas that the pipeline's operator, Nord Stream AG, made plans to twin the pipeline in 2011, started construction in 2015, and had it all finished by June of 2021, despite considerable objections from the United States.
While the Nord Stream 2 pipe was being laid, Nord Stream AG was 51% owned by Russian state gas company Gazprom, with the remaining shares owned by various German, Dutch and French midstream and energy companies. The joint venture was incorporated in the only place they could reasonably collaborate on a project that ran contrary to the interests of so many global energy and government interests: Switzerland.
The United States made a large show of sending letters and threatening sanctions against companies involved in the construction of Nord Stream 2. The Polish government filed objections to the project under European anti-monopoly laws, but none of it managed to stop the pipe from being built. Russia used its own pipe laying ships to make up for contractors that the US had bullied off the job in 2020, and was done by 2021.
2022: Nord Stream 2 is put under high pressure… and they also add gas to the pipe
In June of 2021, the Biden administration cut a deal with Germany that allowed for the operation of Nord Stream 2, provided Germany would stop receiving gas if Russia used the pipeline "as a political weapon." The gas-hungry Germans looked all set to turn it on, doubling their import capacity from Russia to 110 billion cubic meters per year, but got cold feet again in November of 2021, when Russia started gathering troops along the Ukrainian border. The non-certification sent European gas prices up 17%, and they've been on a roller-coaster ride ever since.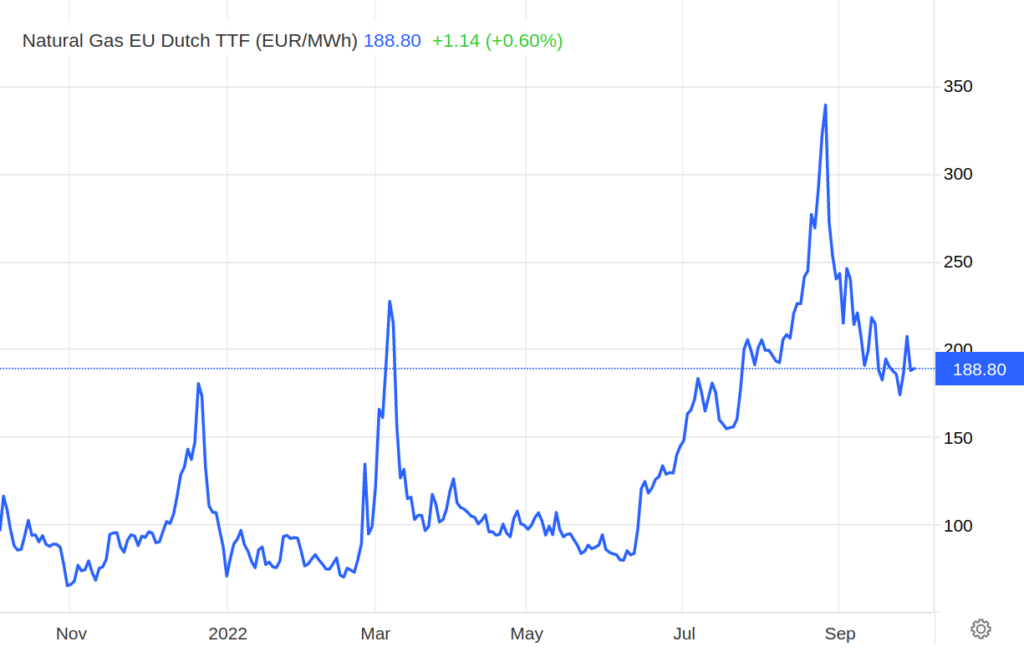 Russia, and Gazprom-controlled Nord Stream AG, had no reason to be bothered by that. The pipe was finished, and the Germans were going to want gas from it eventually. The most logical move now was to fill it with gas and wait.
Undersea gas pipes can't be left empty. They're designed to be full of high-pressure, high-purity methane, whether it's moving through the pipe at a high volume or not. So, at some point, Nord Stream pushed the gas right on through to Germany, and pressurized the pipe to the 100 atmospheres that it's designed to operate at, perhaps expecting that the Germans would call for some as soon as buying it became politically acceptable.
Then came Ukraine
When the gathered Russian troops advanced on the Ukraine in February of 2022, Germany suspended certification of Nord Stream 2 indefinitely. Overnight, doing business with a Russian company the size of Gazprom became so fatally toxic that Nord Stream AG folded. By March of 2022, regulators insisted that foreign energy suppliers only be able to sell product in Europe if they followed European law, forcing Gazprom to set up middleman companies to handle its gas around the de-facto sanctions. Gazprom Germania, the Gazprom subsidiary that operated the receiving end of Nord Stream, was sold off into a restructuring transaction that the German government deemed to be illegal, and took the opportunity to seize control of it.
By May of '22, Russia had issued its own sanctions against the former Gazprom Germainia, which at one point generated >$8 billion a year in revenue. The company has since been re-named Securing Energy for Europe (SEFE), and is a wholly owned subsidiary of the Bundesnetzagentur, Germany's federal energy regulator.
"Inside" job?
Nord Stream 1 and 2 are each 1,200 km strings of 1.2 meter diameter sections of steel pipe, with 28.8 to 41 mm walls, encased in thick concrete. There are about 100,000 sections in each line.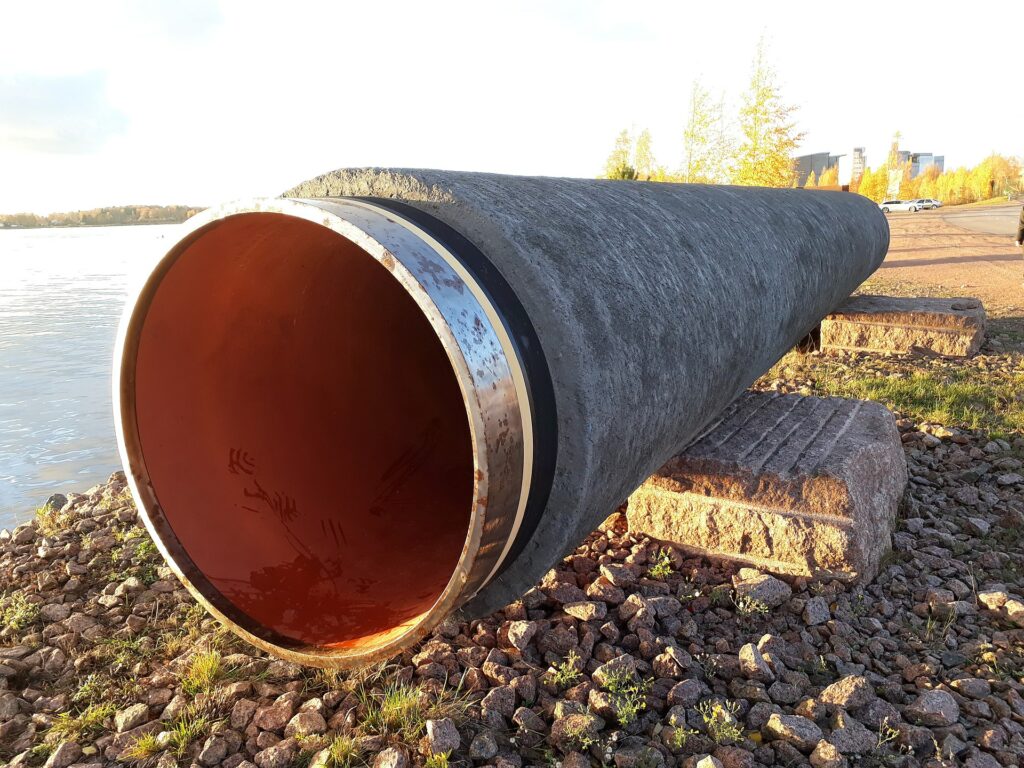 Long underwater pipes like that don't have any shut-off valves or clean out ports in them. They're big, simple, heavy tubes. Each shoreside end of the tubes are connected to sophisticated monitoring and pumping equipment, designed to track and maintain the pressure, purity, and flow of the gas in those tubes and, ordinarily, those stations are owned by the same entity, or by entities that are in the habit of communicating and cooperating with each other. They would coordinate the feed and draw on their respective ends of the pipe to keep it pressurized at ~100 atmospheres with pure, high-grade methane, monitor their instruments to make sure it was always within spec, and call the other side if it wasn't.
But this is not an ordinary business relationship. The Russian side responsible for feeding the pipe just had the receiving end (and the valuable distribution network that it connects to) nationalized out from under it by the government of the most gas-thirsty country on the planet, who are flat-out refusing to let them ship gas.
A Gazprom apparatchik watching a pressure gauge in Narva Bay who noticed a gradual or suspicious drop in pressure over a period of weeks or months wouldn't likely call down to Lubmin and ask if they knew anything about it. It might just be seepage, but it could just as easily be those sneaky Germans stealing gas from Mother Russia!
Either way, that pipe needs to stay under pressure, and there's no sense pushing perfectly good methane into a pipe that runs to a hostile non-buyer (and potential thief!). It's better to just top it off with air. If it ever gets turned on, they can always flush it and flare off the diluted low-grade in Germany. If not, the Germans sipping away at it will eventually see the quality of the gas drop on their instruments, and have nobody to complain to about getting ripped off on the gas they're ripping off.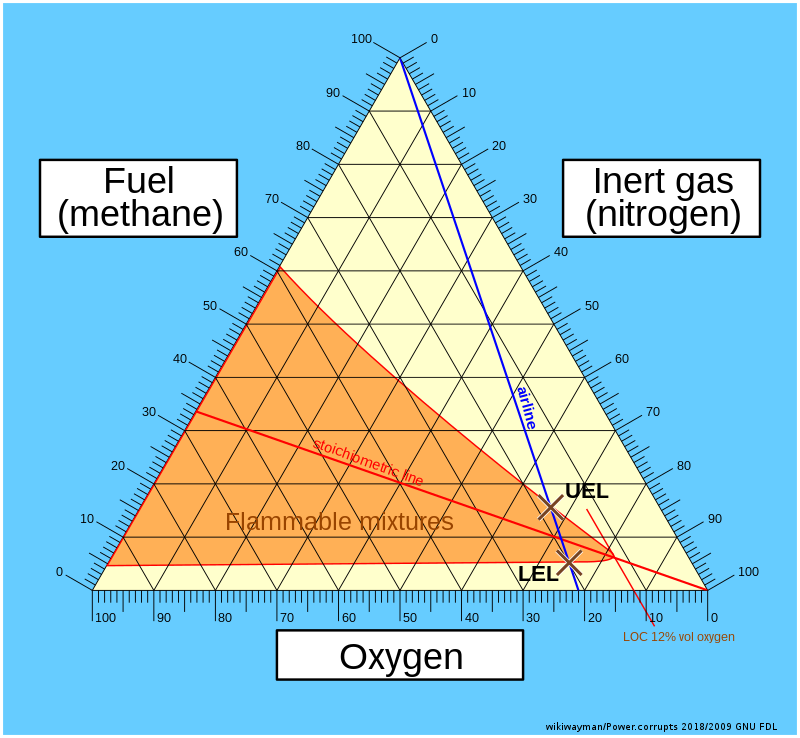 Pure methane isn't flammable, so no amount of high-test CH4 in an underwater steel pipe has to be kept away from a source of spark. But if there's air in the mixture, either intentionally as an anti-theft measure, or accidentally from leaky upstream infrastructure on land, there could well come a point where the pipe contains an air-fuel mixture under high compression, looking for trouble.
It wouldn't take much. Work on active pipelines is done with tools made of special nonferrous alloys so they can't spark against the pipe steel and ignite a spot where methane is leaking into the air outside the pipe. A hammer or pry bar that got left in a pipe section while Nord Stream 2 was being built, or a piece of metal that fell off of the inside of a weld, could get blown around the pipe in pure methane flow for years and nobody would even know. Static electricity caused by friction from seafloor debris on a section with a bad ground could also cause sparks inside the pipe. In pure methane, it wouldn't matter. But in the right air to methane mixture, under pressure… BOOM!
The southernmost leak in Nord Stream 2 was the source of the first plume spotted on the surface.
Two more leak plumes in Nord Stream 1, further North, were the next to be charted.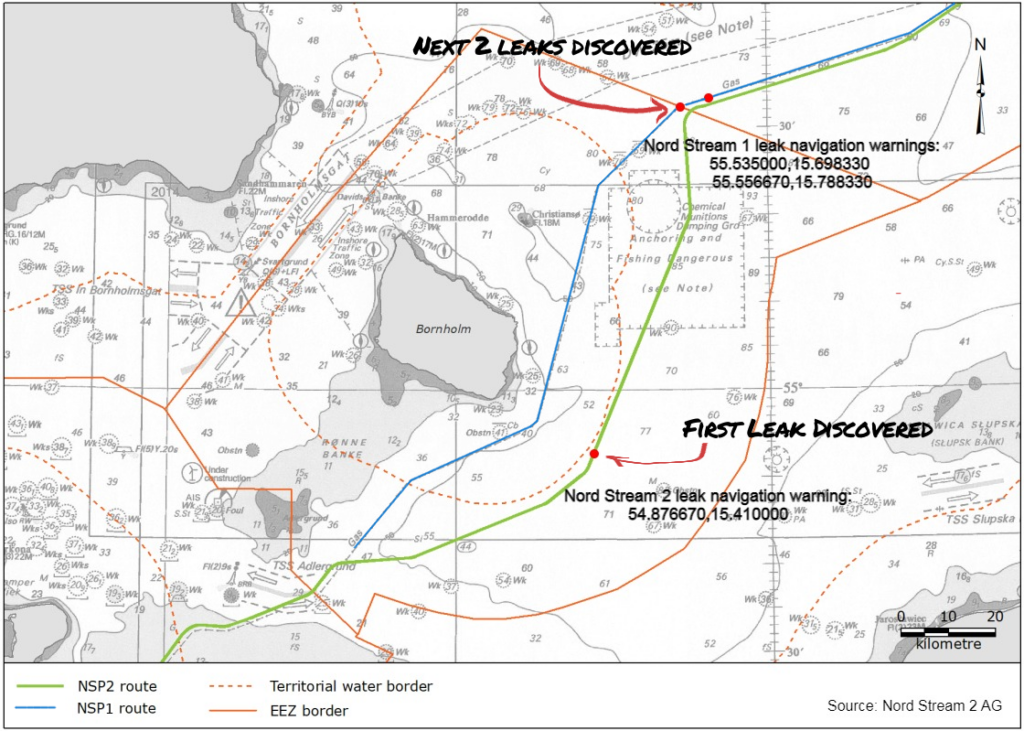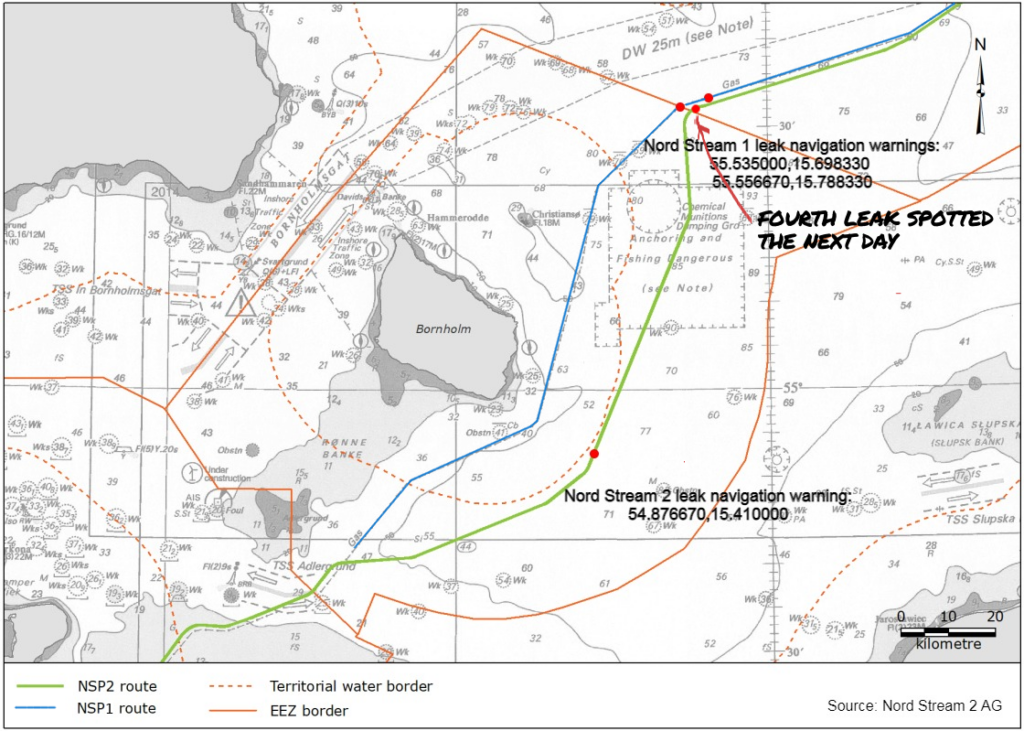 It wasn't until a day later that the fourth leak was identified in Nord Stream 2, directly adjacent to the pair of leaks in Nord Stream 1.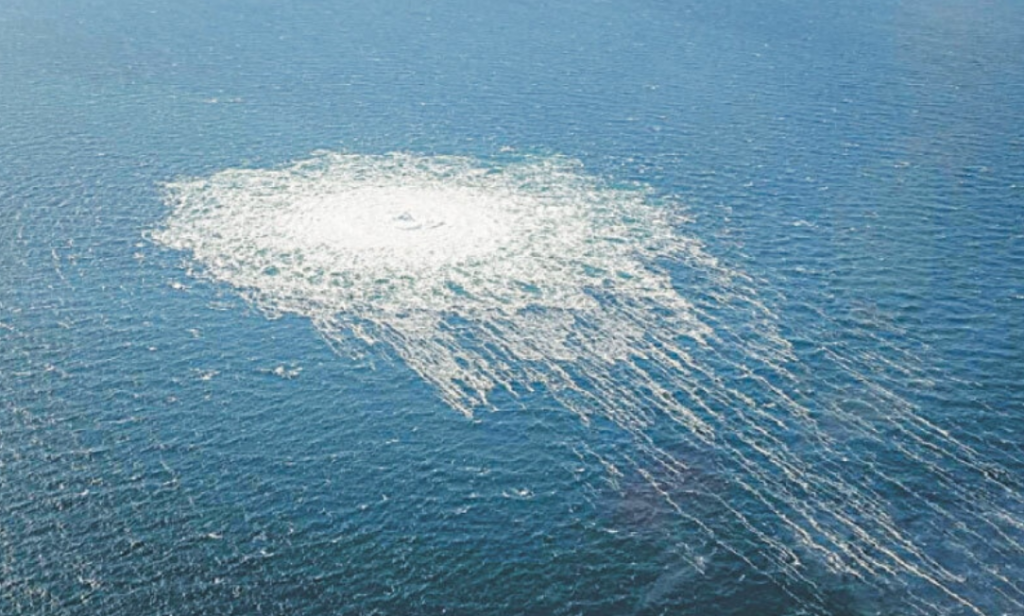 An internal blowout big enough to put a hole in Nord Stream 2 could send steel and concrete flying out at a speed that could damage Nord Stream 1 next door, making a couple of holes where it made impact, while also creating enough internal pressure that it could blow a weak weld downstream, creating the leak in Nord Stream 2 that was first spotted at surface. Following the initial blast, methane coming out of a large hole caused by a blowout would be moving at a lower pressure, and might not cause the same pronounced surface disruptions as the jets coming out of the high-pressure punctures in Nord Stream 1. The largest hole, at the site of the ignition and blowout, might be the last one whose methane plume is noticed on the surface.
A post-explosion sea-floor next to a few high and low pressure methane leaks sounds like a messy place, even when it isn't sitting in the middle of a geopolitical football field. We aren't likely to get underwater pictures of these leak sites any time soon, and when we do nobody is going to trust them. Similarly, if the German side took gas it wasn't supposed to, or the Russian side added dangerous air to the mix, neither of them are likely to admit to it. Not now. It's as difficult a theory to report out as the sabotage theory that's being repeated loudly enough and often enough that it's become the de facto consensus. But, by the numbers, an accidental blowout is a lot more likely.
Gas pipelines blow up all the time. They're dangerous pieces of industrial infrastructure, full of high-pressure hydrocarbons being handled by people who are human, working for companies that are not. Oil companies set up layers of subsidiaries, carry hefty insurance, and hire armies of lawyers to protect themselves from exposure to any meaningful liability for pipeline accidents. If they didn't, they wouldn't be able to constantly push their capacity, or build them through ecologically sensitive areas to get to remote untapped reserves.
Sabotage? Sure. The whole enterprise has sabotage built into it. It's sabotage all the way down.
---
Information for this briefing was found via The Wall Street Journal, Trading Economics, and the sources mentioned. The author has no securities or affiliations related to this organization. Not a recommendation to buy or sell. Always do additional research and consult a professional before purchasing a security. The author holds no licenses.