South Africa On The Verge Of Collapse, Civil War Threat Looms
South Africa is on the cusp of "collapse," with continuous blackouts and concerns that a major power grid breakdown might spark "civil war-like" violence.
Western embassies, notably the US and Australia, have encouraged its residents in the country to stock up on "several days' worth" of food and water and to remain on high alert during the country's extended blackouts.
The advisory comes after South African President Cyril Ramaphosa proclaimed a national "state of calamity" on February 9 in reaction to the country's record electricity shortfall, which has resulted in rolling blackouts termed "load shedding" that have lasted up to 12 hours in some circumstances.
"The government of South Africa has declared a "State of Disaster" in response to ongoing power shortages. The country's energy crisis includes sustained load-shedding (controlled rolling blackouts), at varying intervals and is expected to extend beyond 2023," read the security alert the US embassy sent its citizens in the African country.
The alert also noted that water availability and safety, internet connectivity, cell phone network coverage, petrol pumps (and fuel availability), house security measures, and food supply can all be impacted by rolling blackouts. The embassy also warned of the potential for heightened incidence for crime, as well as "increase in protests and demonstrations, and in some cases civil unrest, throughout the country."
"The U.S. Embassy would like to take this opportunity to remind U.S. citizens traveling to or living in South Africa that South Africa has a Travel Advisory Level 2: Exercise Increased Caution due to Crime and Civil Unrest," the embassy added.
The US Embassy last month encouraged people to "keep 72-hours' worth of supplies at home by stockpiling non-perishable food, three litres of drinking water per person each day, and medicines and first aid supplies."
Its Australian counterpart also warned its respective citizens in the country, advising them to "exercise a high degree of caution in South Africa due to the high level of serious crime."
"Rolling blackouts (load shedding) are occurring throughout South Africa which are affecting private residences, businesses, municipal lighting, traffic lights and hotels," Australia's Department of Foreign Affairs and Trade said earlier this month.
To explore business security issues amid the energy crisis, the US Overseas Security Advisory Council arranged a meeting with officials from several big US-based organizations with operations in South Africa, as well as a number of local companies.
At the discussion, a recording of which was accessed by MyBroadband, a US government official said while a total power system failure was unlikely, it was "something we need to start thinking about". Although a blackout remains remote, they claim the likelihood has increased due to state electric provider Eskom's coal fleet's unreliability.
One of the most serious risks, they added, was the time it would take to bring the system back online once it had completely failed.
"Eskom estimates, in the best case scenario, it would take six to 14 days to restart the power grid," the official said. "There are a few feeder lines from other countries, but not enough to help with a black start situation."
A neighbourhood watch volunteer with the civil rights organization AfriForum said South Africa "has collapsed" in a viral Twitter post this week.
"We're seeing an increase in co-ordinated attacks on water, power and comms infrastructure," he wrote. "Looting is no longer just a daily thing, but is also now becoming more structured with guerrilla planning involved. Our roads no longer exist. Anything that is state-run is crumbling. Police, fire and hospital resources for the state don't exist and are also slowly disintegrating."
He further stated the expense of living was "insane" with medical treatment "a luxury that most cannot afford" and food prices were "going through the roof".
"Our murder rate is higher than the death rate in Ukraine's current conflict," he wrote. "Higher than an active war zone. Hundreds of rapes a day, thousands of kidnappings every month, 90 hijackings a day. Farmers being murdered like flies in the most brutal ways imaginable."
Ian Cameron from public safety advocate group Action Society said while he thought some of those statements were "a bit melodramatic", there was "no doubt things are getting very bad in South Africa very quickly".
"In some cases it's really starting to look like Venezuela is starting to play out in front of us," he told news.com.au.
Cameron also agreed that the prospect of a power grid failure was a huge concern, noting that "everyone is quite nervous about the instability that could bring."
"The South African electricity grid is incredibly unstable and that poses a very, very big danger in terms of mass civil unrest," he said. "There is sporadic unrest at the moment all over the country but that's normal, that's something we see every day. What's worrying is the amount of people that wouldn't necessarily previously have gotten involved in civil unrest that now do get involved, and it often turns violent."
He noted that the South African Police Service has a "major personnel shortage," which makes controlling these types of protests difficult.
"There's general just complete collapse of municipal services in many parts of the country. It's only in the Western Cape province where you've got a pretty well run province. You still have a lot of poverty and everything but it feels like a different country. And it's only because it's not governed by the ANC – every other province is falling apart," he added.
In the last 2019 elections, Ramaphosa of the ruling African National Congress (ANC) was reelected, winning 57% of the electorate. Eight of the nine provincial legislatures were won by the ANC with the Western Cape province the only one won by the rival party Democratic Alliance. The country's legislative capital Cape Town is located in Western Cape province.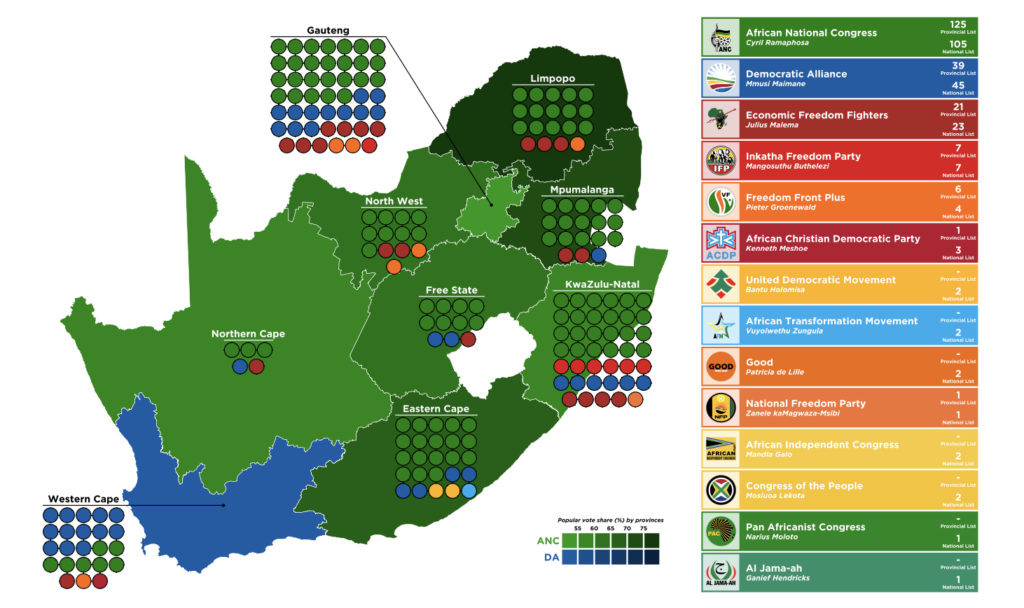 Eskom has frequently stated that load shedding is a last-resort option essential to avoid the electrical grid from completely failing.
---
Information for this briefing was found via news.com.au and the sources mentioned. The author has no securities or affiliations related to this organization. Not a recommendation to buy or sell. Always do additional research and consult a professional before purchasing a security. The author holds no licenses.