Tesla: 405,278 Deliveries In Q4 2022, Tax Credit Ineligibility, $2.2 Million Fine In South Korea
Tesla (Nasdaq: TSLA) stated that it delivered a record 405,278 cars in the fourth quarter of 2022. The figure is a record for the firm, but it falls short of most Wall Street forecasts. According to Bloomberg, the consensus estimate for deliveries was 420,760 at the time of the report.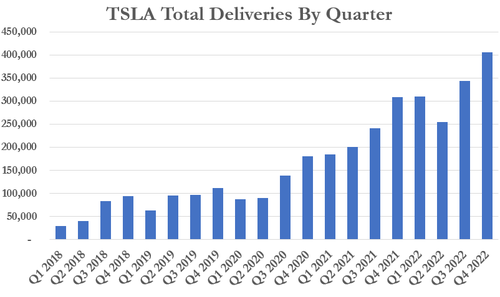 The car delivery breakdown includes 388,131 Model 3 and Model Y deliveries, which fell short of the projected 405,597, and 17,147 Model S/X deliveries, which fell short of the estimated 18,578.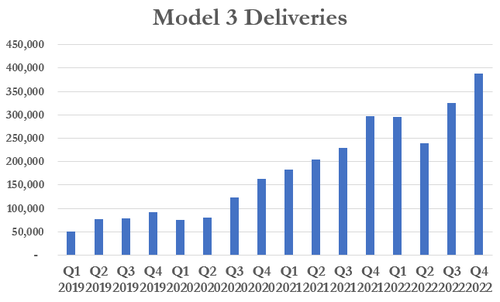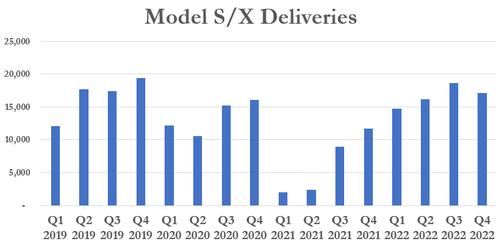 However, production results beat the street estimates. Tesla produced 439,701 vehicles, exceeding the estimate of 438,840 vehicles. Specifically, there were 419,088 Model 3/Y vehicles that were produced vis-a-vis the estimate of 411,828.
"In the fourth quarter, we produced over 439,000 vehicles and delivered over 405,000 vehicles. In 2022, vehicle deliveries grew 40% YoY to 1.31 million while production grew 47% YoY to 1.37 million," the company said in a statement. "We continued to transition towards a more even regional mix of vehicle builds which again led to a further increase in cars in transit at the end of the quarter."
Analyst firm Bernstein maintained its "underperform" rating for Tesla following the results, highlighting the seemingly underestimated demand challenges the EV maker faces in 2023. They noted that Q4's performance yields an annual order run rate of around 1 million units.
"We believe Tesla will need to either reduce its growth targets (and run its factories below capacity) or sustain and potentially increase recent price cuts globally, pressuring margins. We see demand problems remaining until Tesla is able to introduce a lower priced offering in volume, which may only be in 2025," the analysts noted.
For 2022, Tesla was able to produce 1,369,611 units and deliver 1,313,851 units.
Furthermore, the estimated global electric car order backlog for Tesla continued its rapid decline in early December, reaching its lowest level in more than a year. According to Troy Teslike, the expected order backlog as of December 8, 2022 was around 163,000–down by 27,000 or 14% in just one week from November 30 (190,000).
According to their report, the figure of 163,000 units equals to approximately 40 days of manufacturing capacity. It was previously anticipated that it would take 44 days on November 30, 70 days on October 6, and 78 days on September 21.
As more shipments arrived from China, the predicted order backlog began to shrink in Europe as well. Furthermore, the European factory in Germany is ramping up production to new highs.
READ: Tesla Stops Production At Shanghai Facility
Developments on the Shanghai situation continue as Tesla's China chief Tom Zhu has been promoted to direct management of the electric carmaker's U.S. assembly plants as well as North American and European sales operations.
According to an internal posting of reporting lines examined by Reuters, Zhu's title of vice president for Greater China had not altered as of Tuesday, and he continued to serve as Tesla's most senior executive for sales in the rest of Asia.
With this promotion, Zhu becomes Tesla's highest-profile officer after CEO Elon Musk, with direct management over deliveries in all of the company's major markets and critical production hub activities.
Fintwit personality Meet Kevin, on the other hand, is quite happy with Tesla's Q4 results, noting how the carmaker posted "incredible growth during a difficult year."
"For all the 'this is a huge miss,' 3.7% isn't a huge miss," he added.
The company's shares–already trading at its lowest in two years–fell sharply by 12% on the day following the Q4 results.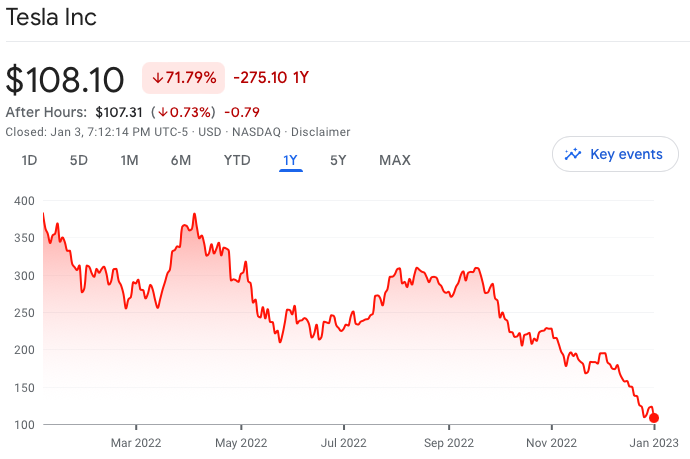 READ: Tesla: Lost A Twitter's Worth In A Day, Dropped From US Top 10 Public Firms
Musk, in a recent companywide email, told his employees–some of whom are subscribed to the firm's stock compensation program–not to "be too bothered by stock market craziness."
"As we demonstrate continued excellent performance, the market will recognize that," Musk added.
READ: "Don't Be Bothered By Stock Market Craziness," Elon Musk Tells Tesla Employees Despite Stock Compensation
Tax credit
The preliminary results are noteworthy of its connection to the recently passed Inflation Reduction Act (IRA). During the Q3 2022 earnings call, Musk said that Tesla is expecting to fully meet the provisions of the law, allowing consumers to earn tax credits on new EV purchases.
"We're going to go basically pedals to metal as fast as humanly possible to get to 1,000 gigawatt hours a year of production in the U.S. vertically integrated," Musk said.
After both chambers of Congress passed the law, President Joe Biden signed it in August. It includes climate-related incentives, such as a tax credit of up to $7,500 for people who purchase an electric vehicle. To qualify for the credit, the car's battery must contain a certain percentage of parts sourced from the United States or nations with which it has a free trade agreement.
The initial 2010 EV tax credit had a 400,000-unit limit. When Tesla surpassed its unit sales goal in early 2020, the tax credits were completely eliminated until it was reinstated through the IRA in 2023.
Some Tesla bulls–and Musk included–are highlighting the point that the EV maker might not be eligible for the tax credit. The law requires that the vehicle must have undergone final assembly in North America and that the manufacturer suggested retail price will not exceed $80,000 for vans, sport utility vehicles and pickup trucks, and $55,000 for other vehicles.
On the website of the Internal Revenue Services, Tesla models are eligible for the tax credit following that the suggested retail price are within the ceiling imposed on each vehicle type.
Fine in South Korea
The results have been marred by a potential regulatory kerfuffle in South Korea. The Korea Fair Trade Commission (KFTC) announced a 2.85 billion won ($2.2 million) fine against Tesla for neglecting to inform buyers about the reduced driving range of its electric vehicles in cold weather.
The agency had said that Tesla had exaggerated the "driving ranges of its cars on a single charge, their fuel cost-effectiveness compared to gasoline vehicles as well as the performance of its Superchargers" on its official local website since August 2019 until recently.
However, the driving range of Tesla's cars loses up to 50.5% of their value in cold weather compared to how they are advertised online, the commission added.
Tesla provides winter driving suggestions on its website, such as pre-conditioning vehicles with external power sources and using its updated Energy app to monitor energy consumption, but it does not address the loss of driving range in sub-zero conditions.
Last year, the KFTC also penalized Mercedes-Benz and its Korean subsidiary 20.2 billion won for misleading advertising concerning the emissions of its diesel passenger vehicles.
The electric vehicle maker has seen a challenging 2022, dominatated by a significant decline in its valuation as the firm currently trades at a two-year low.
---
Information for this briefing was found via Reuters, CNBC, Zero Hedge, Inside EVs, and the sources mentioned. The author has no securities or affiliations related to this organization. Not a recommendation to buy or sell. Always do additional research and consult a professional before purchasing a security. The author holds no licenses.