The Digital Currency Group Debacle Explained
If you have been following the crypto world blowing up, you probably have heard the names Genesis and Grayscale mentioned in recent headlines. They are both actually owned by Digital Currency Group, which until recently, most industry insiders thought of as a well-respected conglomerate within the crypto universe. They own a whole crypto ecosystem of subsidiaries including an exchange, a media company, a mining pool, a lender, various trusts, venture investments, and more.
Simple Beginnings with Fast Growth
This story starts with a man named Barry Silbert. In 2004, he founded a company called Restricted Stock Partners which was later renamed, Second Market. The platform essentially allowed for the trading of private-company stock.
Barry was an early adopter of Bitcoin. In 2013, Mr. Silbert created the Bitcoin Investment Trust, which simply put was a private trust that allowed accredited investors to speculate on Bitcoin. The trust was later renamed The Grayscale Bitcoin Trust, which today is publicly traded and reportedly owns around 3% of the total bitcoin outstanding. More on that later.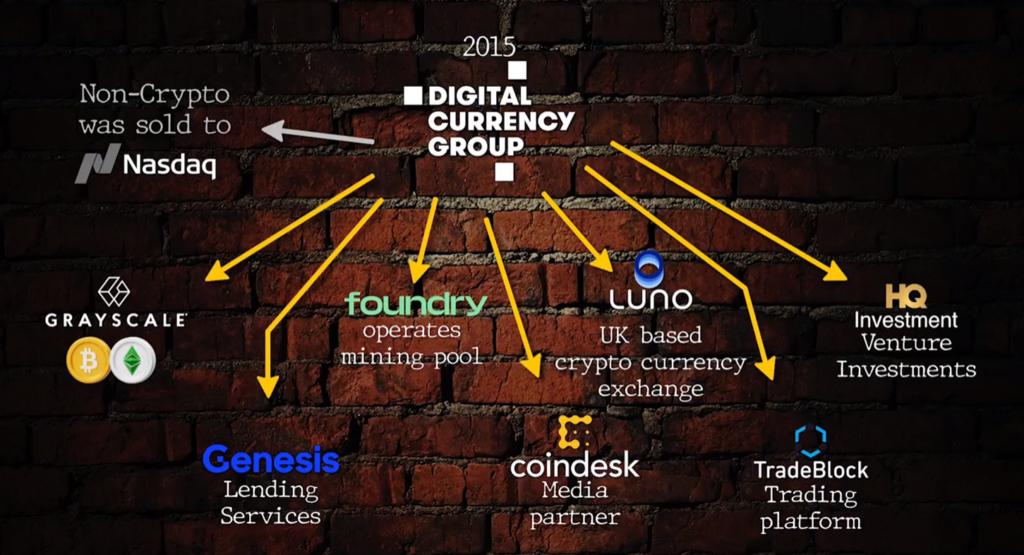 In 2015, Silbert rebranded his company as the Digital Currency Group and sold off the non-crypto portion of the business to Nasdaq. Today DCG operates 6 main subsidiaries and has a series of venture investments.
Grayscale – the key pillar of the corporation which operates a number of publicly-traded trusts that hold cryptocurrency assets like Bitcoin, Ethereum, and various other coins.
Genesis – an over-the-counter cryptocurrency exchange that also offers lending services.
Foundry US – who operates the largest mining pool in the US.
Coindesk – a media arm, focused on covering all things relevant in the crypto world.
Luno – a cryptocurrency exchange based in London, with other operations in Cape Town and Singapore, who at the time of acquisition reportedly had over 5 million customers globally.
TradeBlock – a new institutional trading platform.
HQ Investments – various venture investments.
So now that we understand the basic structure and history of the company let's talk about the headlines.
A Quick Recap on What's Happening
FTX, the second-largest crypto exchange in the world recently filed for bankruptcy. The first domino that started the spiral was when DCG-owned CoinDesk reported a leaked balance sheet of FTX's sister hedge fund, Alameda Research. The report started a public spat between founder Sam Bankman-Fried and Binance's founder CZ who announced to the world he would be selling off his remaining portion of FTT tokens (FTX's native token).
This was problematic because as we learned in the original CoinDesk piece, most of Alameda's balance sheet was comprised of these tokens. This led to users scrambling to withdraw their deposits on FTX, at which point we learned that FTX and Alameda were heavily over-levered and were using customer deposits for FTX to go on a shopping spree involving buying their own tokens, advertising, speculative investments, and over $300M in real estate.
We covered this in a recent video called The Rise and Fall of FTX.
Genesis Gets Caught in the CoinDesk Report
So this is where Digital Currency Group and more specifically, Genesis tie in. 
Wait… They Owe $1 Billion???
At this point, you might be saying, $1 billion dollars? I thought they only had exposure of $175 million to FTX?! This is where we have to look at some of the bets DCG made prior. Genesis had previously loaned $2.4B to Three Arrows Capital, who famously blew up in the Terra Luna rug pull. 3AC did give them $1.2B in collateral, so the overall damage today is reportedly somewhere around $1.1B. 
We can see the contagion kick in here when we realize that the Winklevoss Twins exchange, Gemini offered a yield product to their users, called Gemini Earn, which involved lending digital assets to Genesis in exchange for yield. Today, according to a source at Bloomberg, it has resulted in $700M of users' crypto now being in limbo.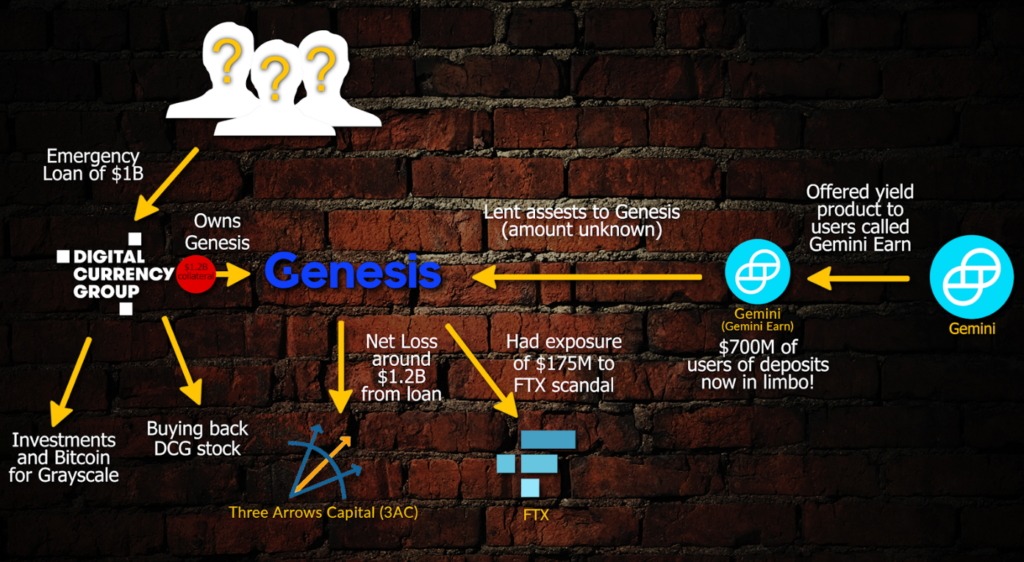 At this point, you're probably, asking where did all the money go? Well, it went to illiquid venture stage investments, buying more bitcoin for the Grayscale Bitcoin Trust, and in some cases, it was used for DCG to buy back their own stock. And again, despite being turned down by pretty much everyone on Wall Street and even the likes of Binance, DCG/Genesis is now seeking an emergency $1B loan.
Why is the GrayScale Bitcoin Trust Trading at a Discount to NAV?
Now let's talk about the Grayscale Bitcoin Trust for a minute. Grayscale currently owns around 650,000 bitcoin, which works out to around 3% of the total bitcoin in circulation. The fund trades at a 40% discount to Net Asset Value on the public markets (at the time of writing), which in part has the crypto world on pins and needles. 

Couple that with Grayscale refusing to show proof of reserves. The company's website states:
"Due to security concerns, we do not make such on-chain wallet information and confirmation data publicly available through a cryptographic Proof-of-Reserve, or other advanced cryptographic accounting procedure."
However, there are some unconfirmed reports that the Bitcoin can be found on Coinbase:
Some Suspicious Secured Debt
In a letter to shareholders, Barry Silbert referred to a $350M credit facility that the company owes to various outside lenders. An important word that Mr. Silbert left out of his letter is the word "secured," which we can find on a web page from the law firm that worked on the deal stating their work as an administrative agent and lead arranger.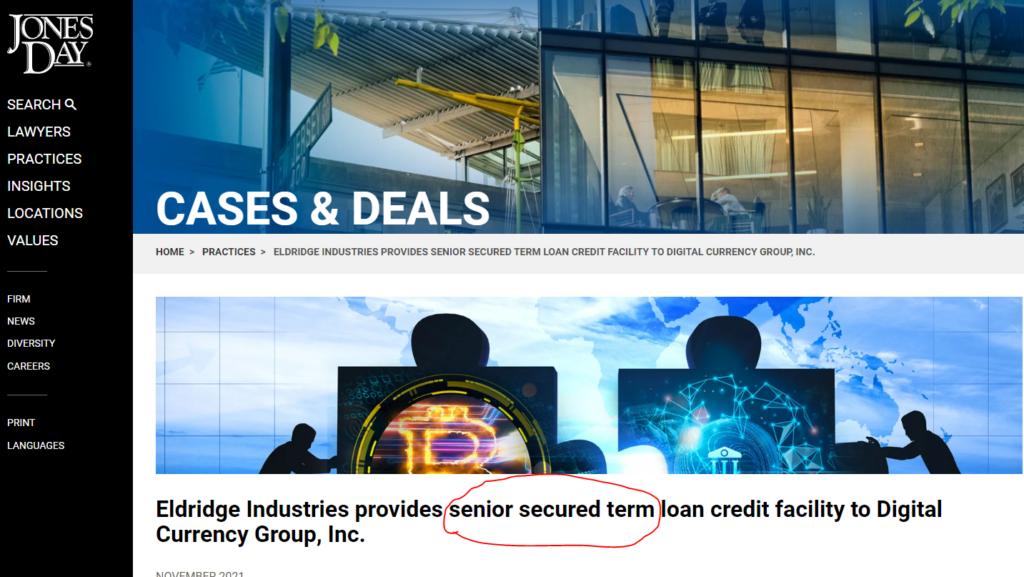 Final Thoughts: A Rock and a Hard Place
If there is one thing I've learned as this recent everything bubble bursts; it's that when the times are good, those who were the most aggressive and took on the most leverage looked really smart. Silbert was deploying capital like his winners would always outgun his losers and the music would never stop. He took funds that appeared to come in through Genesis, and deploy them into illiquid private investments like real estate in Decentraland. At the time, Silbert looked like a visionary.
I'm not so sure the real estate he purchased will be worth millions of dollars in a few years. In case you missed it, it was recently reported that Decentraland only had 19 active users per day in their metaverse.
So, DCG/Genesis needs an emergency loan of $1B. DCG has a $350M loan with unknown terms, secured against some asset(s), within the conglomerate. Their fundraising efforts are rumored to have been turned down by everyone including the fine folks at Binance.
Who's left at this point? You Guessed it! Cathie Wood.
---
Information for this briefing was found via the links provided within the article. The author has no securities or affiliations related to this organization. Not a recommendation to buy or sell. Always do additional research and consult a professional before purchasing a security. The author holds no licenses.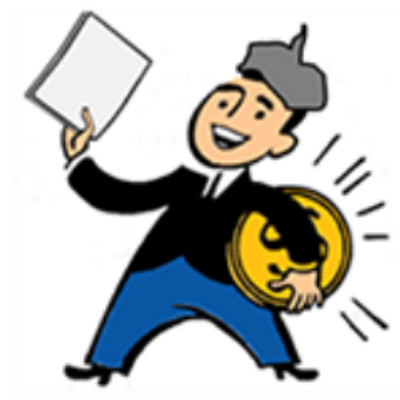 SmallCapSteve started blogging in the Winter of 2009. During that time, he was able to spot many take over candidates and pick a variety of stocks that generated returns in excess of 200%. Today he consults with microcap companies helping them with capital markets strategy and focuses on industries including cannabis, tech, and junior mining.