Trillium Gold Mines: Corporate Overview
Trillium Gold Mines Inc. (TSXV: TGM) is a junior gold mining company which has the second largest land holding in the Red Lake Mining District in Ontario, one of the most prolific and high gold-concentration mining regions in the world. Mines in the region have produced a cumulative 29.5 million ounces of gold at an average gold grade of 15.41 grams of gold per tonne of resource (g/t), with the Red Lake-Campbell mine accounting for more about 80% of this total.
Trillium's flagship property is the 198-hectare Newman Todd Project. It also owns a number of other promising gold properties such as Gold Centre (80% stake), which is directly adjacent to the Red Lake-Campbell mine, and Leo (100% stake).
Investment Thesis
The investment thesis for Trillium Gold Mines is based on the following:
The current macro environment has created a bullish catalyst for the price of gold with the world's largest central banks expanding their balance sheets to fill the gap in GDP from reduced productivity.
Trillium Gold is the second largest landholder in the region, second only to Evolution Mining.
Newman Todd appears to have strong gold mineralization, with 41% of holes drilled intercepting 10 g/t gold or better.
The Gold Centre property, while not the firms flagship, is directly adjacent to and within 300 metres of current operations at Evolution Mining's Red Lake Mine.
The firm has an experienced management team with decades of experience.
Trillium's Assets
The model behind Trillium largely appears to be the process of aggregating high-value assets within the Red Lake area to command a strangehold on the region. The company to date has amassed a portfolio of a number of high-potential properties, including the following.
Newman Todd
Newman Todd appears to be a high potential project. The project contains a network of rich gold veins and remains open at depth. Perhaps most interestingly, 41% of all holes ever drilled at Newman Todd intercepted gold concentrations of 10 g/t or more.
Furthermore, it has been drilled only sparingly at depths below 400 meters. Other projects with similar geologies have yielded substantial gold at greater depths. Indeed, one hole which was drilled deeper than 400 meters (NT-129) yielded very promising results.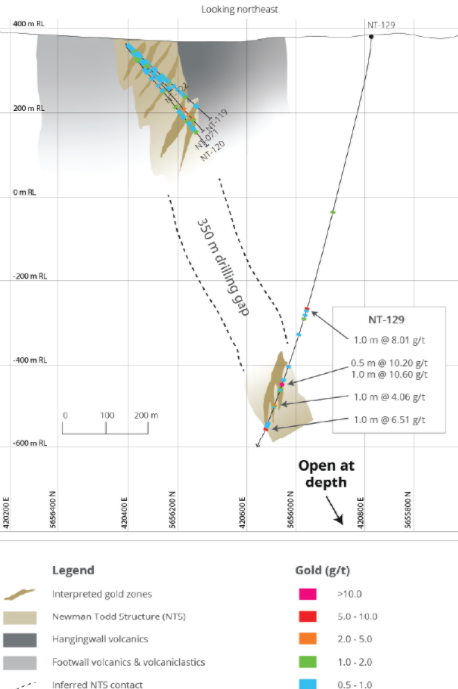 The project itself consists of both the Newman Todd and the adjacent Rivard property, now renamed as Newman Todd Southwest, which is contiguous to the project. In total, the property consists of 288 hectares and is near to several past producing mines. On December 31, 2020, Trillium closed on the purchase of a 16.5% stake in Newman Todd, bringing its ownership position to 100%.
Trillium completed a 16-hole, 6,027-meter drilling program at Newman Todd in 2020. With the latest assays having just been released, the company is now classifying the project as "the next open-pittable deposit in Red Lake." Highlights from the drill program include 15.41 g/t gold over 7.05 metres in hole NT20-169, and 8.63 g/t gold over 6.55 metres in hole NT-20-167 among others.
Many gold deposits in Canada which were formed in similar Archaean rock formations as Newman Todd extended to great depths, in some cases more than 2,000 meters. As Newman Todd (and potentially Gold Centre) are drilled to substantial depths, it is possible that results consistent with other mines will be found there as well.
Archaean rock formations are considered to be the oldest rock formations on the surface of the earth and are found in Greenland, Siberia, the Canadian Shield, the Baltic Shield, western Australia, as well as other locations. Archaean rocks were formed by heat flow 3.875 to 2.75 billion years ago.
The Gold Centre Property
In late August 2020, Trillium signed a binding joint venture agreement to acquire an 80% stake in the Gold Centre project from Rupert Resources Ltd. While not classified as the firms "flagship" asset, it just may be the most interesting property held by the company.
The interest in the Gold Centre property is a result of its location. The property is within 300 metres of current underground exploration and mining being conducted by Evolution Mining at their Red Lake Mine. That mine, located within the highest-grade gold camp in North America, has produced a total of 24 million ounces of gold at an average grade beyond 16 g/t.
Furthermore, just last week Trillium announced that it would be embarking on an 8,000 metre drill program at the property, via a total of eight holes – meaning the company is looking to perform deep drilling to determine if mineralization continues from the Red Lake Mine property onto the Gold Centre property. If it does, well, perhaps an acquisition that occurred a decade ago can provide some insight on potential valuations.
A fairly recent discovery southeast of the high-grade zone of the Campbell-Red Lake mine is a constructive data point for Gold Centre. That discovery – a 7.9-meter span with a concentration of up to 63 g/t of gold – suggests the possibility that Red Lake Mine trend could dip through the Gold Centre property.
Trillium's Other Assets
Outside of the Gold Centre and Newman Todd properties, Trillium has several other high-potential assets in the region as well, including properties near to Great Bear Resources' Dixie project among others. Full details on those properties can be best found here.
Overburden drilling at the 100%-owned Leo Property is also scheduled to be undertaken this year. Leo, which is only 15 kilometers away from Great Bear's Dixie Project, may have multiple gold zones at its surface. Furthermore, a regional fault system linked to gold mineralization bisects the property.
Factoring in the nearly $13 million of cash which the company raised in an equity private placement in October 2020, Trillium's balance sheet is in excellent condition. It has no debt, and its cash balance should fund the company's drilling requirements for some time. Trillium's operating losses and operating cash flow deficits noticeably widened in the most recent two quarters due to its aggressive (and successful) drilling program at Newman Todd.
| | | | | | | |
| --- | --- | --- | --- | --- | --- | --- |
| (in thousands of Canadian $, except for shares outstanding) | 2Q FY21 | 1Q FY21 | 4Q FY20 | 3Q FY20 | 2Q FY20 | 1Q FY20 |
| | 12/31/2020 | 9/30/2020 | 6/30/2020 | 3/31/2020 | 12/31/2019 | 9/30/2019 |
| Operating Income | ($4,385) | ($1,545) | ($1,240) | ($142) | ($169) | ($121) |
| Operating Cash Flow | (4,298) | (1,771) | (171) | (143) | (253) | (43) |
| Cash – Period End | 8,567 | 1,169 | 1,832 | 987 | 129 | 392 |
| Debt – Period End | 0 | 0 | 85 | 85 | 85 | 85 |
| Shares Outstanding (Millions) | 31.6 | 23.4 | 20.9 | 13.3 | 9.1 | 9.1 |
Management
Russell Starr, President & CEO, Director
Russell Starr is an entrepreneur and financial professional focused on private and public mining and exploration, corporate advisory, corporate development, and M&A. Mr. Starr has over 20 years of corporate finance, M&A, investment and business development experience. Mr. Starr is co-founder and part owner of Echelon Wealth Partners, a large Canadian investment dealer. As an executive with Cayden Resources, he was integral in the marketing, financing, development, and ultimate sale of Cayden for C$205 million to Agnico Eagle.
Bill Patterson, Vice President of Exploration
Bill Patterson is a Professional Geologist in Ontario and has extensive experience in both surface and underground exploration in Red Lake, including managing the ultra-deep surface drilling program at the Cochenour Mine that progressed to underground development, bulk sampling and starter mine status.
Queenie Kuang, CPA, CGA
Queenie is a chartered public accountant and holds a bachelor of business administration degree in accounting and finance from Simon Fraser University, which she obtained in 2007.
Risks
We would advise investors to consider the following risks:
Gold Production Still Years Away. Even if Trillium continues to announce impressive gold intercept and concentration data from its Newman Todd drilling programs, any production and cash flow will not occur for some time.
Trillium Will Likely Have to Raise More Cash Via Equity Private Placements. If the company's concurrent drilling programs are successful, Trillium will very likely have to raise equity to fund further exploration activities. If so, the company would likely be selling new equity at prices much higher than its current valuation (a high-class problem).
Comparables
Many pre-revenue Canadian junior copper mining companies trade on the TSX and the CSE. Below we list a few which have their primary projects located in the Red Lake Mining District.
| | | | |
| --- | --- | --- | --- |
| Company | Ticker | Market Capitalization ($ millions) | Land Holdings (hectares) |
| Trillium Gold Mines | TGM.v | 50 | ~58,000 |
| Great Bear Resources | GBR.v | 881.6 | ~29,000 |
| Battle North Gold | BNAU.v | 240.4 | ~28,000 |
| Pacton Gold | PAC.V | 34.2 | ~27,000 |
| BTU Metals | BTU.v | 18.3 | ~20,000 |
Catalysts
Some potential catalysts that could have a significant impact on Trillium's share price include:
Drilling Results at Newmon Todd, Gold Centre and Leo Projects. Further exploration of these properties is expected to yield positive results based on prior data. The continued de-risking of the properties should be a net benefit to the company
Junior Miner Consolidation Activity. Trillium owns valuable mineral resources in one of the most prolific and high-grade gold mining regions in the world, yet its enterprise value is only around $45 million.
Conclusion
Trillium is an interesting junior gold miner because of the favorable location of its properties and the early drilling success the company has realized at its flagship Newman Todd property. Furthermore, few junior miners have both the attractive projects and the financial strength to drill and explore multiple projects at the same time. Despite this favorable position, Trillium trades at an enterprise value of only $41.6 million, less than many comparable junior miners with far less potential.
---
FULL DISCLOSURE: Trillium Gold Mines is a client of Canacom Group, the parent company of The Deep Dive. The author has been compensated to cover Trillium Gold Mines on The Deep Dive, with The Deep Dive having full editorial control. Not a recommendation to buy or sell. Always do additional research and consult a professional before purchasing a security.