BBBY: Bed Bath & Beyond Rises 164% After Analysts Call For Bankruptcy
Bed Bath & Beyond Inc.'s (NASDAQ: BBBY) was up over 68% on Wednesday to $3.49, putting it on a three-day win streak and bringing its year-to-date return to 51%. This comes after a poor performance last week when the stock cratered from $2.41 to $1.31 following the announcement that the firm would be missing the deadline to file their third quarter financial results.
The company said in the filing that the delay was due to the "quarter-end close procedure," which includes evaluating their long-lived assets for impairment as the company is updating key inputs and estimates used to perform impairment testing.
Though the company was able to provide investors with third-quarter financial results five days later on January 10, in the original filing, Bed Bath & Beyond said that due to "recurring losses and negative cash flow from operations," there would be "substantial doubt" about the company's ability to continue as a going concern. As a result, they said they would be considering all strategic alternatives, including restructuring or refinancing its debt, seeking additional debt or equity capital, or bankruptcy.
Due to the imminent liquidity issue, up until January 4 the company was asking bondholders to swap out their holdings for new debt to give more breathing room. A lack of demand however lead them to ultimately cancel the offering.
READ: Bed Bath & Beyond Slumps To A 30-Year Low After Firm Raised Doubts On Its Future
In response to the news on January 5, a number of analysts lowered their price targets and estimates. Specifically, Wedbush's analyst Seth Basham lowered their price target on the stock to $1.00 from $5.00, saying that the company continues to head south and that bankruptcy is likely.

Bashman said he is now forecasting Bed Bath & Beyond to run out of liquidity in 2023, "making a restructuring scenario in bankruptcy in the coming weeks far more likely." They add that if the company were to file for bankruptcy, it would allow them to much more easily restructure the debt, and cancel leases on unprofitable stores.
The Retail Angle
Retail investors, however, appear to have felt different. Akin to their attempt to resurrect Hertz during the pandemic, retail has evidently flooded Bed Bath & Beyond with buying despite its going concern. The stock hit peak meme yesterday, closing up almost 69% (nice) on the day.
Among current speculation for the drive amongst retail is the involvement of Ryan Cohen, a well known name among memestock investors for his role in GameStop (NYSE: GME). Cohen previously held a large stake in the firm, at one point owning almost 10% of the shares, or 9.45 million, and used his position to get the company to appoint three directors.
Since then, Ryan Cohen ultimately sold out of all his shares, reaping roughly $68 million in proceeds, and has been named in a $1.2 billion federal lawsuit alleging he conspired with Bed Bath & Beyond's CFO Gustavo Arnal to run a pump and dump. Arnal later fell from the 18th floor of a Manhattan Tower.
READ: BBBY Lawsuit Adds To Intrigue Of Suicide Of Bed Bath & Beyond CFO
Scanning retail sentiment, it seems as if a number of investors are investing in the name for one of two reasons. The first is because they believe pumping the stock will ultimately lead to the company being able to escape bankruptcy. Second, is the classic belief that they can force a short squeeze on the stock, driving returns akin to what was exhibited during the peak of memestock-mania.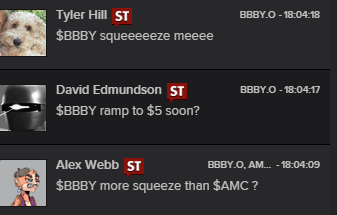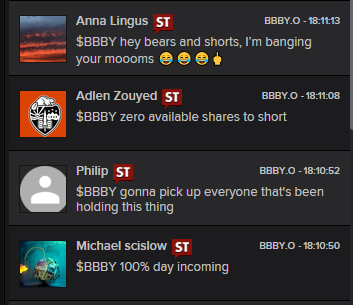 S3 Partners estimates that the current short interest is $82.7 million, or 39.93 million shares shorted. The figure places short interest at roughly 52% of all outstanding shares, which lends credibility to the possibility of punishing the short sellers via a retail investor-induced squeeze.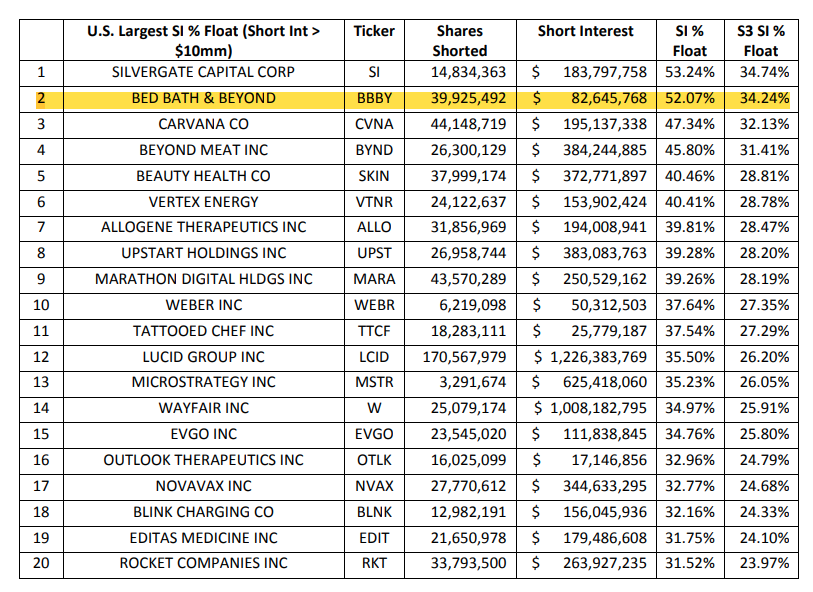 S3 Partners say that the difference between Bed Bath & Beyond and other crowded shorts is that, in their opinion, there is "a definite threat of bankruptcy," which they think will lead to them holding onto their shorts and not selling.
S3 adds that there were 3.8 million shares shorted during the first two weeks of 2023, while this rally in the stock has wiped off most of the mark-to-market profits short sellers made in 2022. For 2022, shorts were up an estimate $179 million, but after this 164% run, short sellers are now down $27 million. On Wednesday's 69% run, short sellers lost an estimated $43.5 million.
---
Information for this briefing was found via Edgar and the companies mentioned. The author has no securities or affiliations related to this organization. Not a recommendation to buy or sell. Always do additional research and consult a professional before purchasing a security. The author holds no licenses.