Carbon Streaming Corp: Corporate Overview
Carbon Streaming Corporation (OTC: MXVDF) is a Toronto-based company with a very unique business model, and to our knowledge, the only one of its kind at this time within the public markets. The company is creating a portfolio of carbon credits that it acquires through creative financial transactions, both compliance credits and voluntary credits, and plans to hold them for long-term capital appreciation. The company will also offer carbon credit streaming arrangements to accelerate the creation of carbon offset projects by providing capital to projects that may otherwise not be developed. 
Governments around the world are implementing policies to reduce their carbon emissions footprint to meet the guidelines of the Paris Climate Agreement. A key element of this plan is the use of carbon credits that emitting companies can earn as they work towards becoming carbon-neutral over time. 
The Company intends to purchase compliance credits for long-term price appreciation. Carbon Streaming will diversify its exposure by participating in compliance markets covering different geographical areas with an initial focus on North America and Europe.
The Investment Thesis
We base our investment thesis on the following factors:
Corporations looking to achieve net zero goals are in search of carbon credits as ESG initiatives become increasingly in-demand by investors.
The company offers a means for the ordinary investor to gain exposure to such demand growth for carbon credits, something that is normally unavailable to retail investors.
The global carbon market grew 20% in 2020 to $272 billion as per a recent report by Refinitiv.
The company is also assisting in developing capital projects that further ESG initiatives globally.
The Business Model
The current global movement to slow the rate of climate change through measures outlined in the Paris Climate Agreement has seen governments introducing legislation and other measures to meet their carbon emission targets. To align themselves with the objectives of the Paris Agreement, many corporations are planning to be "net-zero" or zero net carbon emissions by 2050, with some planning to achieve this goal by 2030.
The global economy has seen a shift towards green energy such as wind, solar, geothermal, and other methods for power generation to move away from hydrocarbon and coal-based energy sources. Governments are providing incentives for a broad range of industries to reduce their carbon footprint and encourage a move to carbon-neutral industrial production. 
Carbon emission objectives will become an integral part of corporate growth strategies, whether they are driven by shareholders or a corporation's customers.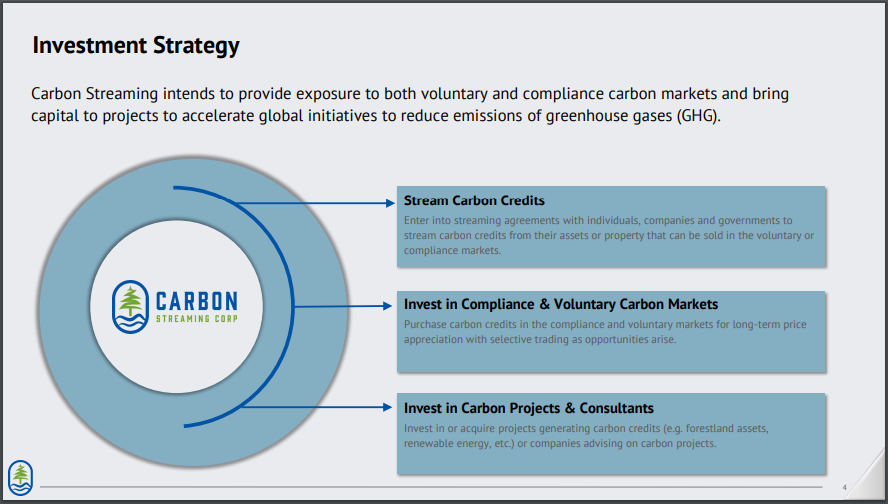 There are three ways in which governments and corporations will be able to achieve these "net-zero" goals: 
Eliminate carbon emissions, 
Reduce carbon emissions 
Offset carbon emissions with carbon credits. 
Geographical, economic or technological constraints may prevent many corporations from achieving their climate goals through elimination and reduction measures alone, which will lead to a significant demand for carbon credits.
Carbon Streaming Corp. has identified a new and exciting investment opportunity by focussing on the ability to capitalize on the growth of trading in carbon credits, an industry that has the potential to grow exponentially as the world races to meet the Paris Agreement objectives over the next few decades. This presents shareholders with a truly unique investment opportunity, and Carbon Streaming Corp is well positioned as the only known player at this time. 
Current Investments
Carbon Credits
Carbon offsets, or more commonly called carbon credits, can be generated by any type of project that reduces or eliminates greenhouse gas (GHG) emissions beyond their normal course business scenario. Projects such as reforestation, forest management, wetland restoration, renewable energy, and methane gas capture and destruction can generate carbon credits. Corporations often use carbon offsets to meet the goals of their climate policies. Any government, organization or company can purchase carbon credits to offset their carbon emissions, even individuals in some cases.
Offsets are generally characterized by the vintage year that the emission reduction occurred; certain projects may issue offsets every year while others may be issued in multi-year increments. The offset market is tightly monitored and while offsets can be resold, once it is resold to an end user that claims the offset, it can no longer be resold, and becomes listed as retired in a registry that tracks the issuance and retirement of offsets.
Carbon offsets can either be traded on the voluntary markets, where buyers and sellers trade based on their particular requirements, or as part of a compliance market, where government regulations require pollution emitters to either reduce their emissions, use their allocated carbon allowances, or purchase compliance credits or carbon offsets.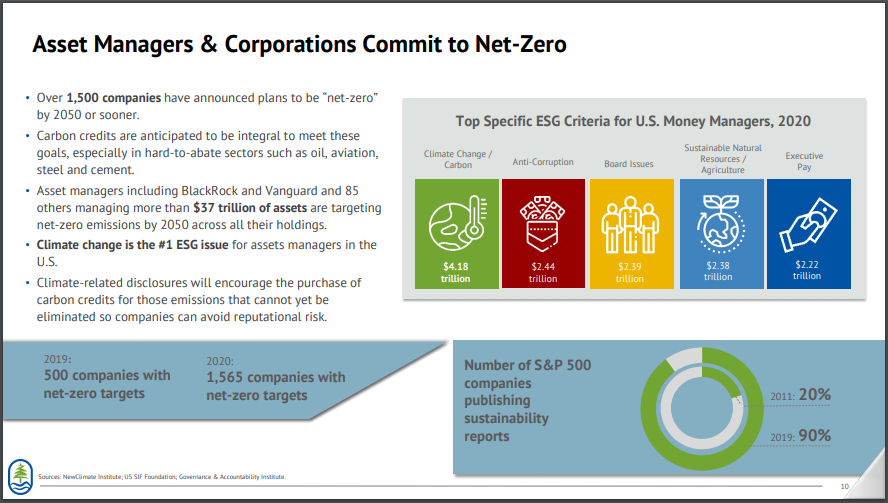 Projects that use carbon offsets are monitored by third-party tracking agencies to ensure the projects are in compliance with emissions guidelines and that the emission reductions are real. These projects create trackable, measurable and permanent reductions in greenhouse gas emissions that would not have been possible without the revenue derived from the offsets. Compliance credits are often established based on international climate treaties and governed by international institutions. In the voluntary market, third-party organizations such as the Gold Standard and the Verified Carbon Standard establish the rules and protocols for projects to comply with and account for auditing and accrediting 80% of the offsets.
The market for carbon offsets is expected to grow significantly over the next 30 years as corporations and countries adopt climate action plans to meet the goals of the Paris Climate agreement. Certain current high emission industries such as oil and gas, mining, steel, and airlines do not yet have technologies available to dramatically reduce emission levels to achieve their targets, so they will continue to rely on carbon offsets.
Carbon Credit Stream
A carbon credit stream is a contractual agreement whereby Carbon Streaming Corporation makes an upfront payment in return for the right to receive a fixed-percentage portion of future carbon credits generated during the life of the project without taking on the operating responsibility and risk of managing a carbon offset project. An additional per-carbon credit delivery payment may be paid to the project owner when it delivers the carbon credits..
A project owner can benefit from the upfront and annual income for decades. They are also provided with the ability to register a project and monetize carbon credits that may otherwise be unavailable to them.
Current investments in carbon credit streams by the company include:
MarVivo Carbon Stream – Carbon Streaming has invested $6.0 million into the MarVivo Blue Carbon Conservation Project. The company has the right to purchase the greater of 200,000 carbon credits, or 20% of the annual verified credits from the project. 40% of the net revenue of such sale will be returned to MarVivo.
Bonobo Peace Forest – The company has entered into an exclusive term sheet to provide initial funding to develop two carbon credit projects in the Democratic Republic of Congo focused on protection of endangered bonobos and mitigate the threat of deforestation and degradation.
Emission Trading Systems (ETS)
Emission trading systems (ETS), also commonly referred to as cap-and-trade systems, set a cap on greenhouse gas (GHG) emissions that decline annually to achieve the climate goals of its jurisdiction or members. Carbon allowances equal to the emissions cap can be freely allocated or auctioned to emitting entities who might then trade these allowances between themselves, with the market price being established by the supply and demand of these allowances.
A key benefit of ETS is that allowance trading provides incentives for least-cost abatement, where entities with a low abatement cost will abate and sell their allowances to firms with a higher abatement cost. Companies are also allowed to bank allowances to use to meet compliance targets that their industry requires by the end of the reporting period. 
According to the World Bank, there are 28 ETSs operating worldwide that collectively cover 9 gigatons of carbon dioxide equivalent (Gt CO2e), representing 17% of global GHG emissions. Global carbon compliance markets were valued at $217 billion in 2019, having quintupled over a two year period.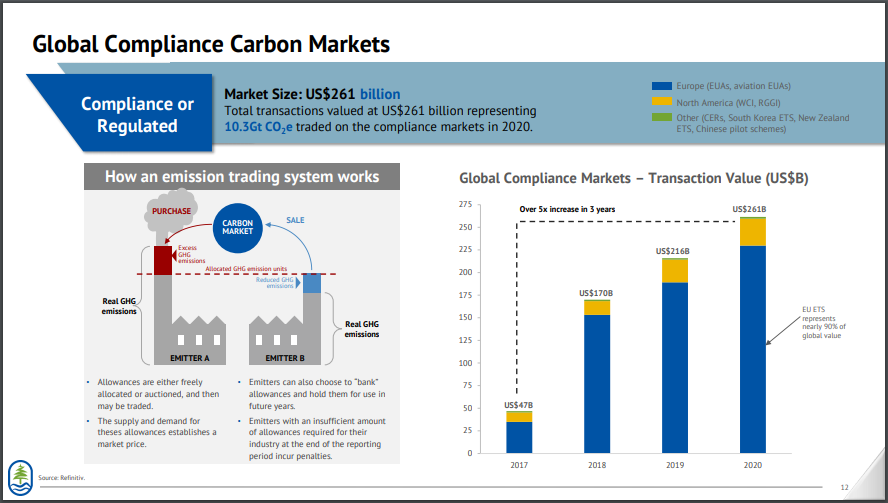 Carbon Streaming Corporation's strategy will involve taking advantage of supply, demand, and pricing anomalies to build a long-term portfolio for capital appreciation and its primary focus will be purchasing compliance credits from three ETS's:
The European Union emission trading system (EU ETS), which is the world's largest carbon pricing system accounting for 45% of European GHG emissions and 4% of global emissions. and North America's two main carbon markets, 
The California-Québec linkage under the Western Climate Initiative (WCI) These systems have an auction reserve price that increases by 5% plus inflation each year. Each cap and trade system covers approximately 80% of their respective jurisdictions emitting industries such as power generation, industry, transportation, fuel distribution etc. These two systems were the first ones established to cover their respective jurisdictions independent of their country's climate initiatives.
The Regional Greenhouse Gas Initiative (RGGI) is a collaborative initiative comprising 10 states and was the first market-based carbon pricing system in the United States to cap and reduce CO2 emissions from the power sector.. Several other states will be joining in the near future.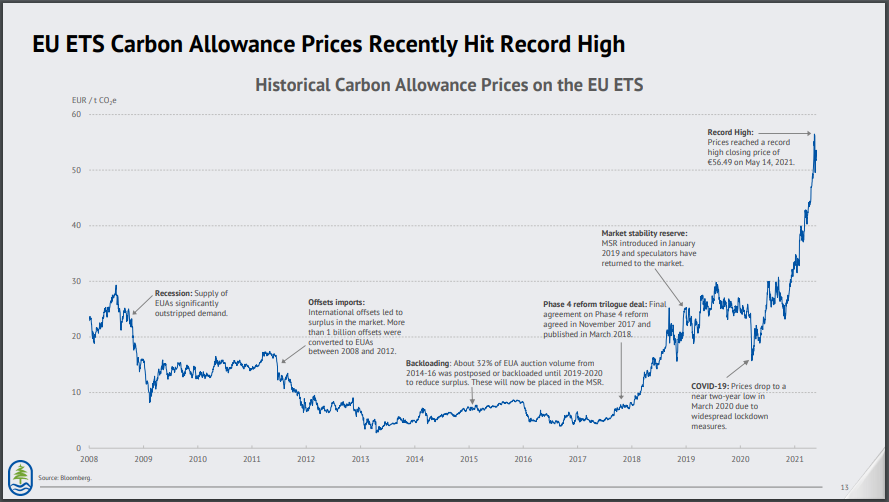 The Management Team
Justin Cochrane – President, CEO and Director
Mr. Cochrane is a Chartered Financial Analyst, is an expert in the structure, execution and funding of royalty and stream financing, and during his distinguished 20 year career has concluded transactions totaling over $2 billion. He is a licensed securities advisor in Canada, and prior to joining the mining industry, he worked in investment banking and equity capital, funding projects in the clean tech, energy tech, and resource sectors.
Conor Kearns – Chief Financial Officer
Mr.Kearns holds a B.A. from Brock University and brings two decades of accounting, auditing, finance, and tax experience to Nickel 28 Capital Corp. Over his career, Mr. Kearns has provided advisory services to a number of businesses, most recently as Vice President of Finance of Cobalt 27 Capital Corp.after a six-year stint as Chief Financial Officer of EFT Canada Inc. a provider of advanced electronic payment services and tools for businesses.
Amy Chambers – Director – Marketing, Communications and Sustainability
Ms. Chambers holds a B.A. in Communications from the University of Georgia and an MBA in Marketing from Questrom School of Business, Boston University She has 20 years of experience as a communications professional executing strategic initiatives in B2C, B2B and non-profit organizations in Europe and North America. She has served in leadership roles in sales and marketing, communications and brand management, advertising and market research, and public policy advocacy. Ms. Chambers has certifications in GRI Sustainability Reporting Standards from LEAD Canada, and Circular Economy and Sustainability Strategies from Cambridge Judge Business School.
Maurice Swan – Chairman
Mr. Swan is a lawyer with over 24 years of extensive work in debt capital markets, securitization, corporate finance, and mergers and acquisitions, particularly on global mining and metals transactions. Mr. Swan is also a director of Nickel 28 Capital Corp.
Saurabh Handa – Director
Mr. Handa is a Chartered Professional Accountant and graduated with Honours from the University of British Columbia with a diploma in Accounting. Prior to joining the accounting profession, he earned a Bachelor of Science degree in Genetics from the University of British Columbia, and a diploma in Computer Systems from the British Columbia Institute of Technology. Mr. Handa currently serves as CFO for Metalla Royalty and Streaming Ltd., a TSX-listed and NYSE-listed precious metals royalty and streaming company, and has served as CFO and a Director for a number of publicly-traded mining companies.
The Risks
From our view the following risks are worth considering.
Pricing of Carbon Credits. Carbon credit trading is a relatively new market, and while pricing mechanisms appear to be working, it is still an industry in its infancy, which could potentially result in volatile pricing fluctuations as markets react to unforeseen or unexpected events. At this time it is too early to even determine what market stability will look like..
Jurisdictional Risk. While most governments are actively implementing climate change initiatives, not all initiatives will be the same. It is possible a number of jurisdictions may not use carbon credit mechanisms in their policies. This could limit the availability of potentially profitable trading opportunities.
Supply of Carbon Credits. The supply of carbon credits has been increasing as their use becomes more widespread. Carbon Streaming Corporation is well positioned to invest in new opportunities as they arise. At this time it is uncertain that the supply will remain stable or even what will determine supply and price stability. While we expect that the trend will continue in a positive direction, the market is simply too young to determine certain risk factors and their potential impact on carbon credit trading at this time.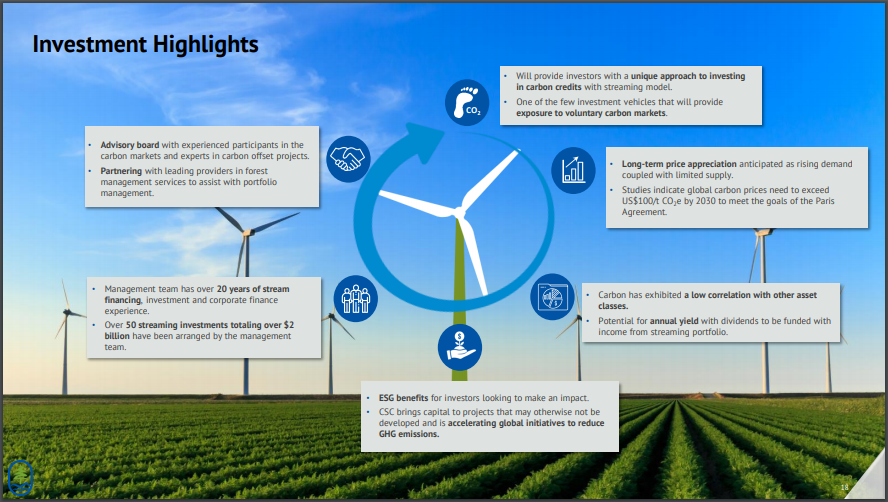 The Catalysts
Some of the potential catalysts we see that could have a large impact on the share price include:
The price of carbon credits. The Company's strategy will involve taking advantage of supply, demand, and pricing anomalies to build a long-term portfolio for capital appreciation, which will build shareholder value over time. 
Climate change initiatives. The world is collectively working towards stemming the rise of the earth's climate and most countries have signed onto this effort through emission targets set by the Paris Climate Agreement. This has spurred rapid growth in green technologies, electric vehicles and environmental compliance policies for most industries. The market for carbon credits is fairly new and that could likely create market imbalances that Carbon Streaming Corporation can exploit to build their long-term portfolio.
It is expected that over the coming decade, many more initiatives will be established that should broaden the ETS markets and create new investment opportunities, and a more active and liquid market for trading. Many recent COVID stimulus packages have seen the inclusion of climate initiatives as the world gears up for a robust post-pandemic economy. 
Potential future merger and acquisition activity. The Deep Dive believes we are in the early stages of a secular post-Covid-19 global bull market. Due to Carbon Streaming management's extensive experience, expertise, and credibility in the carbon credit streaming space, it has the ability to aggressively expand its holdings as opportunities arise. We see the company as the industry leader at this time, and as its portfolio grows and appreciates, the company could become a compelling acquisition target for a larger corporation that may want to diversify into the carbon credit trading sector, which could create a profitable exit strategy for the Company's shareholders.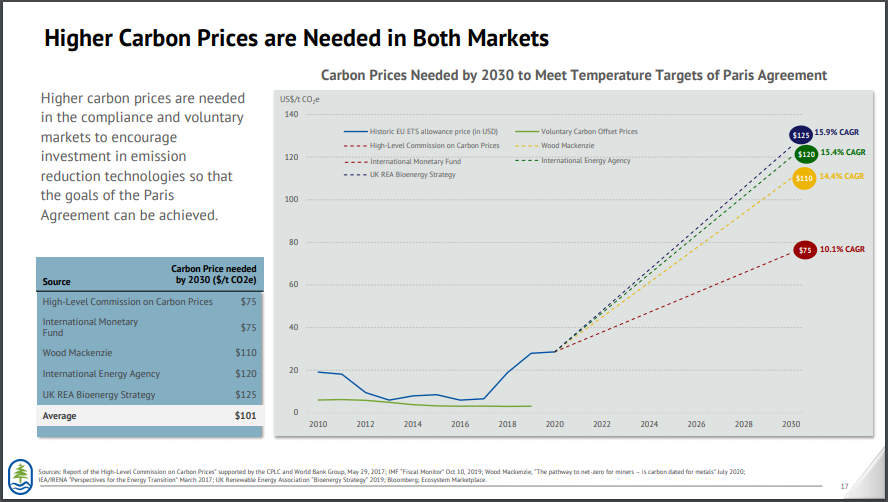 Conclusion
At the Deep Dive, we like the prospects for carbon credit trading. It is a unique market in its very infancy. Carbon Streaming Corporation understands this industry and appears to be one of the initial participants, which gives the company significant first-mover advantage. This presents investors with an opportunity to participate in this industry and diversify their portfolios. We believe that climate change initiatives will accelerate as the world attempts to achieve the 2050 climate change targets set out by the Paris Climate Agreement.
We view Carbon Streaming Corporation as a unique investment vehicle. We do not often review companies that only trade on the US OTC market, but we believe that the future for Carbon Streaming Corp. is very bright, and investors who have a long-term investment focus could do well as the market for carbon credits and streams grows and prices appreciate.
---
FULL DISCLOSURE: Carbon Streaming Corp is a client of Canacom Group, the parent company of The Deep Dive. The author has been compensated to cover Carbon Streaming Corp on The Deep Dive, with The Deep Dive having full editorial control. Not a recommendation to buy or sell. Always do additional research and consult a professional before purchasing a security.