In A Nutshell: The Digital Currency Group-Gemini Battle
Accounting fraud, publicity stunt, defamatory attacks, and $900 million in limbo–our Digital Currency Group vs. Gemini story continues.
Our crypto story continues with a reflection from Digital Currency Group (DCG) CEO Barry Silbert. In a shareholder letter, the founder said he's "incredibly proud" of what he and his firm achieved as "pioneers and builders over the past 10 years."
"I have fond memories of the early days of our industry, working hard to help educate and fighting in the trenches with fellow entrepreneurs and investors to gain legitimacy," Silbert wrote.
But Silbert lamented that 2022 "has been the most difficult" year of his life both personally and professionally, adding that "bad actors and repeated blow-ups have wreaked havoc on our industry."
His reflection comes on the heels of the budding feud between DCG and Gemini. Gemini's Earn program, a yield product offered to customers, continues to see its funds locked in Genesis Global Trading–a subsidiary of DCG.
Part 1: In A Nutshell: Digital Currency Group vs. Gemini
The DCG chief executive's reflections seem to be oblivious of the open letter Gemini's co-founder Cameron Winklevoss published just a few hours before. In the open letter to the DCG board, Winklevoss point blank accused DCG, Genesis, and Silbert of defrauding Gemini and its Earn account holders.
"These parties conspired to make false statements and misrepresentations to Gemini, Earn users, other lenders, and the public at large about the solvency and financial health of Genesis," Winklevoss claimed.
DCG was quick to respond to Winklevoss, asserting that the latter's accusation is "another desperate and unconstructive [sic] publicity stunt," shifting back the blame on Gemini as "solely responsible for operating Gemini Earn and marketing the program to its customers."
"We are preserving all legal remedies in response to these malicious, fake, and defamatory attacks," the crypto conglomerate said.
Gemini says
Winklevoss outright called for Silbert's resignation in his open letter to the DCG board, saying there is "no path forward" until the crypto firm's CEO is no longer at the helm.
"He has proven himself unfit to run DCG and unwilling and unable to find a resolution with creditors that is both fair and reasonable. As a result, Gemini, acting on behalf of 340,000 Earn users, requests that the Board remove Barry Silbert as CEO, effective immediately, and install a new CEO, who will right the wrongs that occurred under Barry's watch," Winklevoss wrote.
As the Gemini co-founder explained, Genesis provided $2.36 billion in assets to Three Arrows Capital (3AC), a Singapore-based hedge fund that failed in June 2022. Genesis stated that when collateral was liquidated, it was left with a loss of at least $1.2 billion.
"At this point, Barry Silbert had two legitimate options: restructure the Genesis loan book (inside or outside of bankruptcy court) or fill the $1.2 billion hole. He did neither," he added.
How does this affect Gemini? The two companies were linked through Earn, a nearly two-year-old Gemini product that advertised returns of up to 8% on consumer deposits. With Earn, Gemini loaned client money to Genesis for placement across various crypto trading desks and borrowers.
As the digital coin markets skyrocketed in 2020 and 2021, Genesis' capital produced large returns and easily paid Earn users their income, which was particularly appealing at a time when the Federal Reserve's benchmark rate was near zero. Other riskier (and now defunct) crypto sites, such as Celsius and Voyager Digital, were providing 20% yields.
Fast forward to the tail-end of 2022 after a crippling crash in bitcoin prices and the crypto exchange FTX implosion, the Earn program also fell apart. Genesis announced in November 2022 that it would be halting redemptions and withdrawals on its lending products, which affected Gemini. The company reportedly has $175 million tied up in accounts at the now-bankrupt FTX.
"For the past six weeks, we have done everything we can to engage with you in a good faith and collaborative manner in order to reach a consensual resolution for you to pay back the $900 million that you owe, while helping you preserve your business," Winklevoss said in his previous open letter to Silbert. "However, it is now becoming clear that you have been engaging in bad faith stall tactics."
The Gemini co-founder claimed that beginning in early July 2022, DCG and Silbert "embarked on a carefully crafted campaign of lies to make Gemini, Earn users, and other lenders believe that DCG had injected $1.2 billion of actual support into Genesis" to fill the hole left by 3AC.
"Our parent company DCG assumed the liability related to losses on [3AC] loans, leaving our balance sheet healthy so Genesis could continue to be a source of strength for our clients," Genesis reported in its Q2 Market Observations report.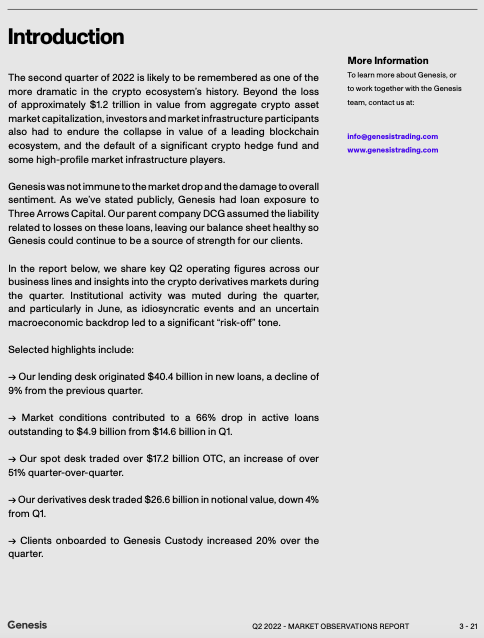 Winklevoss cited then-DCG CEO Michael Moro's tweet where he said, "DCG has assumed certain liabilities of Genesis related to [3AC] to ensure we have the capital to operate and scale our business for the long-term."
"This statement was false and misleading," Winklevoss countered. "In reality, DCG had not ensured that Genesis had the capital to operate. In fact, DCG hadn't given Genesis so much as a penny of actual funding to make up for the 3AC losses."
Instead, according to the Gemini co-founder, DCG and Genesis agreed on a promissory note with a 1% interest rate payable in 2032. This note was a "complete gimmick" that accomplished little to help Genesis's immediate cash position or balance sheet solvency.
In addition, Winklevoss claims DCG committed an accounting fraud in recognizing the 10-year promissory note as a "current asset" in a document sent by Matthew Ballensweig, Genesis's then-Head of Trading and Lending, to Gemini employees working with them. Moreover, it was valued at face value of $1.1 billion, which Winklevoss argued that "the net present value of this note would be heavily discounted (approximately 70%) to reflect its value as of today (perhaps $300 million)."
"How did we get here? Greed," said Winklevoss. "As a standalone business, it's inconceivable that Genesis would have lent so much money to 3AC given the low quality of the collateral that 3AC posted. Genesis made these loans because it was one piece of a much larger scheme designed to enrich the greater DCG enterprise."
As he referenced before, Winklevoss asserted that "Genesis was willing to recklessly lend to 3AC because 3AC was using the money for the kamikaze Grayscale net asset value (NAV) trade." This act, he added, "ballooned the [assets under management] of the Grayscale Bitcoin Trust (GBTC) and, as a consequence, the fees earned by its sponsor, Grayscale Investments, a wholly owned subsidiary of DCG."
Silbert created the Bitcoin Investment Trust in 2013, which simply put was a private trust that allowed accredited investors to speculate on bitcoin. The trust was later renamed The Grayscale Bitcoin Trust, which currently owns around 650,000 bitcoin, a figure that works out to around 3% of the total bitcoin in circulation.
The fund recently traded at as much as 45% discount to NAV and currently trades at a 38% discount to NAV on the public markets (at the time of writing).
READ: "What Is Grayscale Hiding?" Lawsuit Filed Against Grayscale Demands Opening The Books
Genesis won this zero-sum deal until 2021 because GBTC shares were worth more than bitcoin. However, Genesis lost this trade in 2021 since the shares were worth less than bitcoin, which Winklevoss said would have only canceled the previous gains if the trading platform would "participate in both the wins and losses."
"Astonishingly, however, it appears that Genesis never participated in the wins because it apparently always ceded them – the GBTC share premium – to 3AC. This meant that Genesis only participated in the losses, turning what would otherwise have been a zero-sum trade into a negative-sum trade," Winklevoss claimed.
After the NAV trade inverted, Genesis continued to "lend to 3AC on attractive terms and accept GBTC as collateral," Winklevoss said. He added that this would be desirable for sponsor Grayscale to keep GBTC shares from being sold into the market, widening the discount to NAV. But he said this would be undesirable for Genesis as it keeps its risk position open.
"Barry was comfortable with Genesis loading up more and more on this toxic trade because it was a gambit to feed the Grayscale Trust — Barry's financial Hotel California that would print money for the DCG universe in perpetuity. The end would justify the means," Winklevoss summed.
DCG says
While Silbert's reflections seemingly did not address Winklevoss' open letter, the Q&A part below indirectly did. On its first points, the company reiterated that since DCG was founded, "subsidiaries have launched and operated as independent companies with their own management teams, financial and risk management protocols, and legal and compliance oversight."
"Every aspect of each subsidiary's day-to-day business is directed by the respective subsidiary's leadership team," the company said. "To be abundantly clear, DCG does not direct any trades, loans, or borrows for Genesis' business."
The firm added that "like hundreds of other institutional investors, DCG borrowed capital from Genesis Capital" and these were "always structured on an arm's length basis and were priced at prevailing market interest rates." DCG said it currently owes Genesis $447.5 million (subject to a setoff) and 4,550 bitcoin (around $82 million as of this wiring), which matures in May 2023.
In his previous open letter to Silbert, Winklevoss alleged that DCG owes its subsidiary Genesis approximately $1.675 billion–which involves the "money that Genesis owes to Earn users and other creditors." Silbert disputed that claim then, adding that "DCG has never missed an interest payment to Genesis."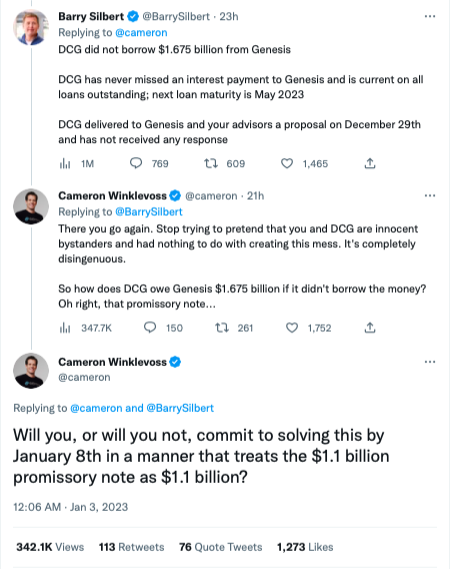 The dollar part of the loan, DCG added in the Q&A, "were initially held as cash in Treasury" until they were used in "the repurchase of DCG stock from one of [its] earliest venture investors and investments in liquid tokens and public equities." The bitcoin part of the loan was used to "hedge GBTC long positions… when GBTC traded at a meaningful discount to NAV."
DCG also outright said that it "has never had a relationship with [3AC]," but Genesis had a trading and lending relationship with 3AC, who defaulted on its loans after it went bankrupt.
So why did DCG issue the $1.1 billion promissory note to Genesis after 3AC defaulted on the lender? DCG said it believes "Genesis had unrivaled expertise and the best institutional client base in the world" and thus was "worth protecting."
"The mechanism that was recommended by our financial and legal advisors, with input from our accountants, was for DCG to assume the Three Arrows Capital claim and replace it with the promissory note due to Genesis," the firm explained.
DCG admits that it assumed the liabilities owing to Genesis from 3AC even if the "recovery on which was highly uncertain." The firm added that it "did not receive any cash, cryptocurrency, or other form of payment for the promissory note."
But was the promissory note good as a liquid asset? DCG reiterated that the note "is not callable." In essence, it serves as a mere benchmark and "any recovery received by DCG in respect of the [3AC] liquidation will go directly to paying down the $1.1 billion promissory note."
Following 3AC's default, DCG invested about $340 million in new shares across Genesis businesses to provide the latter with extra capital.
$900 million
At the center of the feud is the $900 million Genesis "owes" to Gemini and its Earn users. Winklevoss claims DCG misrepresented itself hence the continued business of lending led to that amount, not knowing that the macroenvironment would lead to the assets being frozen. On the other hand, DCG is putting the blame back to Gemini for their responsibility of marketing the Earn program to its users, and to an extent, not managing the program well that led to the assets being frozen.
Digging deeper, the real issue is if DCG and Genesis were fraudulent in representing themselves to its customers, including Gemini. Were they just appeasing an already panicked industry or did they go overboard to put up a brave face in front of crashing fundamentals? The latter would give credence to WInklevoss' claims that DCG needs to make Gemini customers whole; otherwise, this is just another case of a massive crypto winter bite.
Reportedly, the Eastern District of New York (EDNY) is working with multiple parties in an investigation on the matter, focusing on accounting fraud.
However, in Silbert's letter, included in the Q&A, DCG explained that it "has no knowledge of or reason to believe that there is an EDNY investigation into DCG."
"DCG is in regular communication with regulators as part of our day-to-day business operations. If contacted by any regulators or investigators, as always, we will openly engage, answer questions, and provide any information needed," the firm said.
Along with Winklevoss' open letter, Gemini seems to have terminated the Master Loan Agreement (MLA) with Genesis. This effectively stops the Earn Program and "requires Genesis to return all assets outstanding in the program."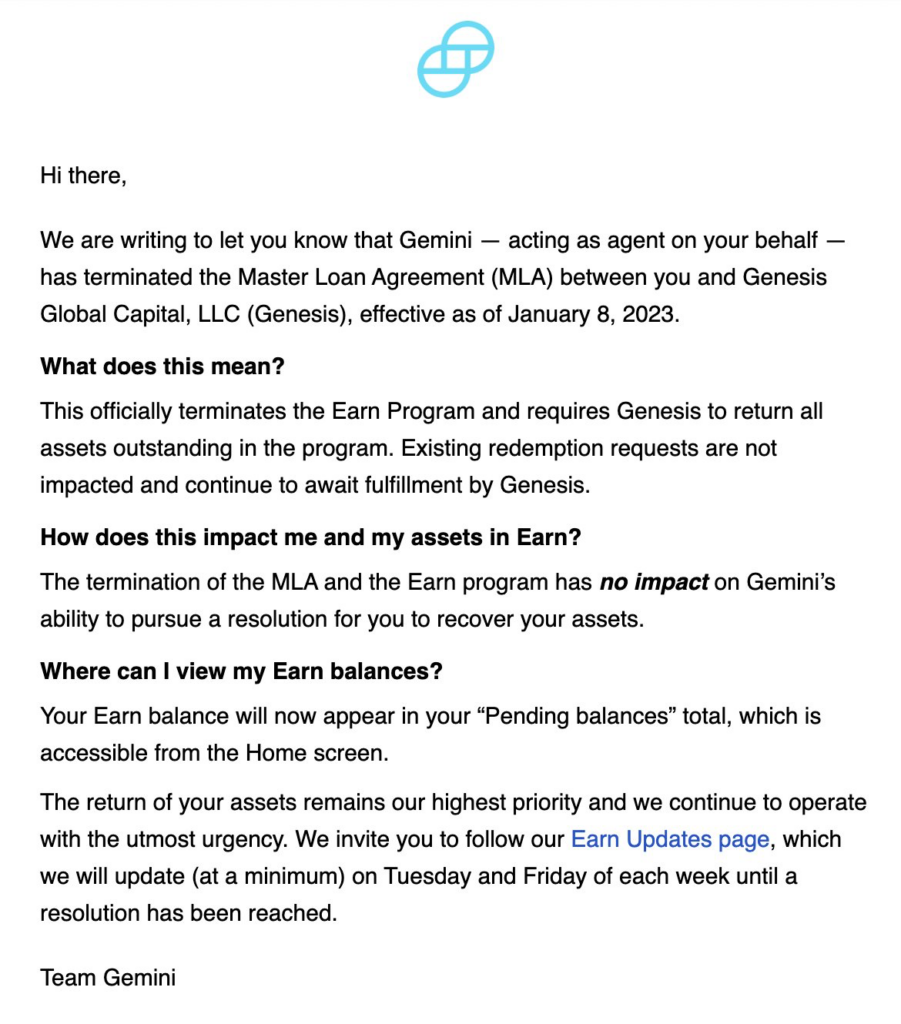 Is the money lost? Probably yes, alongside with the declining crypto prices in 2022. But would someone pay for it? The answer lies in who's at fault or fraudulent–and that could be a question for the court in a long and dragging case.
---
Information for this briefing was found via CNBC and the sources mentioned. The author has no securities or affiliations related to this organization. Not a recommendation to buy or sell. Always do additional research and consult a professional before purchasing a security. The author holds no licenses.