Reviewing the Numbers on Mission Ready Services
Mission Ready Services Inc (TSXV: MRS) by all accounts is a stock in which we would not normally cover. Its a company out of our typical focus sectors, and an industrial at that. Typically there is not a lot of excitement surrounding these stocks, so we stay away. However Mission Ready Services appears to be an exception to the rule.
As of late, Mission Ready has seen a lot of excitement across investing communities. As rumour would have it, there is a large purchase order "expected" to come through within a short time frame. With the action seen as of late on the equity, its possible that news may have been leaked early. This is tough to say with certainty however. Since we like to deal in facts, lets take a look at current company figures.
Reviewing the Numbers on Mission Ready Services
Mission Ready's Income Statement
For those unaware, Mission Ready is a company that provides products and services to all levels of government throughout the world in relation to defense equipment. In addition to manufacturing a handful of lines of wearable military equipment, they also service equipment. This includes extensive cleaning as well as damage repair. Up to this point in time, they have largely provided these products and services to the United State Military.
There's only one issue with this however. They aren't making any money. Further to that, the outlook is bleak based on current figures presented in the company's income statement. The only saving grace they might have, is if economies of scale kick it in to high gear.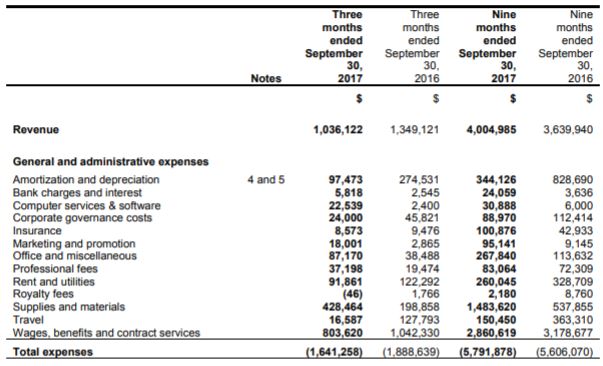 Our justification for stating the outlook is currently bleak can be seen above. For the three month period ending September 30, 2017 revenues came in at a total of $1,036,122. The itemized expenses related to these revenues are what concerns us. Specifically, the total between "Supplies and Materials" and "Wages, Benefits and Contract Services" is our main concern which registers at $1,232,084. All other items side, the raw material and labour associated with manufacturing Mission Ready's products came in higher than the value of the revenue.
To be fair, there is the potential that some of these wages and material was associated with developing a handful of prototypes that were recently announced. These prototypes have since entered the commercializing phase as of the end of Q4 2017.
If these prototypes were not a major expense for this final line, its questionable that a profit can be turned on future products.
Mission Ready's Potential Purchase Order
We mentioned above that there is rumour that a large purchase order is to come through. This data actually comes from the company themselves, via a September 6, 2017 news release. In total, the purchase order is stated to be in excess of $50 million for the first year. The first year for this being 2018.
Although this agreement was first mentioned in September, nothing as of yet has came of it. The contract itself is for the company to supply equipment to a large foreign military through a third party. This contract then has a series of minimum yearly purchase amounts in order for it to remain active for its stated five year term.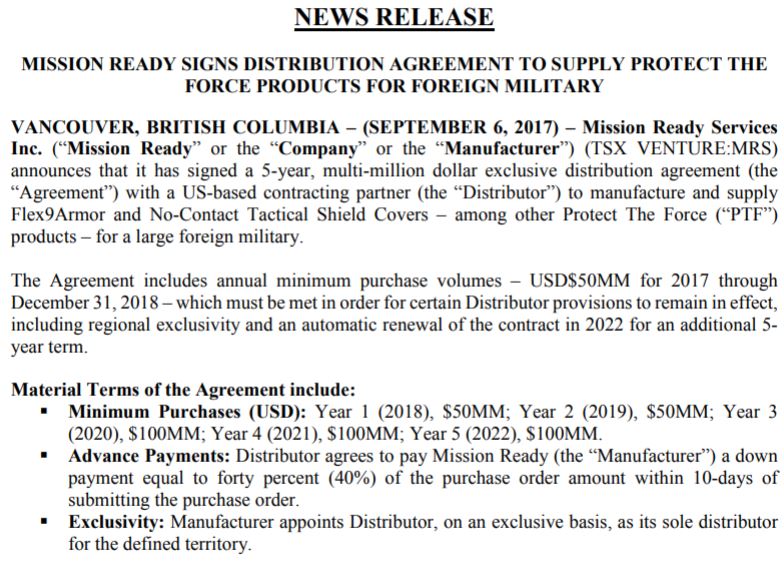 Should this agreement materialize, it will be explosive for Mission Ready Services to say the least. Due to the potential success seen abroad, it may also open up other avenues of sales once their product becomes an industry standard. However, the constant delaying of this agreement is reducing the likelihood of a signed agreement coming from it.
In a November 30 update, the company identified that it still had hopes to receive the purchase order in the current quarter. A month later in their December 29 update, they announced that this purchase order would clearly be pushed into 2018. We are now roughly halfway through Q1 2018, and the potential for this order to materialize is plummeting by the day. If it is not received shortly, it is unlikely that it will be received at all. Investor sentiment seems to be decreasing at a similar rate as well.
The Share Structure of Mission Ready Services
The last item we wanted to touch on as you likely guessed is the share structure of Mission Ready. Due to the company being listed on the Venture, we weren't able to provide the level of detail that CSE listed equities typically allow. Instead, we had to consult the company's latest financials as well as data provided on their website and verify our information this way.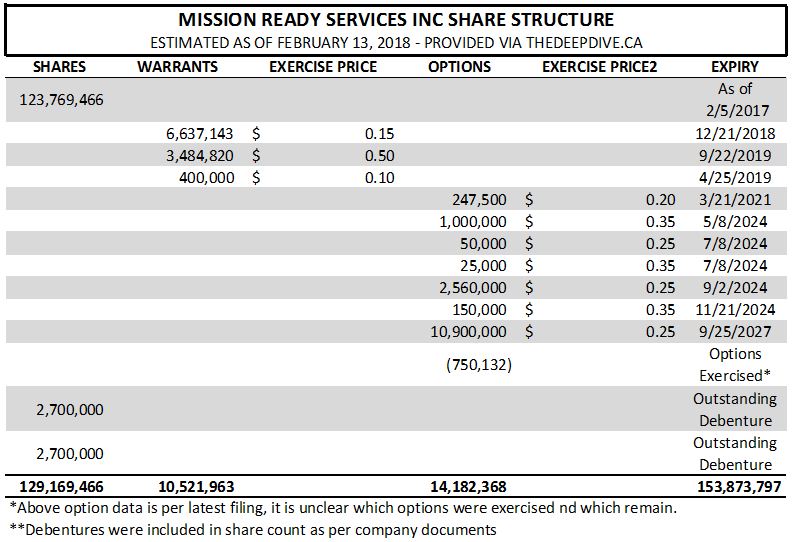 If you'll notice above, there is a deduction listed for the options with no equivalent line for the share count. This is a result of not knowing which options specifically were exercised since the latest interim financials. The outstanding share count for Mission Ready has however since been provided by the company. Thus we know the figures above to be correct.
Factoring in the current outstanding debentures, there are a total of 129,169,466 shares outstanding for the company. Based on the closing price for MRS of $0.28 on February 12, this gives the company a market valuation of roughly $36.17 million. On a fully diluted basis, this figure climbs to $43.08 million.
As a result of this current valuation, should the potential outstanding purchase order be signed, it alone would inherently be worth more than that of Mission Ready itself. This is especially true when future years revenue is factored in as well.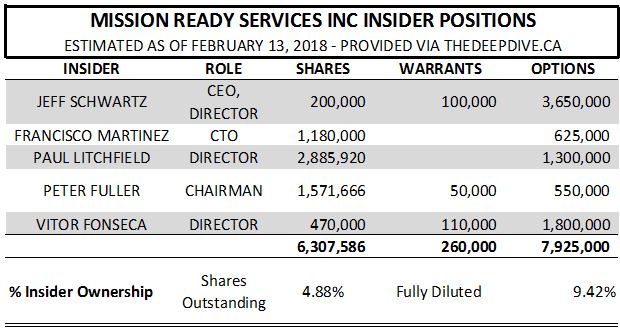 In terms of what the management has invested in the company, it is believed that they currently control 4.88% of the currently outstanding shares. On a fully diluted basis, this figure increases to roughly 9.42% of all shares.
Closing Remarks
Investors of Mission Ready Services appear to be stuck in a common conundrum. They've placed on their eggs in one basket. By this, we mean that the value of their holdings are directly related to whether or not Mission Ready Services is able to close on this potential purchase order that they've presented to shareholders.
If they can seal the deal, its likely investors will see a good sized increase in the value of their holdings. If they fail, it's likely that the value of their holdings will slide rapidly. Having the value of your investment riding on one item such as this is too high risk for us, however that is a decision that is ultimately up to the individual investor.
Don't place your eggs in one basket. It's a surefire way to lose them all. Dive Deep.
---
Information for this analysis was found via TMX Money, SEDAR, SEDI, and Mission Ready Services Inc. The author has no securities or affiliations related to this organization. Not a recommendation to buy or sell. Always do additional research and consult a professional before purchasing a security.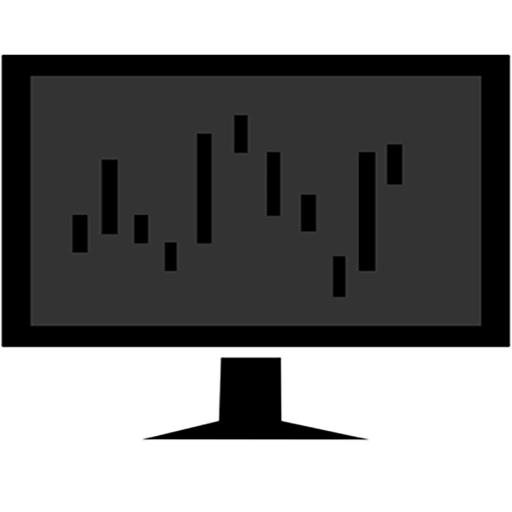 As the founder of The Deep Dive, Jay is focused on all aspects of the firm. This includes operations, as well as acting as the primary writer for The Deep Dive's stock analysis. In addition to The Deep Dive, Jay performs freelance writing for a number of firms and has been published on Stockhouse.com and CannaInvestor Magazine among others.