Analyzing Gratomic: Part One – A Look at Perpetuus
As a result of the recent excitement surrounding Gratomic Inc (TSXV: GRAT), we at The Deep Dive have concocted something special for you. For the first time ever, we've elected to establish a multi-part series on a particular equity. This is the first instalment of that series.
Throughout the series, we will be analyzing several particular recent developments of the company, and what it means for shareholders. We've elected to truly embrace our namesake, and go deep into the research for this mini series.
Our first focus in regards to Gratomic is actually not on the company itself. Rather it is on a major partner of the firm, which is a private firm located in Ammanford, Wales, United Kingdom. Known as Perpetuus Advanced Materials, it has many subsidiaries in several sub sectors. For ease of use, we'll commonly refer to them solely as Perpetuus.
Analyzing Gratomic: Part One – A Look at Perpetuus
A quick history lesson on Perpetuus and Gratomic
The relationship between Gratomic and Perpetuus Advanced Materials begins roughly a year ago. On July 11, 2017 Gratomic, then operating as CKR Carbon, entered into a letter of intent with a European firm. Under the LOI, CKR was to supply an "industrial amount" of graphene to the firm for testing in the use of performance tires. In total, 400 tires were to be manufactured, which would then be tested by the end of Q1 2018.
The short of this, is the graphite that was to be supplied to the European firm would come from the Aukum mine located in Namibia, Africa. This mine is currently where Gratomic sources all its materials from, under a joint venture with Next Graphite.
In March, it was revealed in a news release that this hidden partner was that of Perpetuus Advanced Materials, by way of Perpetuus Carbon Technologies Ltd. Under the proposed joint venture, Gratomic would supply the raw material while Perpetuus would provide the equipment and know-how to process the graphite into graphene nano platelets. The graphene would then be utilized in the production of high performance tires, where claims have been made that this technologies improves performance of these tires.
Little over a month later, on April 22 it was announced that this agreement had advanced from an LOI to that of a letter of collaboration. Under this, Gratomic and Perpetuus would work in unity to develop and market graphenes. Sourced from the graphite supplied via the Gratomic Aukum mine, the material is to be utilized in tire elastomers. Following the success of this, the duo is to search for uses in polymer composites and the energy capture and storage industries.
Additionally, Gratomic is to purchase from Perpetuus three specialized tooling chambers at a cost of £100,000 each. These chambers are to then reside at the current Perpetuus facility in Wales, where they will manage and maintain the devices.
Perpetuus' role in the market
By all accounts, Perpetuus appears to be a firm that overstates its role in the industry. Although claims have been made as to an annual production capacity of 500,000 KG of graphene per year, this has not materialized anywhere as of yet.
The firm first entered the graphene supply market in February 2014, when they claimed to have developed the largest environmentally friendly process to mass produce the product. At the time of the initial release, they claimed to be able to produced 100,000 KG per annum of "high quality graphene's". This also came with an initial target of being able to produce 500,000 KG per annum by year end. Also within the release, they indicated that "all Perpetuus high quality graphene materials will be offered to customers at £50 per kilogram."
This is the first signal that the company may not be entirely truthful in its stated capabilities. This release came at a time when many suppliers were struggling to increase the size of operations, which is due to the inherent difficulties of creating graphene. Additionally, the quote price of £50 is quite out of line with comparable offerings on the market for "high quality graphene's".
A quick Google search indicates initially that at the time the per KG price of graphene was found to have a baseline price of $1,000. However, the true price is actually dependent on several factors, which the common investor may not be aware of. Specs such as the nano platelet sizes makes all the difference in the value of the raw material. At the stated price, it's likely that these platelets are in fact quite small.
In one report issued in 2016, Deloitte stated that the price of graphene was roughly $100/gram – a far shot from the quoted figure of £50 per KG by Perpetuus two years prior. The same report also discusses the inherent difficulty in developing graphene on an industrial scale with consistent quality and characteristics. Although it predicts that graphene will ultimately be an impactful material, it doesn't expect standardization or frequent use of the material for decades to come. This further highlights the unlikelihood of the claims made by Perpetuus.
Who is Perpetuus?
So what exactly is Perpetuus and the several subsidiaries related to the firm? Overall, the parent company is listed as being Perpetuus Advanced Materials PLC, managed by CEO John Milford Buckland. From this, it has quite the handful of listed companies in which it controls. They are as follows:
Perpetuus Carbon Up-Cycling Limited
Perpetuus Carbon Up-Cycling Research & Development Limited
Perpetuus Electronic Materials Limited
Perpetuus Research & Development Limited
Perpetuus Carbon Technologies Limited
Perpetuus Tidal Energy Centre Limited
Perpetuus Energy Limited
In short, it appears that the firm is involved in several sectors across multiple industries. Typically, these firms appear to be short on any form of revenue, all have the same website effectively, and each firm appears to have very few employees. In some instances, it appears that only one or two people are actually involved at these subsidiaries.
Of particular note is that of Perpetuus Tidal Energy Centre Limited (PTEC), which received funding from the Isle of Wright in 2013. In total, an unsecured loan for £1 million was issued by the island, under the guise of it being funding for an offshore tidal energy capture project. Further approvals for the project were acquired in 2016, however thats where seems thing to have come to a halt. Construction for the project was initially set to begin in 2016, but as of yet no progress has been made. Furthermore, the firm did not bid on a government energy supply contract that is to be in place until 2023.

The head company itself as previously mentioned is located in Ammanford, Wales. The property appears to be small in size, with very minimal space for manufacturing of any sort. If there are indeed three reactors on site for the processing of graphite into graphene, it would require the units themselves to be quite small. Otherwise, the projected production figures just do not appear to be feasible. To the left, you can see an idea of what the space entails. The photo itself is courtesy of Google Streetview, which hasn't been updated since 2011 – thus no company logo.
Perpetuus: By the numbers
Last but not least, let's look at some figures that are relevant to Perpetuus. Although a private firm, we have been privy to a number of statements that help us identify the state of the firm, as well as those around it.
First on the list, is the latest financial statements issued by the firm. For a stated production capacity of 500,000 KG of graphene per annum, their figures do not show this ability. Of particular note is the roughly $2.3 million due to creditors within what was the next twelve months, all of which has now passed. Please be aware that this is as of March 31, 2017 – recent, considering it is a private company.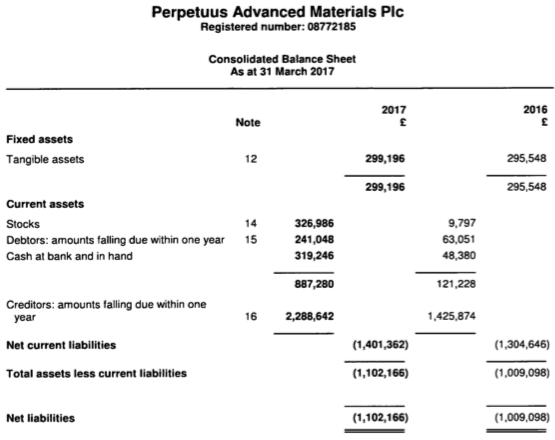 In addition to the less than impressive balance sheet thrown together by the firm, here's a snapshot of some other important figures related to the group of companies:
Gross profit of $52,372 for period ended March 31, 2017
Loss for the year of $923,038
John Buckland has been a director at 62 companies
Of those 62 companies, 23 roles are still listed as ongoing
Although evidently independently verified for 140 tonnes of annual production in 2014, it appears such figures have never been reached
Conclusion
Briefly analyzing Perpetuus Advanced Materials, as well as the entire group of companies, has told us to be wary. As it stands, from what we can tell figures have been grossly overstated. The financial results indicate as much. If the technology was truly ground breaking, the demand for industrial graphene would be significantly higher than it appears to be for Perpetuus.
With this being the first instalment of the series, be aware that not quite all information discovered has been released as of yet. Stay tuned for the second article of the series, wherein we will focus in on the mine from which Gratomic is sourcing it's graphite.
As always, Dive Deep.
Special thanks to twitter user @MudruckTrade for extensive research assistance for this article.
---
Information for this analysis was found via Gratomic Inc, Perpetuus Group of Companies, BBC, Deloitte, Sedar, CompanyCheck.co.uk, and CompaniesHouse.gov.uk . The author has no securities or affiliations related to this organization. Not a recommendation to buy or sell. Always do additional research and consult a professional before purchasing a security.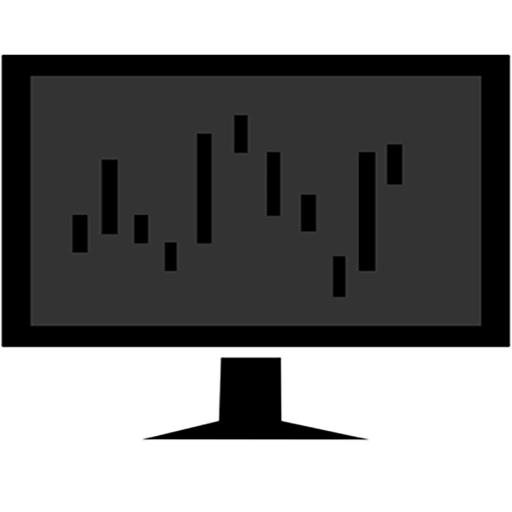 As the founder of The Deep Dive, Jay is focused on all aspects of the firm. This includes operations, as well as acting as the primary writer for The Deep Dive's stock analysis. In addition to The Deep Dive, Jay performs freelance writing for a number of firms and has been published on Stockhouse.com and CannaInvestor Magazine among others.