Behind The Scenes At iAnthus Capital. A Deep Dive Into "Project Greta"
It's been a busy April over at iAnthus Capital Holdings (CSE: IAN).
The company covered a lot of ground in its April 6th press release. The Deep Dive chose to focus on the company expressing that it would delay the filing of its Q4 and annual statements in our April 7th coverage of same, because it was the best jumping off point for illustrating the larger picture at iAnthus, but there was plenty going on in that four page presser.
The release informed the world that the company had formed a special committee comprised of five independent directors to detangle much of the mess that has prevented iAnthus from the aggressive growth their shareholders believed in.
The committee has a lot on its plate so, presumably, Canaccord Genuity has been hired to help it with the financial stuff like exporting strategic liquidity alternatives, re-negotiating existing financial arrangements, looking for strategic transactions, etc., and allow the directors to focus on the first item on its agenda: "investigating any potential conflicts of interest and /or required disclosures with respect to the company's CEO and certain related parties."
The three of IAN's eight directors who are also management – CEO Hadley Ford, President Randy Maslow and Chief Strategy Officer Elizabeth Stavola, aren't on the special committee, but they aren't going to let that stop them from helping out. The Deep Dive reported Tuesday that Ford and Maslow were among the directors of Saving Grace Ventures, a special purpose entity that appeared in a document being circulated by Cormark Securities, who is attempting to raise $500,000 to assist the biblically-named venture in putting together a management buy-out plan that would give the special committee some options.
The shareholder reaction to this revelation was decidedly mixed. Some of our more pragmatic readers took a "better-than-nothing" attitude, while most of the iAnthus Army's reaction on social media took more of a "Hey! What the hell!?" tone.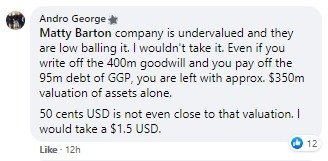 Contrary to speculation, The Dive is not a paid agent for SVG, iAnthus or their management, and our having obtained these screenshots of parts of a document labelled "Strictly Confidential" was not, to our knowledge, orchestrated by any interested party.
Our Lady of Capital Dilution, liquid be thy name…
The Dive's West Coast Office learned of the screenshots' existence following contributor and Editor in Chief Jay Lutz' scoop this past Tuesday, and has since had occasion to review the screenshots obtained from the Cormark-branded deck, titled "Project Greta". We were most interested in the proposal's Pro-Forma treatment of iAnthus' balance sheet.
It starts in December of 2019 (the period for which iAnthus is due to file, and has said they would delay filing), with $134 million in goodwill and intangibles, suggesting a $433 million year-end write down for the multi-state grower, about ten times its current market cap, (all figures $USD).
Materially all of that book value appears to have been created in the February, 2019 acquisition of MPX Bioceuticals. The breakdown between intangibles and goodwill post write-down are estimated. Here's the pie chart of the Q3 goodwill split we ran in the iMproper cApitalization post.
iAnthus acquired a $10.8 million liability to the Stavola Trust as part of the MPX deal. It was due January 19, 2020, and has presumably been paid because it isn't considered in Project Greta's…
Treatment of Outstanding Debt
The proposal has cornerstone debtholder Gotham Green Partners being bought out of $41 million in high-yield convertible debt for $42.2 million, and rolling $56 million worth of secured debt forward, as its conversion price is adjusted to $1 from $1.61 and $1.89.
The $60 million in unsecured 8% debs that IAN is in default on would be rolled forward, with the conversion price adjusted downward to $1.50 from $5.92.
Proportional interest of current shareholders?
Assuming Saving Grace can raise the money to pay Cormark to pitch this deal to the Special Committee as a financed plan, here's how it would break down.
Further assuming that 70% of current shareholders take a $0.50 cash buyout, the other 30% will become the minority interest in a New Ianthus, managed by the same people who run it now. If the conceived $139 million capital raise happens at the same $0.50 that bought 70% of the current shareholders out, and ignoring any warrants or options exercised since the end of September, the remaining rolled-over shareholders would own a 15% interest in the new company, as it tries to get its price up to a buck so that it can convert another $56 million worth of debt to equity, then to a buck and a half, so that it can pay off another $60 million worth of debt with its cap table.
The plan calls for the new management (same as the old management), to have discretion over an employee option pool equivalent to 10% of the total shares outstanding, to be issued with exercise prices equivalent to a 10% premium to the offer price.
The Bottom Line
Absent some leadership from the independent directors, the message being sent to the iAnthus shareholders is clear: they're very much stuck with Hadley Ford and his team. The screenshots indicate that iAnthus may have as little as $6 million in cash right now.
It's unclear if the announced default on the secured debt has given the secured debtholders at Gotham Green an opportunity to seize any assets worth having, or if a full forfeit would require further default, but such a default might suit the financiers just fine. It would put them in control of the cash generating units, and leave the shareholders to deal with the unsecured creditors.
Of course, Gotham would need someone with experience to manage them…
---
Information for this briefing was found via Sedar and iAnthus Capital Holdings Inc. The author has no securities or affiliations related to this organization. Not a recommendation to buy or sell. Always do additional research and consult a professional before purchasing a security. The author holds no licenses.