LiCo Energy Metals Drops Purickuta Lithium Project: Does The Story Add Up?
Apparently location isn't everything. LiCo Energy Metals (TSXV: LIC, OTCMKTS: WCTXF) has dropped its Purickuta lithium project in northern Chile claiming the property is "completely unworkable" due to force majeure related to community backlash.
Purickuta is not only located in the top lithium-producing nation but is also in Salar de Atacama, the most prolific lithium region in that country. Salar de Atacama reportedly has over half of the world's lithium reserves and provides over one-third of the global supply, which is served up by two companies: SQM and Albemarle. LiCo's Purickuta project neighbored those producers.
It must be hard for investors to digest losing a piece of the portfolio that was promoted as having so much promise, especially when the project went nowhere. And given LiCo's statements and posturing, it's likely that some investors will be skeptical about the company blaming this failed venture on pushback from the local community.
The LiCo Terms & The Spin
In January 2017, LiCo announced a deal that would offer the company up to 60% interest in Purickuta. Under the agreement with Durus Copper Chile, LiCo would have to make USD$8.4 million in cash payments, issue 5 million shares and make certain work and development commitments.
LiCo wasted no time putting a marketing spin on this "near term production opportunity." The company outlined six reasons that Purickuta was a winning pick:
the appearance of both a low-cost resource definition opportunity and a near term production opportunity;
the overall project size fits well within the capability of a junior company seeking to quickly define reserves and establish production facilities;
the property is well situated within the Salar de Atacama, the highest-grade lithium salar in the world;
within the Salar de Atacama, lithium brines exist within 140 feet of surface resulting in low costs of exploration and extraction;
the Purickuta Concession lies relatively near existing pumping and solar evaporation installations;
the Purickuta Concession is close to power, labour, communications, transportation and other infrastructure.
Over the next several months, LiCo reiterated these benefits. The company made sure to continue reminding the public that this concession was located on "the world's largest and purest active source of lithium." The company reiterated that the project neighbored SQM and Albemarle and cited those companies' production stats.
"Having two lithium giants as neighbors in the salar gives us confidence that we will be able to develop this concession alongside our Chilean partner, Durus Copper, for the benefit of our shareholders", Tim Fernback, LiCo's previous CEO, noted.
Purickuta: Great Promise to No Hope
LiCo seemed to hit the ground running. But investors should pay close attention to the timeline and the pictures this company was painting.Two weeks after announcing the Purickuta deal, senior management was in Chile for a brine sampling program. In early February, they were already outlining details for a comprehensive exploration program.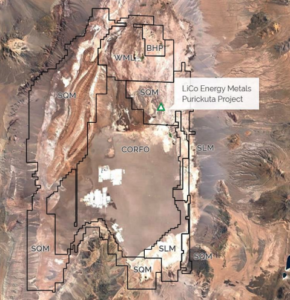 By June, LiCo had opened a corporate office and reported that management was on the ground looking at the possibility of buying more lithium and cobalt projects. And in July, the company had conducted a Transient Electromagnetic Method geophysical survey at Purickuta to prioritize optimum drilling locations, collected drilling quotes and said they planned to start drilling soon.
All appeared to well and moving at that smooth, rapid pace the company projected. But in late August, LiCo reported "delays in contracting the drilling." At that time, LiCo also announced an extension agreement that allowed the company to chop its upcoming $2,000,000 property payment into two parts. The bulk of it, $1.8 million, was pushed off until mid-December, 2017.
About two weeks later, at the beginning of September, LiCo announced force majeure. Fernback said Durus and Geotec Boyles Bros. were served with a petition for protection. It prevented any exploration activities at the site, and the community had blocked the property preventing LiCo from accessing the site at all.
Fernback projected the matter would be resolved in about 15 days. That appears to be a drastic miscalculation because now LiCo says "the company does not see any way in which this project or property can be realistically explored or developed in the future by any corporate entity."
LiCo Unveils Money Problems
During the time that Purickuta was subject to force majeure, LiCo was still selling the idea that this was a promising project in a prime location. And once issues with community were ironed out, the company could get on with the drilling.
In a January 2018, MetalNews interview, Fernback was asked why high-net-worth investors should consider LiCo. "Our properties are in very strategic locations, some of the best locations to mine or explore… Lithium, we're in the best place in North America for a lithium brine deposit and we're in the best place in the world in Chile," he replied. But at the time, even if the force majeure had been lifted, LiCo didn't have any money to start the drilling at Purickuta or anywhere else.

LiCo had commissioned drilling campaigns in 2017 at its Teledyne and Glencore Bucke cobalt properties. By the time 2018 rolled around, the company had operating capital to get through 2020 and no money for exploration.

"We realized our funds were inadequate to allow the Company to undertake five separate exploration programs in three countries on two different continents at the same time," LiCo told investors via a shareholder update in May 2018.
LiCo admitted that it needed financing and didn't have a clear path to get it. The company also said that finding the money would allow them to move forward with its projects, including the lithium project in Chile.
LiCo Mixed Messages
With investor interest in junior miners already weak and LiCo already having a substantial amount of issued and outstanding shares, the company decided their best bet was to aim for "project specific option agreements."
To boost the prospects of this plan, LiCo accelerated its property payments for Teledyne, hoping to boost the property's value and attract interest. The company got Surge Exploration on board, and that would allow LiCo to move forward on the Teledyne and Glencore Bucke projects.
But LiCo's efforts to get money for its other projects failed. So again in the latter half of 2018, LiCo came back to shareholders saying they were still looking for "financing options that will allow it to continue to move forward its promising lithium projects in Nevada and Chile." LiCo said what they really needed was well-financed partners, marking a second occasion when the company made it appear that the problem at Purickuta was money.
By this time, LiCo had been dealing with community opposition to Purickuta for a year. It's odd that the company was still touting it as a promising project without mentioning problems with the community. The company simply led investors to believe that with proper financing the company could move forward.
Now, five months later, LiCo is saying they dropped Purickuta due to 18 months of delays caused by the force majeure.
"Given the multiple delays associated with its exploration plans on the property over the past 18 months, the Company has arrived at the conclusion that the property is completely unworkable for a junior exploration company. Although LiCo has consulted with the local indigenous community since announcing the original option acquisition with Durus Copper Chile SpA in January 16, 2017, the project opposition from the local indigenous community is both immense and widespread and the Company does not see any way in which this project or property can be realistically explored or developed in the future by any corporate entity."

How can that be? Without the convenient obstacle of a force majeure, LiCo would be on the hook for that $1.8 million property payment. And if the company managed to pay that, still how would they have progressed when they were telling investors they didn't have any exploration money?

Investors also have cause to wonder why LiCo was shopping for additional projects in 2017 when at the end of the year, the company couldn't even afford to explore the projects they had. LiCo gives investors ample reason to wonder whether the problem at Purickuta was really an impasse with the community or a junior miner with insufficient funds.
---
Information for this analysis was found via Sedar, and LiCo Energy Metals. The author has no securities or affiliations related to this organization. Not a recommendation to buy or sell. Always do additional research and consult a professional before purchasing a security.