The Rise & Fall of VICE Media: A Cautionary Tale of Bold Journalism
This is a story about how a few curious punk rock kids from Montreal changed the media world with edgy, unapologetic content, as the internet disrupted the way we consume media. Building a company to a $5.8 billion valuation and now staring bankruptcy in the face owing creditors over a billion dollars.
Starting out as a small alternative magazine from Montreal, VICE clawed its way up to become a global media powerhouse that dared to venture into dangerous territory and capture original stories no one else dared to touch.
But like the end of a mosh pit, all good things must come to an end, and VICE is now facing bankruptcy.
In this video, we'll explore the history of VICE Media, from its humble beginnings in 1994 to its expansions and acquisitions, including the launch of Vice News and their own TV channel, Viceland. We'll also discuss their noteworthy struggles, as they grappled with an inability to turn a profit amid a mountain of debt. As VICE searches for a buyer, we'll examine the impact on their investors, who have watched the company's value plummet from a staggering $5.7 billion to peanuts.
As we look toward the future, we'll dissect the challenges of making money in the media industry in 2023, and what other digital media companies can learn from VICE's cautionary tale.
Will a new media company rise from the ashes of VICE? Stick around to find out!
Vice: the news no one else wanted
Before we get into the rise and fall of Vice lets talk about their history of covering topics that no one else would touch.
VICE was one of the first publishers to enter into North Korea, and film the experience. At a time when most people would haven't even dared to enter the country out of fear that they could be the next Otto Warmbier, VICE went in and got the story, at least to the extent that North Koreans officials would allow.
There also is the time they went into Liberia to investigate the country's civil war and its aftermath. They interviewed General Butt Naked, a former warlord who was infamous for his brutal and sadistic acts, including cannibalism. Diving into the dark side of Liberia's history and the complexities of the post-conflict society.
They have been known for covering alternative cultures like the competitive world of dog grooming or the witches of Romania. And they even have a pulse on stories no one else would care to cover like a man who surgically implanted headphones into his ears or Alberta's love of heating two dollar coins with lighters and throwing them at strippers.
The history of Vice
Vice was founded by Shane Smith, Suroosh Alvi, and Gavin McInnes with the initial goal to provide work and a community service. It all really picked up when the wealthy Canadian software entrepreneur Richard Szalwinski acquired the magazine in 1999 as part of an e-commerce roll up company called Normal Net.
VICE then moved to New York City and launched its first website. Under Szalwinski's ownership, a few retail stores were opened in New York City where customers could purchase fashion items that were advertised in the magazine. But eventually the dot-com bubble burst. Which paved the way for the original founders to regain control and close the retail shops.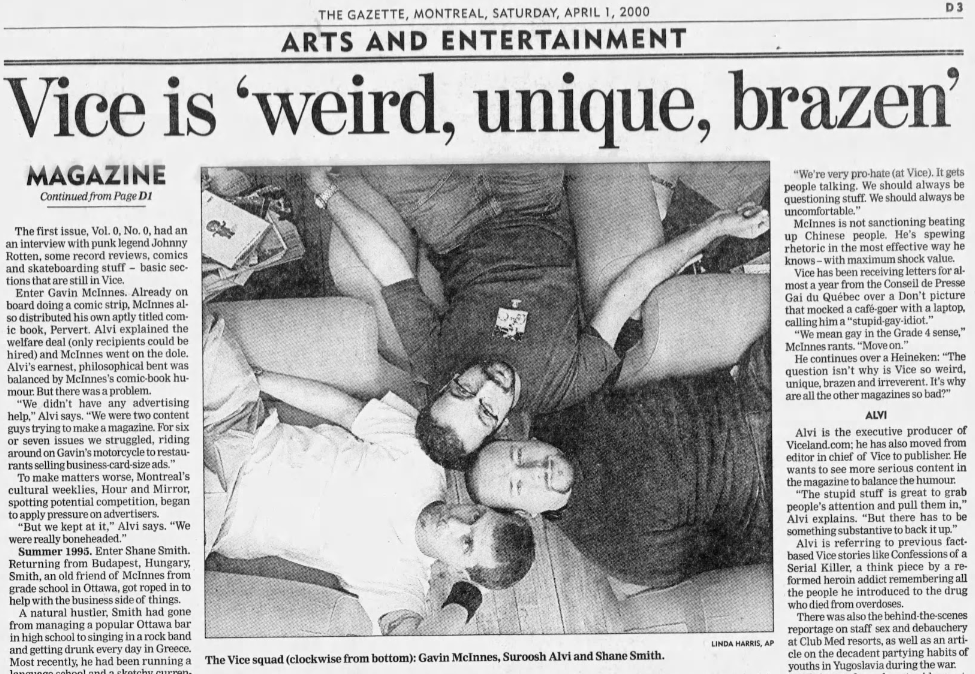 By 2007, VICE was more than just a magazine; it had 13 foreign editions, an independent record label, and an online video channel (VBS.com) with hundreds of thousands of views. They even started covering serious topics like the armed conflict in Iraq.
Over the years, VICE continued to expand, acquiring the fashion magazine i-D in 2012, launching Vice News in 2013, and even creating their own TV channel, Viceland, in 2016 under a partnership with A+E Networks. Their unique character-driven, emotionally transparent storytelling approach garnered a loyal following among the 18 to 34-year-old demographic, not to mention over 16.7 million subscribers on YouTube today.
And then there was the partnership with HBO. In a bid to enter the news media segment while targeting a younger audience, HBO in 2015 entered into a partnership with Vice to establish a program known as Vice News Tonight. In 2019, the partnership was not renewed, with HBO citing changing trends in content consumption as its reason for walking away. Vice then was able to slide the series over to Showtime.
But what really set VICE apart from the rest of the media world was their unapologetic focus on fringe topics and global perspectives. This was a company that prided itself on free-flowing ideas, flexibility, and a quick, entrepreneurial approach to business. It was a refreshing change from the stodgy, American-centric narratives that dominated traditional news media.
From Slutever to the world's scariest drug, VICE's content had a way of grabbing attention and racking up millions of views. They weren't afraid to point the camera in a different direction, and that's what made them successful.
Yet today VICE Media is said to be preparing to file for bankruptcy protection.
Vice's financial struggles
The company's inability to turn a profit seems to be at the core of their struggles.
Disney saw potential in VICE back in 2016 and was ready to buy the company for a cool $3.5 billion after previously investing $400 million. Turns out that offer just wasn't enough for ol' Shane Smith.
Fast forward to May 2021, when VICE attempted to go public via a special purpose acquisition company. And sadly, the market wasn't buying what VICE was selling. In September 2021, they managed to raise $135 million in funding from existing investors and James Murdoch's firm, but it wasn't enough to keep the wolves at bay.
By June 2022, VICE announced they'd be slowing down hiring and cutting costs to generate $25 million in EBIDTA. Unfortunately, they're now under pressure from investors like private-equity firm TPG to repay a whopping $1.1 billion in debt. Somehow this internet media company has burned through over $1 billion in debt?
Let's not forget about the repeated layoffs and the closure of Vice World News.
A company that once stood tall with a valuation of nearly $6 billion in 2017 is now scrambling to find its footing. And in February of 2023, the company's CEO for over 5 years, Nancy Dubuc, resigned leaving a memo for VICE staff saying that she will now cheer for them from the sidelines.
Today VICE is looking for a buyer as they try to provide liquidity for investors and pay back that mountain of debt. And while discussions with potential buyers are ongoing, no deal is assured or imminent. The Wall Street Journal reported last year that VICE has estimated it will hit $1 billion in revenue by the end of 2023, but at this point, all that matters is servicing debt, which has turned into the 10 ton elephant in the room.
The search for a buyer
Let's discuss those potential buyers.
Back in July 2022, Antenna Group emerged as a bidder, but clearly, that didn't pan out.
Fast forward to February 2023, VICE Media scored a $30 million loan from Fortress Investment Group. But it seems like their financial troubles just kept piling up and by April 2023, they were restructuring their global news operation and shutting down Vice News Tonight; axing over 100 jobs.
Enter Group Black, who has reportedly offered a cool $400 million to buy VICE in March. That deal is yet to progress, and VICE is still searching for a buyer, or even multiple buyers.
According to The New York Times, Vice has been searching buyers since the start of the year, like a young female opportunist seeking a rich banker boyfriend on SeekingArrangement.com. But with far few options.
If bankruptcy is declared, as per the New York Times, it's likely that Fortress, the most senior debtholder, would take control and auction off VICE, with equity holders expected to come up empty.
The challenges of profiting in media
Media isn't always about profit. It's often about propaganda and network effects. Just look at Canada's own Rogers Communications, who makes over 50% gross margins on their internet and telecommunications segments, while only generating 3% gross margins on their media division.
Whether we are talking about VICE Media, Buzzfeed, or Protocol, it's clear that as interest rates have gone up, simply having an audience is no longer enough to raise money. Media companies now have to stand on their own feet or have a serious sugar daddy. These companies are navigating a minefield of challenges.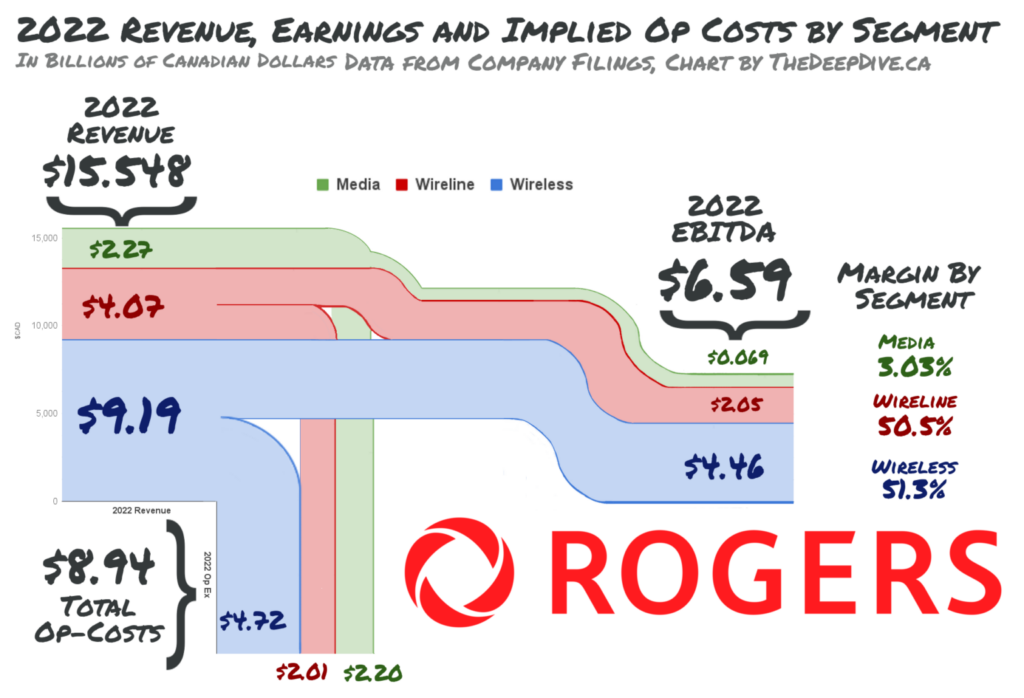 With 75% of media organizations admitting their budgets are under "heavy scrutiny," it's no wonder that traditional advertising channels are losing out to direct-to-consumer advertising. After all, in this age of uncertainty, loyalty is king.
Of course, the cookie monster is lurking around the corner, likely to blow up the media landscape further, with third-party cookies going the way of the dodo. Marketers will soon be scrambling to find new ways to target their audiences.
So what does the future hold for digital media? Well, folks, it's time for these businesses to buckle up and learn from VICE's cautionary tale.
In this ever-evolving media landscape, long-form authentic marketing and short-form video content are stealing the show. From TikTok to Instagram Reels, media companies need to stay on their toes and who knows what AI may or may not bring around the corner.
Consolidation is on the horizon, with big fish like Disney, Viacom, and Comcast swallowing smaller media companies to expand their reach and leverage economies of scale, as these smaller companies continue to struggle to keep their head above water.
In conclusion
In a world where armchair journalism reigns supreme, VICE Media bucked the trend by actually sending reporters into the field, venturing to dangerous places, and capturing original stories firsthand. They threw caution to the wind and put boots on the ground, delivering authentic, gritty content that captivated millions.
But alas, even the most daring enterprises aren't immune to the cold, hard realities of the media industry. VICE's impending bankruptcy stands as a sobering reminder that when interest rates exist above zero, it's not enough to be bold – you've got to have your financial ducks in a row too.
So, as we say our goodbyes to the groundbreaking era of VICE, let's tip our hats to their fearlessness and tenacity. You may not have always agreed with their takes, but at least they went and got us original news.
Something AI can't do, and never will. Because real news requires real people, real relationships, and real risk to go and get for us.
They may have stumbled at the finish line, but their legacy of daring journalism and original storytelling will live on. And who's to say what the future holds? Perhaps a new media company will rise from the ashes of VICE, inspired to carry the torch of intrepid reporting and risk-taking. Likely carrying that same torch, for Comcast, Verizon or some other telecommunicators provider. Or someone looking to consolidate content like Apple, Google, Amazon, or Netflix.
Until then, I don't care what side of the political aisle someone is on. It's those people going out into the field that we need more of. Hopefully VICE can find a way to live another day. Otherwise we are going to have to rely on Elon and his dancing robots to do our reporting.
---
Information for this briefing was found via Reuters, Bloomberg, and the sources mentioned. The author has no securities or affiliations related to this organization. Not a recommendation to buy or sell. Always do additional research and consult a professional before purchasing a security. The author holds no licenses.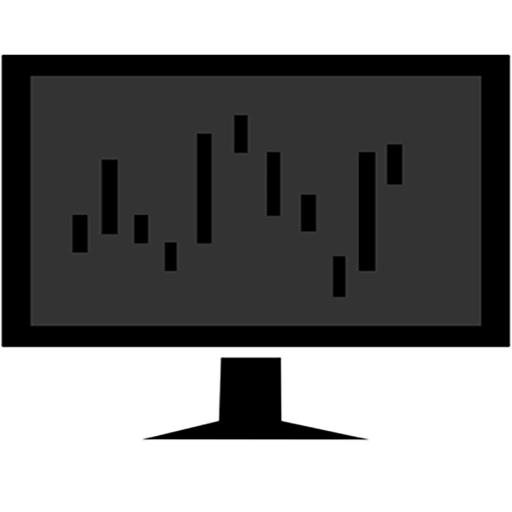 As the founder of The Deep Dive, Jay is focused on all aspects of the firm. This includes operations, as well as acting as the primary writer for The Deep Dive's stock analysis. In addition to The Deep Dive, Jay performs freelance writing for a number of firms and has been published on Stockhouse.com and CannaInvestor Magazine among others.