Lifestyle Delivery Systems: Will it Fly, or Will it Falter?
Like most stocks this past week, Lifestyle Delivery Systems Inc (CSE: LDS) posted some excellent figures. From the close on December 22, to the close on December 29, the company gained approximately $0.54. Overall, this equates to a week over week gain of 69%. Not bad for no material changes isn't it?
Largely, the gains investors saw this past week can be attributed to two things. First, is the holiday effect, which typically hits markets during the short trading week between Boxing Day and New Years Eve. With euphoria and positivity in the air, it gets reflected in the markets. This resulted in gains across the entire pot stock sector, with countless companies in the sector posting new highs. The second item, is the "Cali Rally". With recreational legalization in the state of California coming in to effect the day this article is released, many in the sector are bullish on the potential gains.
Due to this phenomenon, we're zeroing in on Lifestyle Delivery Systems for this weeks full analysis. We have previously covered the company in a brief, entitled "BRIEF: Lifestyle Delivery Systems to Begin Generating Revenue From Operations". Due to its success, we wanted to build upon this article and provide investors with a bigger picture of the company, and what it is they are focused on. There have also been some recent developments since this article that needed to be sufficiently addressed.
Lifestyle Delivery Systems: Will it Fly,
or Will it Falter?
The History of Lifestyle Delivery Systems
The Emergence of Lifestyle Delivery Systems
Lifestyle Delivery Systems entered into existence in its current form on May 1, 2015. At this time, the former shell company Kariana Resources officially acquired Canna Delivery Systems Inc, in an all-stock $1.17 million dollar deal. At the time, Canna resources had just finished developing a product known as CannaStrips, which was what the shell company was essentially after.
CannaStrips work similar to that of a breath strip, wherein you apply a thin film orally. Contained within the film can be a number of different medical concoctions for various results. In particular however, the company was focused on infusing cannabis for the recreational and medical application of CBD to the consumer. This can then be metered effectively, with a consistent dosage for the end user.
The original intent behind this acquisition is that the CannaStrips product would be licensed out to manufacturers in regions where cannabis is legal.
To this end, the company promptly signed two non-exclusive agreements for the manufacturing of CannaStrips within California. The first of which was with Healthy Asylum Inc. Under the terms of the agreement, the company was to pay $25,000 for the licensing of the technology. In total, the company received just over $37,000 from this deal.
The second deal, under similar terms as the first, was with Wisdom Homes of America. Of note, is that the CEO of Wisdom Homes is also the President of Lifestyle Delivery Systems. Although there were several news releases related to this letter of intent, nothing ever came of it.
Both of these licensing agreements disappeared with little further mention. The last discussion related to them can be found in an update issued on May 4, which indicated that both agreements had been terminated during the last year.
Lifestyle Delivery Systems Manufacturing Agreements
On October 18, 2016, Lifestyle Delivery Systems signed a joint venture with that of CSPA Group. The focus of this joint venture is the manufacture of CannaStrips. At the time of signing, CSPA Group already had a facility that was licensed for the extraction and production of medical CBD products.
Fast forward to May 4, 2017, and the terms of the deal have changed slightly. Under the terms of the binding agreement that is issued, the joint venture will contain an extraction and production facility, owned by CSPA Group, as well as a cultivation facility, owned by NHMC. Both companies have the same operators, however they have separate licenses issued by governing bodies, and thus remain separate entities.
In all, the two facilities will allow Lifestyle Delivery Systems to control the production of its CBD products from start to finish. It enables the company to have a smaller reliance on third party suppliers for its products, and it can guarantee the quality of the product used throughout its manufacturing process.
The details of this joint venture are quite extensive, and we previously covered it in our briefing entitled "BRIEF: Lifestyle Delivery Systems to Begin Generating Revenue From Operations". To avoid duplicate data, if you want the really deep dive on the venture be sure to give it a read.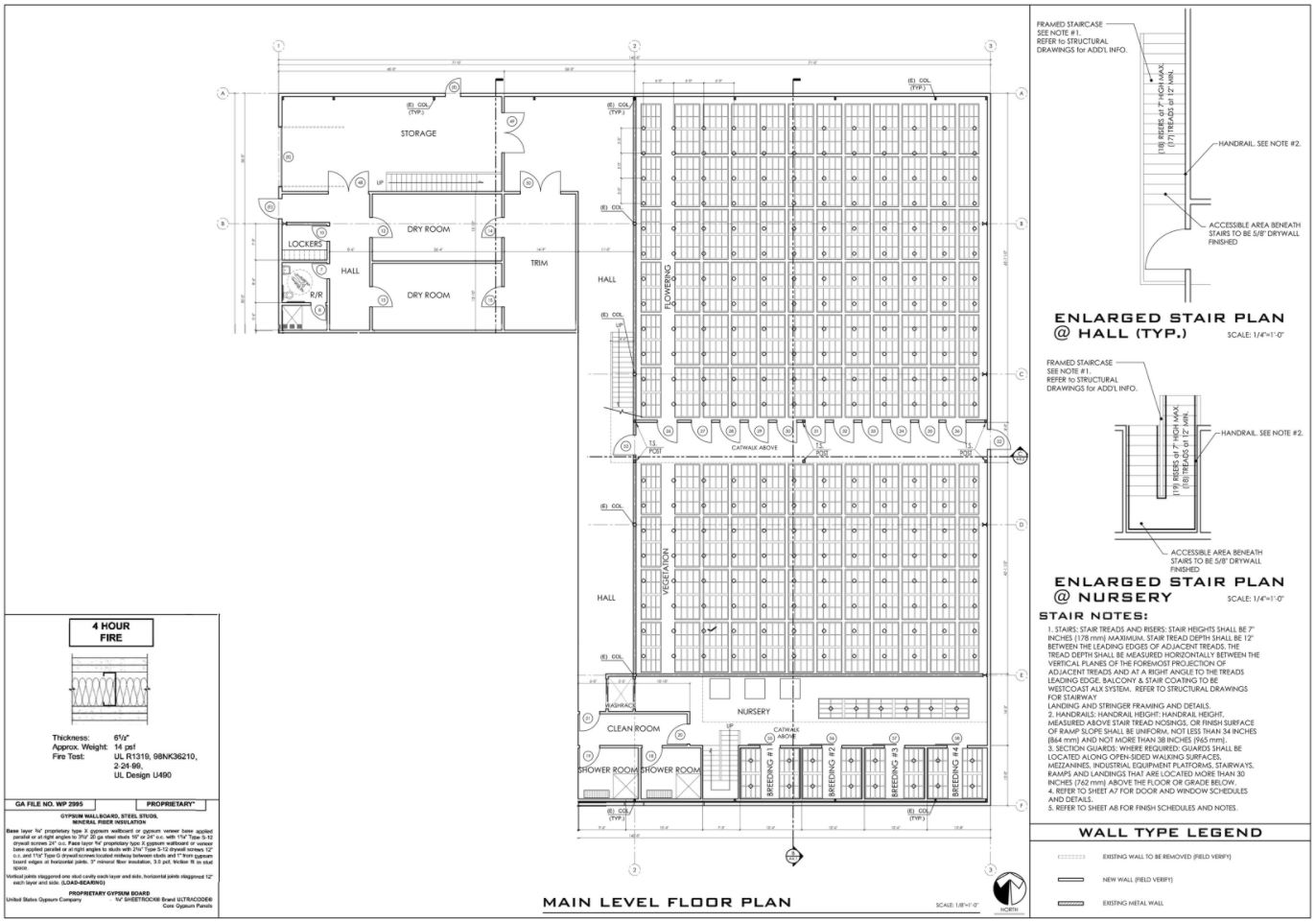 The facilities themselves began production on October 19, 2017, after several months worth of delays. However, production figures have still not been released publicly. In addition to this, on November 30, the Adelanto California facility was raided by police.
The basis for this was the method of extraction being used in the manufacturing process. Although the company had a license for it at the local level, the county sheriff felt that this did not come in to effect until January 1, 2018 at a state level. As a result he deemed the operation as being illegal. It is unclear how much product was damaged as a result of the raid. However on December 22, it was released that a license for volatile solvent extraction was formally granted at a state level, and would come in to effect on the 1st of January,
In addition to this joint venture, on December 19, LDS announced that it had established a second manufacturing partner.  Details were scarce, however it was noted that the company would build a 20,000 square foot facility under this new agreement which is expected to produce three times the amount of product than that of CSPA Group.
The Adelanto, Ca Cultivation Facility
Aware that the company was putting its eggs all in to one basket, Lifestyle Delivery Systems looked to branch out this year on the services and products it offers to clients. To do so, it purchased a ten acre parcel of land on June 21. The parcel of land is located strategically close to its current Adelanto facility.
Currently, LDS is in the process of developing a greenhouse for the property. The current size of the facility is estimated to be close to 202,500 square feet. Due to its close proximity to the companies current facility, it will be able to sufficiently supply up to 20% of the raw material required for the production of CannaStrips.
One item of note however, is that it will not be Lifestyle Delivery Systems that operates under the roof of the greenhouse. Instead, the facility is being built in a fashion that allows up to ten separate operators to lease space for the cultivation of cannabis. Through these licensed cultivators, LDS will then have the right of first refusal for all product grown. Thereby, it provides the company with a steady stream of product, and it provides new ventures with a location to grow at as well as virtually guaranteed sales.
Lifestyle Delivery Systems has submitted the plans to the town of Adelanto, and is currently awaiting approvals before moving forward on the project. It is anticipated that construction on the facility will begin before the end of the companies fiscal year.

The cultivation facility will be managed under a new subsidiary to the company, which was formed in July. Two other subsidiaries were formed as well, which give us a glance in to how the company plans to lay out the various services related to the cultivation facility. It is anticipated that the facility itself will be managed by Adelanto Agricultural Advisors Inc.
Current Products

At this point in time, the company is limited in that it has only one product line. Although several purposes for the company's oral delivery system have been identified, they have failed to capitalize on these opportunities. Should they diversify slightly, it would provide further value to shareholders and reinforce the proprietary value of this technology.

Currently, within this product line are four variants of the product. Labelled as Clear, Black Mumba, CBD, and Sleep, each product has a specified focus. The detailed product descriptions can be found above.
Although the product has been sold previously, it is unclear whether or not the product itself can be purchased anywhere. The website dedicated to the product does not list anything under its "Where to Buy" tab, opting instead to display a "coming soon" digital post-it note. It is anticipated that this will be updated in the next month or so once recreational legalization comes in to effect, along with CSPA's various manufacturing licenses that enable product production.
CannaStrips are reportedly available at a handful of dispensaries in California, as well as potentially Washington based on the information we found online. This data mainly came from reviews that indicated where users had purchased the product from. However, we did find the website "https://cannabinoidstrips.com/" which appears to be an old website prior to the company being purchased by Lifestyle Delivery Systems. It's currently semi functional, in that it allows you to create a cart and begin the check out process, but the page appears to be an unedited template.
As far as customer reviews, there have been mixed signals from consumers. Due to the scarce availability, reviews are typically from 2012, 2014, and 2016. The most recent is from mid October, wherein it was highlighted in a BuddFeed review video. Within, it identified how to utilize the product, and it stated that it was very fast acting and quite potent. Additionally, it stated it was must faster acting than most edibles due to not needing to travel to the stomach. Lastly, it identified that the product had been purchased recently via a California dispensary. Overall, it was a quite positive review. It is unclear whether or not it was paid content. That video content can be found here.
The pricing structure that is to be used for the product is somewhat unclear. The website that we did find that indicated we could purchase the product, lists each individual CannaStrip at a price of $5. There were bulk pricing discounts however, such as 10 for $40. With an estimated production capacity of 500,000 units per day, serious revenues can potentially be generated based on the demand for the product. Fixed and variable costs for production have not yet been released. Furthermore, this information will not be available for several months. It is anticipated that margins should be quite high for the product based on the vertical integration Lifestyle Delivery Systems has established.
Lifestyle Delivery Systems Financials
Statement of Loss
For the quarter ended September 30, 2017, Lifestyle Delivery Systems posted some dismal figures. As a result of being fully focused on finishing their 20,000 square foot facility, the company was unable to generate any revenues. Due to sales not having been established yet, previous revenues for this fiscal year are from consulting services provided to companies. This consulting generally pertains to the design of facilities.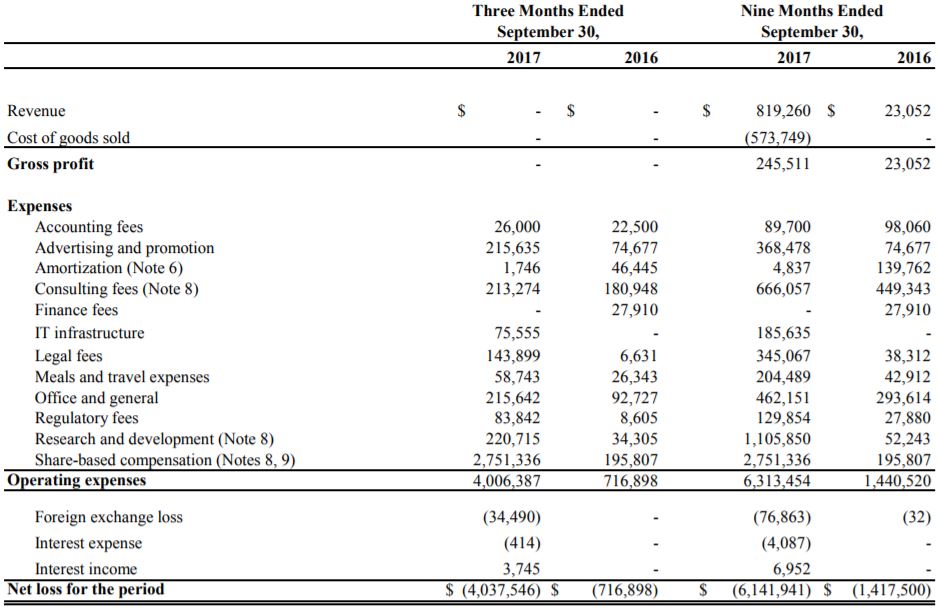 In addition to posting $nil in revenues for the quarter, over $4,000,000 was recorded in administrative expenses. Almost three quarters of these expenses were related to share based compensation, which was entirely the result of issuing 7,311,000 options in total to company officers and directors. The breakdown of these options can be found below under "Insider Positions".
With respect to the nine month period, a total loss of just over six million has been recorded by Lifestyle Delivery Systems. Two thirds of this figure is a result of this latest quarter, and in total share based compensation accounts for nearly half of this recorded loss. On a go forward basis the company needs to restrict this compensation if its wishes to balance its books.
In terms of future financials, we can expect at minimum one more poor quarter. The next financials issued, which are believed to be due at the end of April 2018, will be the annual statements for 2017. Due to the lack of sales expected for the final quarter of this year, don't hold your expectations too high. The interim financials issued for the first quarter of 2018 in May is where we'll be able to see the true effectiveness of the company, once recreational legalization is in full effect in California. This is a long ways out to see the viability of the company, which is unfortunate for shareholders.
The other glimmer of hope for earlier results data is the monthly report that is filed each month. With any luck, it will include some financial data for the period. The January edition of this report can be expected out within the first week of February.
Share Structure
One aspect of Lifestyle Delivery Systems that truly impressed us, is the transparency the company has with regards to its current share structure. While many companies on the junior Canadian markets attempt to shroud the details, LDS is very open with this information. In fact, we didn't even have to do any graphing – they did it for us, as this information is freely available on their website.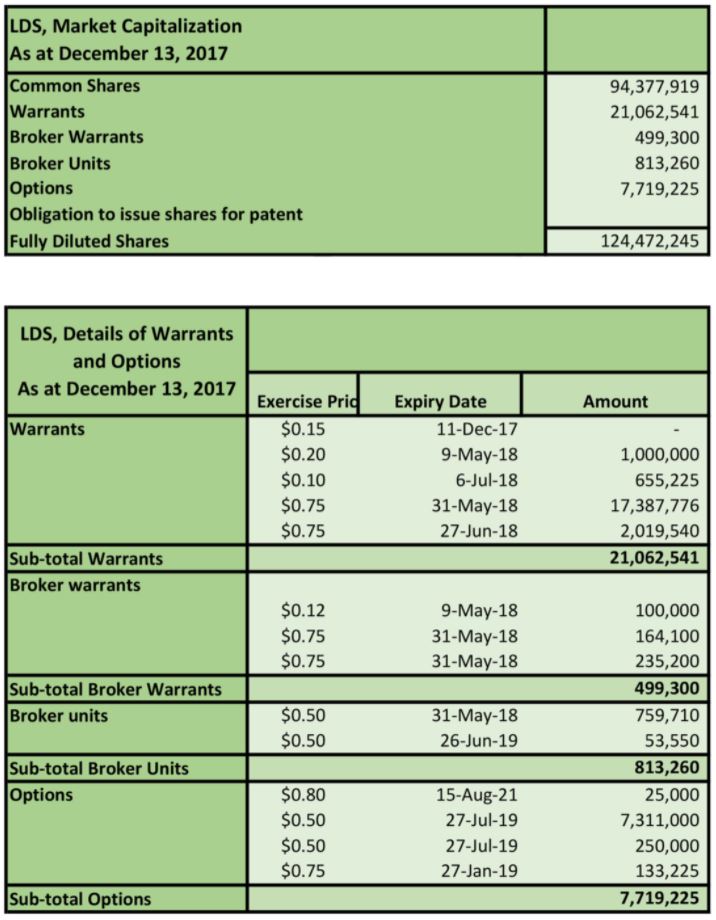 We like to think that our graphs are a bit prettier, but hey, can't win them all right? The information contained above is as of December 13, 2017. Although some warrants may have been exercised since, it is believed that no further shares or derivatives have been issued for the company within this time frame.
Overall, there are currently 94,377,919 shares outstanding for Lifestyle Delivery Systems based on the data provided. With the closing price on December 29 of $1.32, this gives a market valuation of approximately $124.6 million. On a fully diluted basis, the company is valued at $164.3 million. Clearly, future revenues have been priced in by the market.
One item to be aware of, is the exercise price on the derivatives currently issued. All of these are classified as being in the money, thus they are almost guaranteed to be executed before expiry. Many of the listed expiry dates are in the first half of the year, so expect the dilution to be steady over the course of the next several months. This may potentially provide some selling pressure on the stock.
The Management
Brad Eckenweiler – CEO & Director
Brad comes to the company by way of Canna Delivery Systems. At the time, he was the owner of the company which was then acquired by what would become Lifestyle Delivery Systems. Initially, we was brought on as a director the day the deal closed for the acquisition. Within three weeks however, he had become the chief executive of the company as well. He has previous experiece as an officer and a director spanning multiple decades. Most recently of which, was Triton Emission Solutions which ended in May of 2014.
Of note for Mr. Eckenweiler, is that he is said to have a large ego with respect to the performance of the companies he is involved within. This is evident in several interviews he has been the subject of, as well as general industry discussion. Additionally, he was disciplined in 1991 by the B.C. Securities Commision for the improper use of prospectus funds. For this, he was implicated with two other individuals. As a result of the sentencing he was required to be a $2,500 fine, and was barred from serving as a director or officer to any company aside from Braemount Resources Ltd for a period of two years. The full details on this disciplinary action can be found here.
James Pakulis – President & Director
James currently serves the company in the form of President as well as a directorship. Concurrently, he also serves as the CEO of Wisdom Homes of America, a manufactured homes retailer. Also, if you didn't catch it earlier he was the key player in the related party transaction related to the agreement wherein Wisdom Homes was to produce and sell CannaStrips. Ultimately, nothing came of this deal.
Mr. Pakulis' history in the cannabis sector begins with his tenure as CEO of General Cannabis, and their acquisition of WeedMaps. Ultimately, he was at the helm when the company grew from a few thousand in revenues per month, to that of a few millions. Additionally, Mr. Pakulis has a history with that of Mr. Eckenweiler, in that they served the same roles in Polyshield Technologies, which later changed its name to Triton Emission Solutions.
Dr John Sanderson – Chief Science Officer
Dr. Sanderson is perhaps one of the most significant members of the company. Essentially, he is the brains behind the technology for which the company utilizes to create CannaStrips. The exclusive rights to this technology was purchased from him, and he has since joined the company as the Chief Science Officer. To this end, he also has experience in the world of business, specifically with mergers and acquisitions.
In addition to being the Chief Science Officer for Lifestyle Delivery Systems, Dr. Sanderson is active elsewhere as well. Currently, he also resides at Cell MedX Corp, where he is listed as a Chief Medical Officer. He also has a served as a medical director for Johnson & Johnson, as well as having consulted multiple Fortune 100 companies. Additionally, he serves in various officer roles in a handful of companies at this point in time. He remains active in the field of research and development.
Yanika Silina – Chief Financial Officer
To say the least, Yanika Silina appears to be a very busy woman. Currently, she serves as a chief financial officer for Lifestyle Delivery Systems. She also serves the same role at Cell Medx Corp, the same company for which Dr. Sanderson is an officer. Whats more, she also works as an accountant for Da Costa Management Corp. This is likely her connection to a number of companies for which she serves as an officer or a director.
Ms. Silina originally came to Lifestyle Delivery Systems in April of 2015. It is believed she became involved with the company through her work at Da Costa Management, which LDS still appears to use for accounting purposes. In addition to this, she has also been listed as a consultant to the company while performing her role as an officer.
David Velisek – Director
Mr. Velisek currently serves as a director to Lifestyle Delivery Systems. Previously, he also served as the chief executive officer, however he relinquished this role shortly after the acquisition of Canna Delivery Systems. His history is in that of financial markets, wherein he has served as an investment advisor, along with serving in investor relations roles.
Presently, David Velisek serves as the interim CEO and Chairman of Confederation Minerals Ltd. Additionally, he has served as Manager of Corporate Development at Baron Global Financial Canada since 2009. He has largely been involved with resource based companies in the past, such as Finore Mining and Novo Resources.
Insider Positions
In terms of the positions that insiders hold within the company, it can be said that there is a respectable level of ownership. Although it isn't an extremely significant percentage, its enough to know that insiders have faith in the company. We've outlined below the exact positions all insiders have.

Overall, 17.46% of company stock is owned by members of the management. On a fully diluted basis, this figure jumps to 21.37%.  This information is as per the Management Information Circular published to SEDAR on December 28, 2017. The largest position is held by CEO Brad Eckenweiler, who received shares as part of the initial acquisition of Canna Delivery Systems in 2015. As a result of this, 936,000 of his shares are currently locked in escrow.
Closing Remarks
Overall, Lifestyle Delivery Systems is in a good position at this point in time. Today, the company has kicked production in to high gear with their licenses for production coming in to effect. As per the news release issued on December 22, two production shifts will be working per day to produce CannaStrips. Although it has been previously quoted that the production equipment can produce up to 500,000 units per day, it is unclear what sort of time constraints this figure implied. Meaning, we aren't certain if these figure of 500k units will be low as a result of two production shifts being employed or not.
Based on the frequency of past news releases, we anticipate an update from the company citing the success they have seen since the new year. The management of the company has much riding on the success seen in the first few months of production, as a result of repeated delays in the past. However, with the euphoria for legalization in the state of California, it is unlikely that they will falter. The product will likely see demand as new users willingly try different products before determining their preferred source of consumption. With a proper marketing campaign, it will be hard for Lifestyle Delivery Systems to fail in this state which has a higher population than that of Canada.
With the anticipated growth the company will see in the year to come, investors appear to be in a good spot. In addition to finally establishing what should be a constant revenue stream from CannaStrips, its new cultivation facility should begin construction shortly. This will provide further revenue, while offsetting the cost of product purchased from the cultivators through the collection of rent. At the very least, we're excited to see how the market reacts to these revenues coming in. Will it eliminate the hype and result in a sell the news event, or will it send the price of the equity soaring as even higher future expectations are built in?
Read the data. Determine the value. Dive Deep.
---
Information for this analysis was found via The CSE, SEDAR, Canadian Insider, Bloomberg, B.C. Securities Commission, CannaStrips, SECGems, Cell Medx Corp, and Lifestyle Delivery Systems. The author has no securities or affiliations related to this organization. Not a recommendation to buy or sell. Always do additional research and consult a professional before purchasing a security.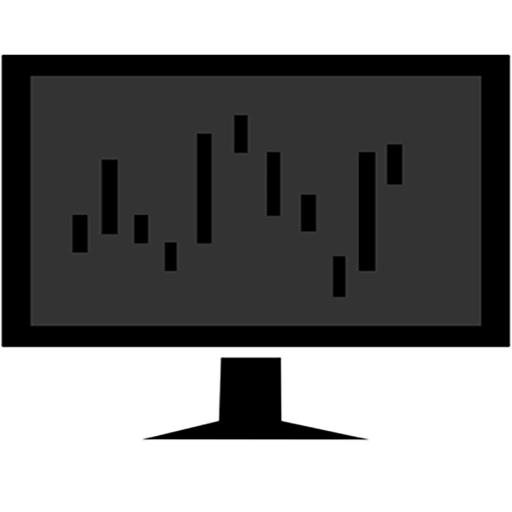 As the founder of The Deep Dive, Jay is focused on all aspects of the firm. This includes operations, as well as acting as the primary writer for The Deep Dive's stock analysis. In addition to The Deep Dive, Jay performs freelance writing for a number of firms and has been published on Stockhouse.com and CannaInvestor Magazine among others.