Aurora Cannabis Earnings Illustrated: Empty Calories Giving The Market A Sugar High
The Deep Dive's West Coast office was pretty happy to have shoveled dirt on Aurora last month when the rollback was announced. Surely, between having primed the equity for a massive dilution event and the ongoing revelation that the business itself wasn't a sustainable entity, the street is sure to have had enough of Aurora Cannabis (TSX: ACB) (NASDAQ: ACB). It's just as well, too, because it's high time we looked into what kind of fundamental business structure would be capable of carrying a modern legal cannabis business given the regulatory –
Oh for the –
Aurora did 23 million shares of volume Friday to jump $6.15 (+66%) to a (post rollback) price of $15.16. Somehow, a fresh round of dismal earnings have done little to kill investor interest in cannabis equities. Fundamentally speaking, it's difficult to imagine the sector being in worse shape. Trulieve (CSE: TRUL) aside, literally none of the operating marijuana companies are functional, self-sustaining operations. It's a collection of left-over movie sets that were once made to look like operating buildings in a show that has been long cancelled. Now, with no writers or producers, the stars have moved on to other things. They talk about the old show with warmth when they're asked, because they remember where they came from, and these die-hard fans are relentless.

The empty sets of these shows are no longer able to fool rational observers into suspending their disbelief and seeing them as actual or would-be functional entities. But fanaticism is a literal force of nature. Emotions of die hard observes drive them to watch these burnt out husks of movie sets as the care and maintenance staff continue the bare minimum upkeep, hoping the show will come back.
And fan pressure is known to work. At the end of the day, people who sell equities and shows both have to give the people what they want. The bag-holding masses and caretaker management alike are keen to make doofs in independent equities analysis look foolish. We're the guys stammering about how the stunts in Avengers movies could never happen even IF Ironman and Spiderman had superpowers, because "the physics don't track! It's MATH, people! Quit being so gullible!!" Meanwhile, everyone else is chomping on popcorn behind 3D glasses yelling "woooooooo!!!!!! Spidey!!!!!"
"Have a great"

In showbiz, you've gotta give the people what they want, so we'll break Aurora down the way we always do. Starting with its output.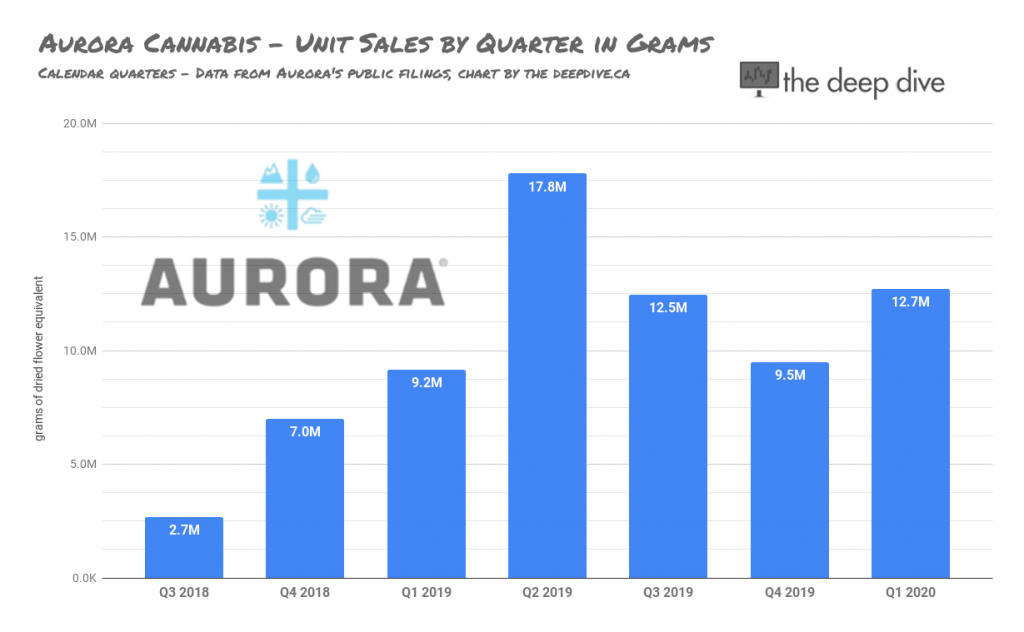 Aurora moved 12.7 million grams in the first three months of 2020, giving us a nine month case that the company's sales have plateaued. This was the first period in which Aurora published its sales weight net of product returned which – by our calculation – was about 500 kg. In dollar terms, Aurora has seen downward adjustment to its sales figures of $13.5 million for returns and price adjustments. This may be a reflection of a changing product landscape with more available product at better price points. It certainly isn't an indication that Aurora knows what its consumers want and can produce it.
Inventory Proflie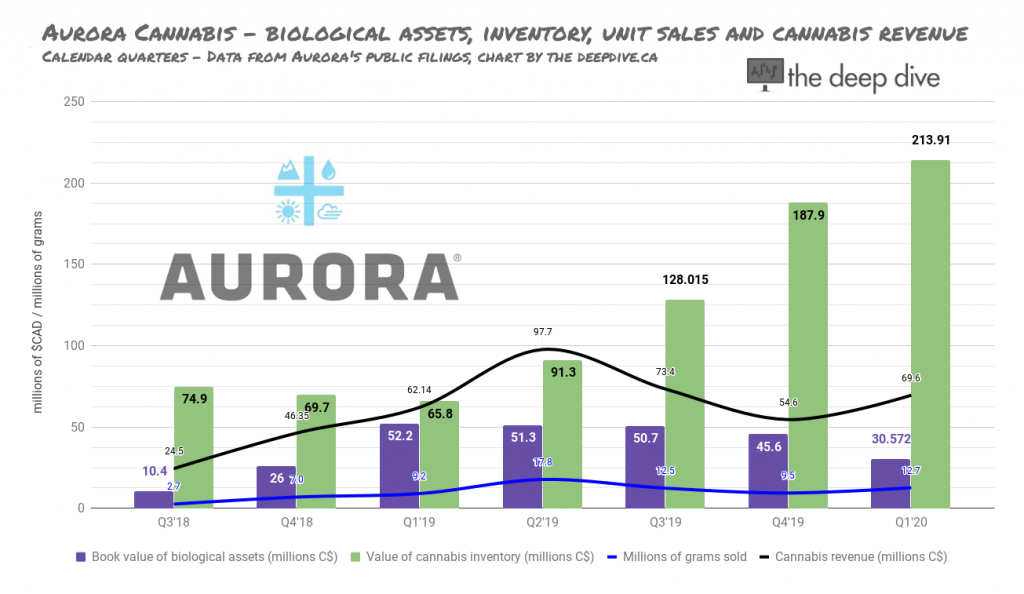 Aurora had more in the vault than they ever have in Q1, and less on the trees than they have had for more than a year. This could represent a shift in production philosophy, or it could just be harvest timing. The question, as always, is where the $214 million worth of inventory will end up.
Cannabis 2.0 will not save you.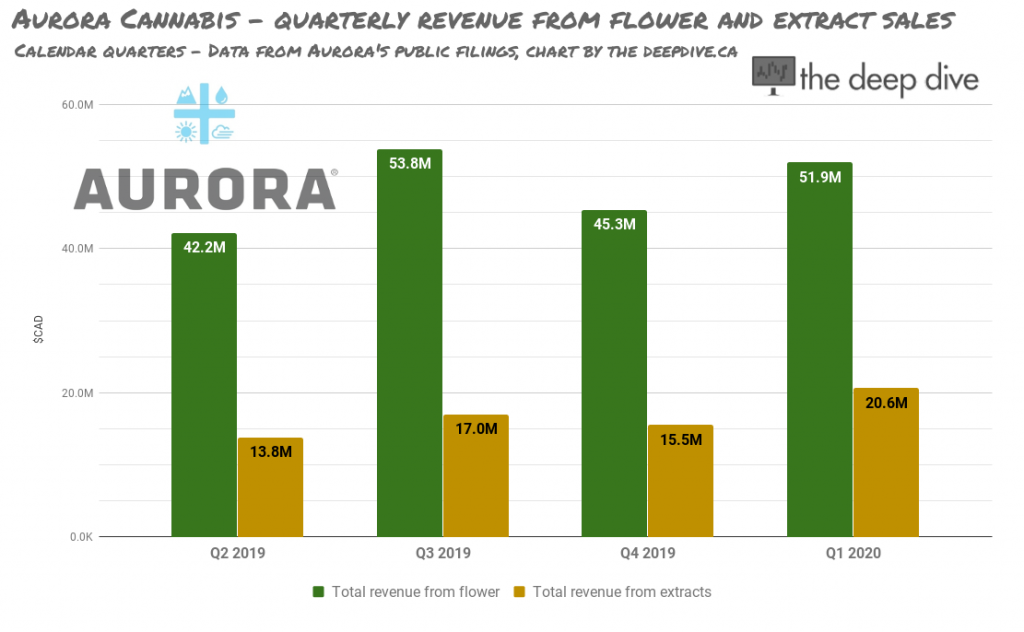 Is anyone working on cannabis 2.1? Because Aurora's extract sales might as well have been flat since well before Health Canada allowed for the sale of edibles and extracts in October of 2019. No word from Ottawa about how many "packaged units" LPs have sold on the whole since November, so there's no way to tell if ACB is moving more or less extracts than average.
Zee Germans
Notable ACB cheerleaders are optimistic that a turnaround may come from the effort the GMP-equipped cultivator has put into developing relationships on the continent.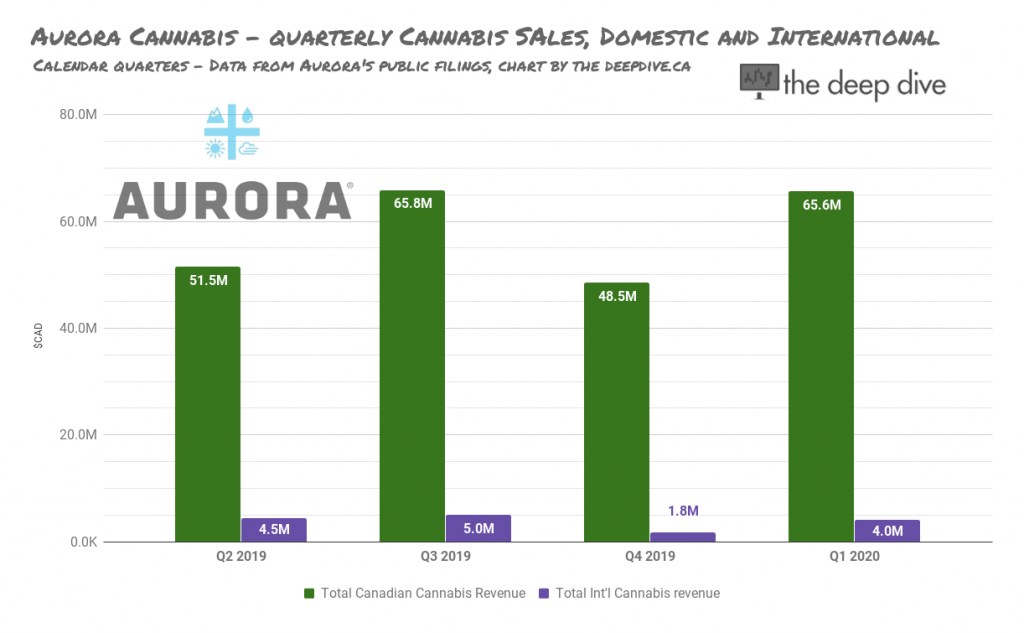 So far, international sales have been just as flat as the extracts market, with a bit of a slip in Q4, owing to an apparent bungling of the export paperwork, but the guy who screwed that up is long gone.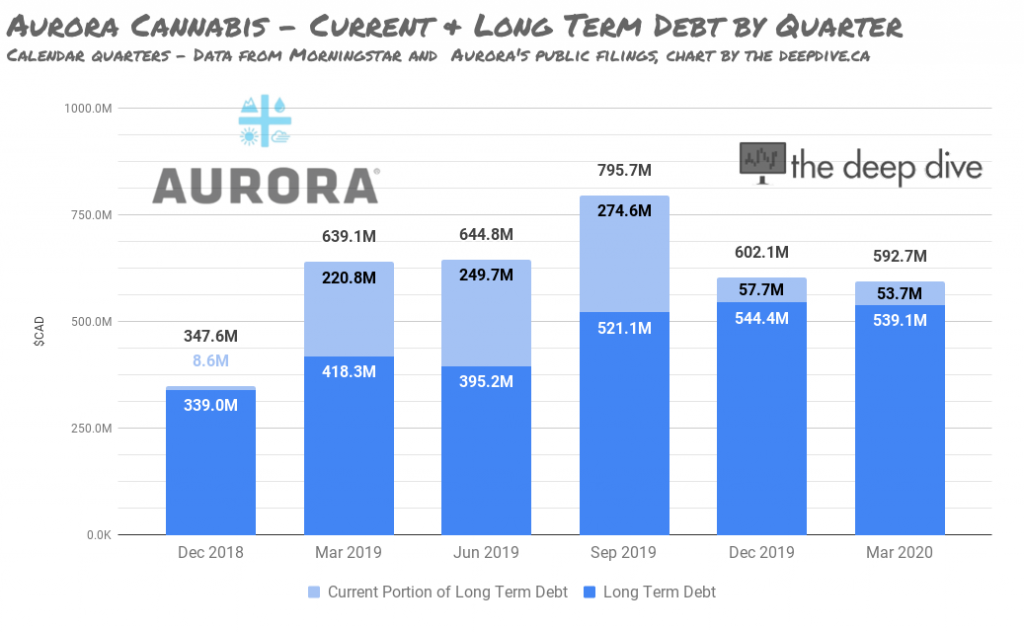 The company's debt profile also flattening out might have more to do with a change in lending standards than newfound fiscal discipline. Aurora showed $242 million in cash at the end of March.
Our standard top-line look is no use for a company with this type of existential threat on their balance sheet, so we've graphed Aurora's total operating expenses against the net revenue.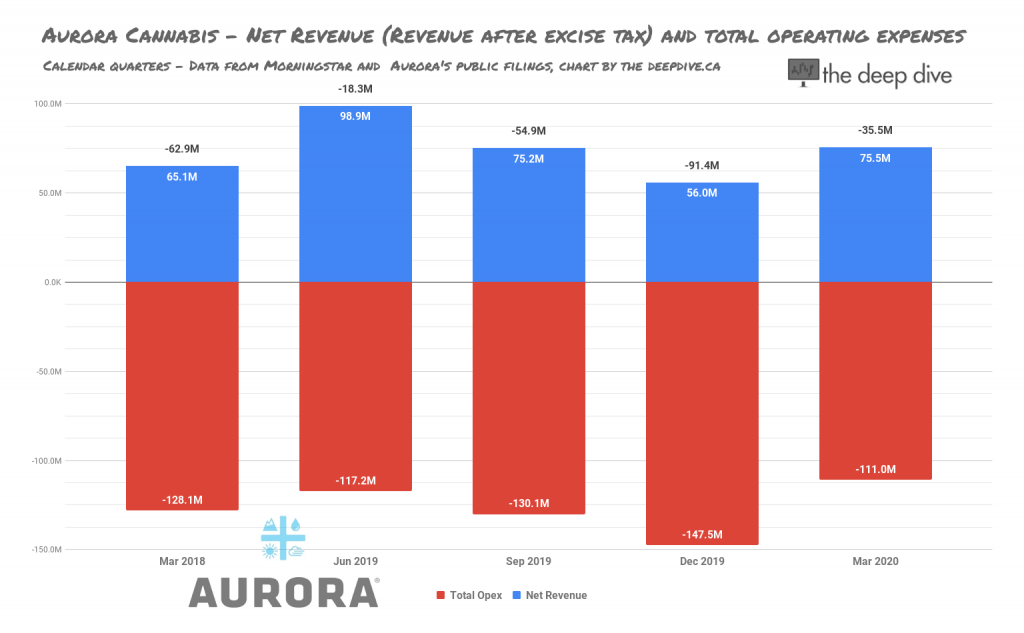 Same as it ever was
A lack of growth at Aurora is hardly a surprise. CEO Micheal Singer made it clear when he took over that before he was able to turn the USS Aurora around, he'd first have to keep it from sinking.
Singer had pledged to stop the bleeding by patching up SG&A expenses…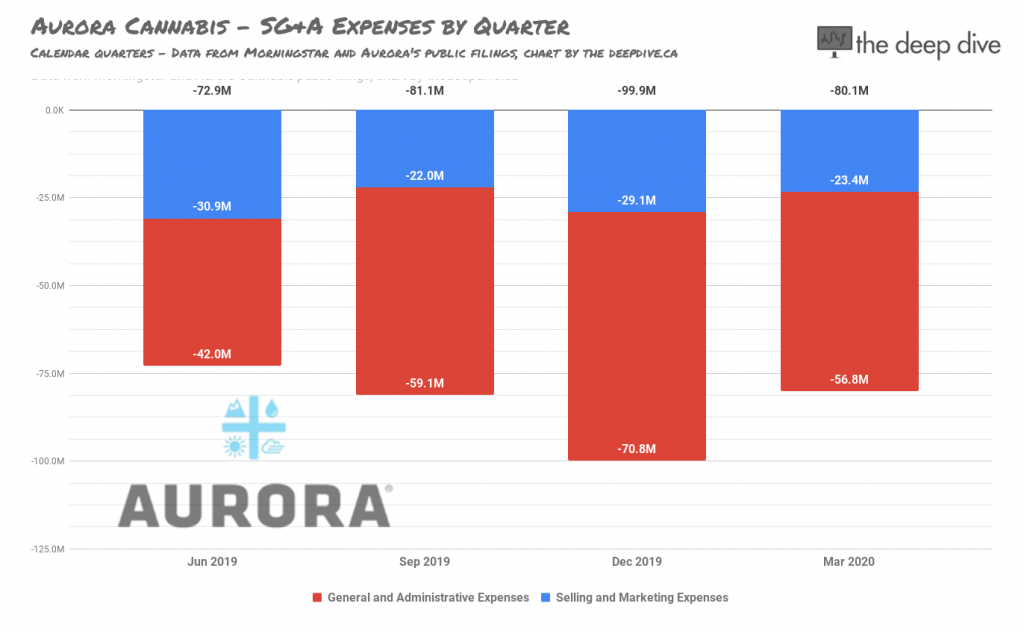 …and it looks like he's got a ways to go.
It looks as flat as everything else in this Edmonton-based company. We also graphed the cashflow…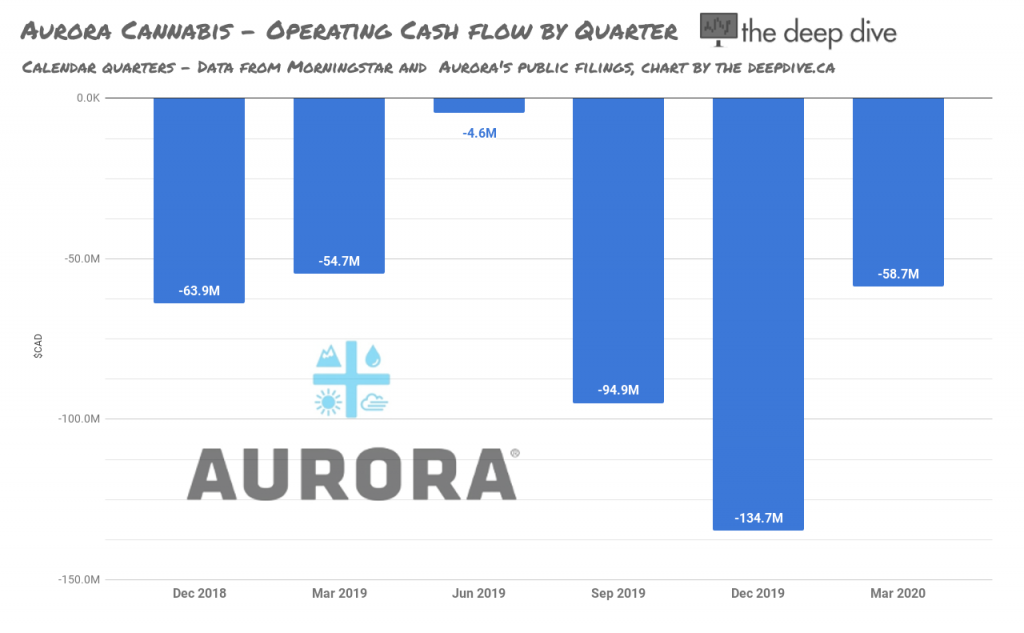 …to show that Aurora is back to the same burn rate as this time last year. Increasingly, the narrative is one of a rock star who has his drinking dialed back to where it was before his six month bender, and is pretty sure he still has the potential to produce a good record eventually. Under the right conditions. With the right team behind him.
The market does what it wants, not what it should.
Aurora's best off-balance-sheet asset may be the legion of Fox Mulders that it has created. As long as they're out there, wanting to believe, Aurora will always be able to get the market's attention.
---
Information for this briefing was found via Sedar and Aurora Cannabis. The author has no securities or affiliations related to this organization. Not a recommendation to buy or sell. Always do additional research and consult a professional before purchasing a security. The author holds no licenses.